Kitchens + Bathrooms 11 preview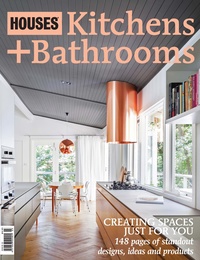 There's a shift toward higher-density living in Australia – especially in the inner-city suburbs. Rather than moving to the outer suburbs for more space, many growing inner-city families are renovating their existing dwelling so it works harder, or living in a multigenerational home. This shift is affecting the way that kitchens and bathrooms are designed and subsequently used.
Perhaps the most interesting change is that owners now plan to stay longer in their home and are therefore less concerned about appealing to the resale market. This leads to bolder design moves. Flack Studio's Bendigo project takes on jazz-club design vibes with moody, dark tones used in both the kitchen and the powder room. Arent and Pyke's Croydon house uses clashes of texture and colour in the bathrooms, rather than opting for a more neutral palette.
Building in flexibility is another way of adapting to the shift in the way we live. Many of the projects in this issue have multiple kitchens, accommodating live-in grandparents or grown-up children. Architect Prineas's Sydney renovation includes a studio space with an extra kitchenette, and Josephine Hurley Architecture's renovation to a heritage-listed, two-level apartment includes a separate kitchen for long-term guests. In Melbourne, Andrew Simpson Architects has created a house within a house for the clients' adult daughter; it could be used as a commercial space if she were to move out. 
Multigenerational homes must also cater for group dinners, and the informal way of Australian cooking and sharing is being embraced. The Melbourne home by BKK Architects provides bar seating in the kitchen, and bench seating is inbuilt into both Arent and Pyke's Croydon home and Reddog Architects' reworking of a Queenslander's kitchen.
We hope the projects in this issue inspire you to create spaces that embrace your own way of living in Australia. 
Katelin Butler, editor
Purchase issues: Print and Digital