Kitchens + Bathrooms 12 preview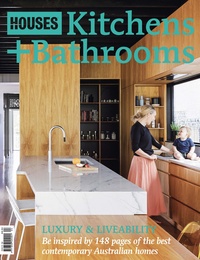 When it comes to making alterations and additions to houses with a distinctive visual style, we can fight the existing dwelling or we can embrace it. Of the fourteen projects in this issue of Houses: Kitchens + Bathrooms, twelve are renovations or additions. Each project has been conceived in a different way, but the common thread is a desire to respect the integrity of the original building while bringing a contemporary design sensibility to the process.
Branch Studio Architects' reworking of a 1968 Michael R. E. Feldhagen modernist house doesn't rewrite history but celebrates it through adaptation. In the kitchen, parts of the existing walls were removed to let in light and encourage social living, while a 1960s Jakob Rudowski pullout bar takes pride of place. The decidedly minimalist bathroom, with its utilitarian concrete bath and joinery, features a tile design that pays homage to the mid-century wallpaper featured throughout the house.
Similarly, Freadman White Architects' Tuerong Farmhouse embraces the rural aesthetic of the existing 1930s weatherboard and rock house by using a rich material palette that plays light against shade in the welcoming kitchen and retreat-like bathrooms. Matt Gibson Architecture and Design and Mim Design have taken a different approach with Shadow House. An open-plan extension featuring a sunlit "public" kitchen literally sits in the shadow of the existing Edwardian brick home. The extension is able to function as a contemporary space while taking nothing away from the site's heritage.
New homes are also striking a balance between contemporary and heritage design. SJB's 10 Wylde Street apartment in Potts Point features bathrooms adorned with Carrara marble, reflecting the area's Art Deco style. The apartment's kitchen occupies a separate inlet, enabling old-school entertaining and following a wider trend away from open-plan kitchens.
We hope the outstanding kitchens and bathrooms in this issue inspire the creation of your own spaces for expression, connection and retreat.
Purchase issues: Print and Digital