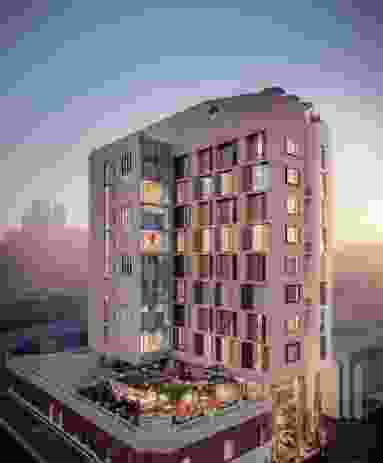 A revised design for a hotel would see a 10-storey tower with an all-timber structure rise above an early 20th Century heritage building on a corner site in the Perth suburb of Northbridge.
The proposed Leadlight Hotel, by Perth-based practice Klopper and Davis Architects, has been presented to the Metropolitan Development Authority (MDA) for consideration.
The hotel's proponents had previously received development approval for a taller building that would not have involved the extensive use of timber.
The new design for the tower will see it hug the existing Kenny buildings on the corner of Beaufort and Newcastle Streets – a collection of brick and iron retail buildings designed by architect Charles Oldham, the former commercial building was constructed in 1903 and was tenanted by a number of different businesses before ownership was assumed by the MDA.
The buildings appear on the WA State Heritage Register, and are described as the "most intact example of a group of buildings in the Federation Free Classical style" in the Heritage Council of Western Australia's statement of significance.
The primary structural material of the hotel tower will be engineered timber, the entirety of which could be sourced and fabricated locally. The design proposes a combination of both cross-laminated timber (CLT) and laminated veneer lumber (LVL).
Adam Zorzi, director of developer Australian Development Capital, said, "Embodied energy is rapidly becoming a factor that builders and developers must consider, and timber is a far more sustainable product that not only captures carbon for the life of the building but also results in far fewer greenhouse gas emissions during construction."
The Kenny buildings will be adaptively re-used as a hospitality venue accommodating a range of bars, restaurants and commercial spaces.
New to the revised design is the addition of another bar to the roof of the Kenny buildings.
Sam Klopper, director of Klopper and Davis Architects, said, "This bar will be a more sophisticated and intimate offering with seated dining served by the ground floor diner and emphasize the Western Australian connection with the outside and its environment."
Another bar will sit on the roof of the hotel tower, along with an outdoor cinema and swimming pool.
Klopper said, "This design focuses on keying in these hospitality uses with the buildings function […] and intelligently use the spaces between the buildings as well as the buildings themselves as new spatial functional spaces which serve the hotel, the bar and the diner."
Related topics