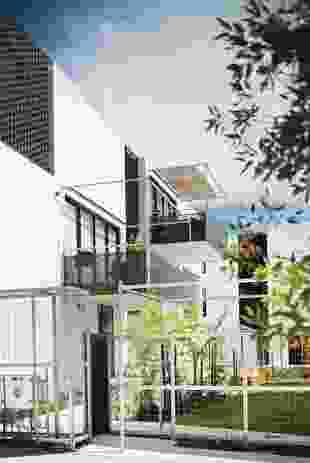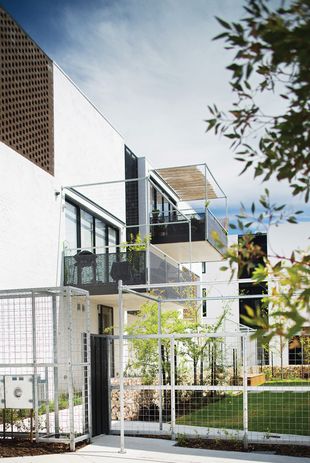 Knutsford Stage 1 is the first part of a four-stage multiple residential project by Spaceagency Architects on Fremantle's eastern fringe. Located on former industrial land, it has been constructed across the back of a large, petrified sand dune. The site cascades toward the ageing, ad hoc but lively remnants of this industrial precinct, where rambling antique stores, recycling timber yards, lunch bars and fabrication shops coexist in a wonderfully scruffy mix. The northern edge of the site abuts older, low-rise worker's cottages, while to the south lies a disused limestone quarry. The project was won as part of a design-led bid involving a consortium developer client and was rightly awarded, by the Australian Institute of Architects, both the national Frederick Romberg Award for Residential Architecture and the Western Australian state Harold Krantz Award for Residential Architecture – Multiple Residential Architecture in 2016.
The project can best be understood in the context of two other projects of significant merit from 1970s Perth. The first of these, completed in 1972, is Chelsea Village on the busy Stirling Highway in the leafy suburb of Nedlands, designed by Summerhayes and Associates. The second is Two Rocks Town Centre, completed in 1975 by Forbes and Fitzhardinge, located on a beachfront outpost far to the north of Perth. Both remain intact and are well worth visiting. These projects demonstrate the validity of an observation by revered and fiercely local educator Duncan Richards (who taught at Curtin University, formerly the WA Institute of Technology, from the 1960s to the 1990s) that rather than look to "the east" for our source material , most architects in Perth looked west toward Europe. No local practitioner exemplified this more than Marshall Clifton, who, via the equivalent of the grand tour, questioned the cold-climate roots of local work that resulted from this westward gaze and redirected t he profession's attention to the Mediterranean in a way that no other practitioner was doing at the time. Fast-forward a few decades and it seems that this tradition continued at Chelsea Village and Two Rocks. What these projects from the 1970s did, however, was to inject larger-scale civic work (both were designed as shopping precincts) with a distinctively medieval spatial grammar. These are identifiable, dense enclaves within their more suburban surrounds. The former acts as a medieval town centre where streets and tight passages merge, while the latter operates more as a fortified hilltop town with an enormous limestone fortification addressing the Indian Ocean. Each employs the twists and turns one might expect from such places. Their focus is inward, with glimpses out from a privileged centre, and they rely on the navigation of stepped, articulated pavements. Each must surely have arisen, in part, from scepticism about the more hardcore modernist projects from the previous decade, seeking out a rustic modernist aesthetic grounded in intimacy, complexity and the assumed benefits of squeezing people into compact, shady, external public spaces. Both sought these conditions as being naturally productive of a social good, a quality that had been relegated to second-best by the advent of the enclosed shopping mall.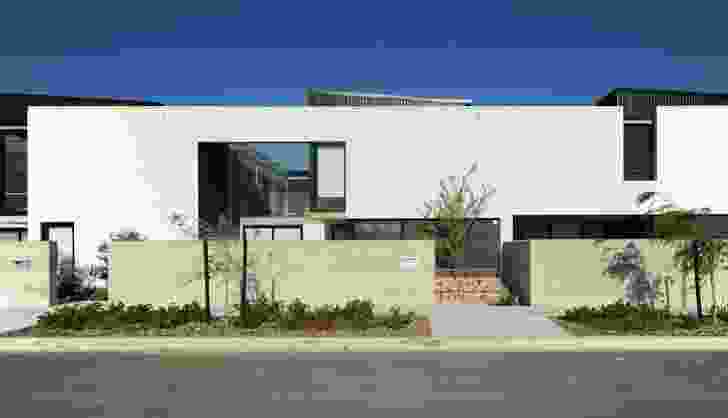 What is striking about both Chelsea and Two Rocks (apart from their immediate visual and spatial qualities) is the degree to which they failed operationally and commercially, and thus hamstrung their social possibilities. At the basis of this was the failure to observe two opposing forces in Perth: (i) that virtually everyone travels by car and (ii) that the sheer number of patrons required to make these places of "Bruegelesque" intensity necessitated enormous swathes of bitumen car parking. The provision of parking was never sufficient to produce a dense enough population, and had they received enough parking their medieval imagery would have failed completely, rendering them no more than outdoor shopping malls. Chelsea Village is no longer a shopping precinct with a tavern at its centre – instead, it is a place filled with polite, well-kept, small-scale professional office suites.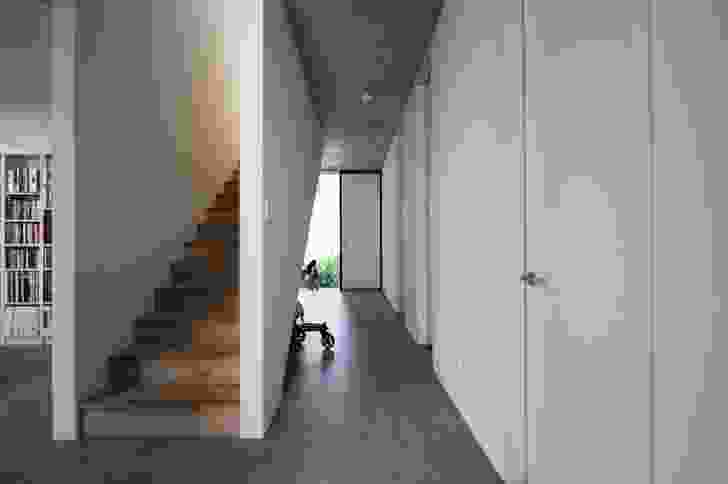 Let me now turn to Spaceagency's Knutsford project in the context of these exemplars. With stages 1 and 2 complete and occupied, and stage 3 under construction at the time of writing, a place of similar intimacy, complexity, permeability, climate responsiveness, scale and spatial grammar is taking hold. Endemic landscape is expertly threaded throughout and the dune upon which it rests is regaining a localized scent. Knutsford's brilliance as a scheme lies in the sheer improbability of realizing a finely wrought intersection between the worthy spatial and social aspirations of Chelsea Village and Two Rocks Town Centre (designing out all semblances of their foundational naivety) and the blunt forces of contemporary developer-led housing in Perth. But this Spaceagency has achieved, demonstrating a notable mastery through sustained practice in this vein for more than thirty years.
Like Chelsea Village and Two Rocks Town Centre, Knutsford is an enclave that feels almost medieval. Its low-rise site perimeter of two to three storeys belies the intensity and compression that is experienced within. With all buildings brought into close proximity – green-titled houses (some with independent granny flats), terrace houses and strata-title apartments – they read as a cohesive whole that has evolved over a lengthy timescale. Privacy and social communion are expertly addressed through a combination of cave-like private terraces, a mixture of private and shared courtyards, and the employment of shared driveways that are more communal landscape than traffic infrastructure. The most powerful of these external spaces is the site's central right of way. Successfully challenging the State Planning requirement that rights of way be six metres wide, the architects argued for its reduction to 4.5 metres in places where traffic movements are not expected, allowing some buildings at grade and first-floor level to encroach by 1.5 metres. The result is a living, slow-paced backstreet of pitch-perfect scale and proportion, a place ideal for children to ride bikes and play in safety. I can imagine being a child growing up here among endless intrigue and possibility.
Spaceagency has added significantly to the canon in this regard, advancing the line of inquiry of its 70s cousins through deep pragmatism, tactile and poetic sensitivity, and long-honed professional skill. This project is a test bed for Perth's transition to a liveable, generous and intriguing medium-density future.
Credits
Architect

Spaceagency Architects
Fremantle, WA, Australia
Project Team

Michael Patroni, Tobias Busch, Dimmity Walker, Clayton Edwards
Consultants

Acoustic consultant Gabriels Environmental Design
Builder Georgiou Group
Civil consultant Development Engineering Consultants
ESD consultant Wood & Grieve Engineers
Electrical consultant Best Electrical
Engineer Santillo Engineering
Landscape consultant Place Laboratory
Project manager GMPM

Site Details

Location Perth, WA, Australia
Site type Suburban

Project Details

Status Built
Completion date 2015
Category Residential
Type Multi-residential, New houses

Source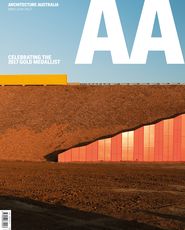 Issue
Architecture Australia, May 2017