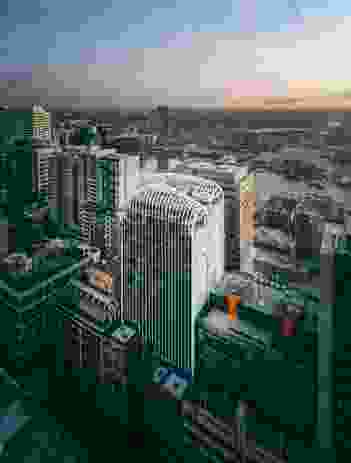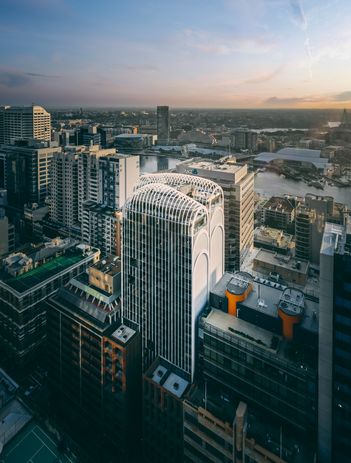 A pair of 25-storey towers with a distinctive arched roofscape designed by Koichi Takada Architects has been completed in the Sydney CBD.
The two slim towers, now dubbed Arc by Crown, together contain 221 apartments and rise from an eight-storey masonry podium inspired by heritage buildings in the area.
The towers straddle a refreshed laneway connecting Clarence and Kent Streets, that dates back to the 1980s and draws its name – Skittle Lane – from its past life as a bowling alley for sailors and soldiers.
The façade comprises 59 fins across the two towers that travel up the length of the buildings, folding over the top of the building to create partially enclosed rooftop terraces.
Speaking to ArchitectureAU editor Linda Cheng in 2015, Koichi Takada said the design related to the site's historical context and the heritage building to which towers were added.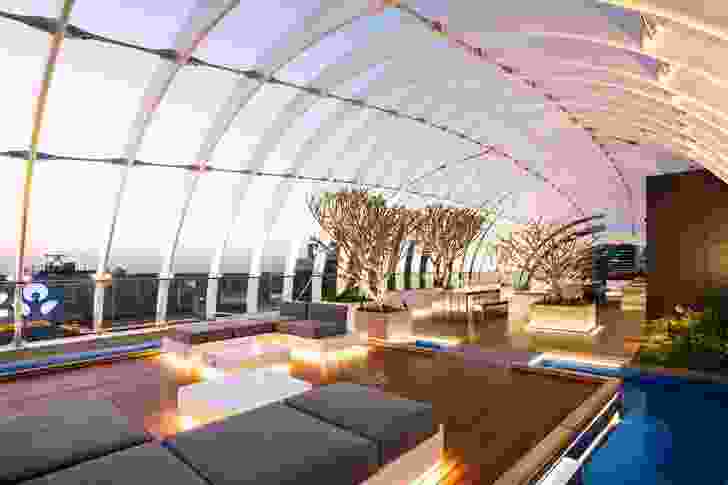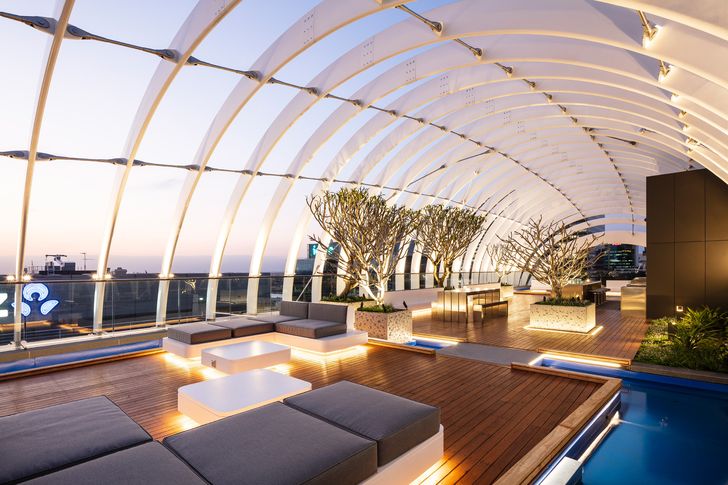 "The concept relates to the historical context within the site – we wanted to connect the podium element to the heritage building. We carefully studied its proportions and materiality, which connect to the context and history of Sydney, and then we thought of having something absolutely contrasting – a new structure directly on top of the podium that looks more forward-thinking, more futuristic in architectural appearance. The podium has a heavy masonry character, whereas the tower has a finer, lighter, more high-tech and slim-line materiality – more steel and glass."
Takada also said that the towers include an unusually high proportion of space set aside for communal use.
"Apartment living in the city is driven by the commercial pressures, which affect the design," he said. "So the natural evolution is to make apartments affordable by making them smaller. This really frustrates me. To negate this we proposed a lot of common areas – such as pool areas or lounges, a music room, library and gym –as an extension of the residential amenities. They are also very important parts of creating a sense of community and a sense of everyone coming together.
"We sacrificed about ten percent of the gross saleable area to these spaces. They don't necessarily earn money for the client but these are the sorts of areas that create meaning for the people experiencing the building. I think it is necessary to make the building turn into architecture and it makes the architecture richer as a whole."