Sydney practice Koichi Takada Architects has unveiled designs for a 63-storey tower in downtown Los Angeles that references California's gigantic redwoods, the "oldest and tallest" trees in the world, as well as Hollywood icon Marilyn Monroe and her "flying skirt."
Named Sky Trees, the tower is the fourth major project the practice has designed for Sydney property developer Crown Group and its first venture in the United States. It will be located at in an old warehouse district at 1111 South Hill Street, close to the Staples Centre sports arena.
The architects said in a design statement the tower would become the "healthiest place you can live in downtown LA."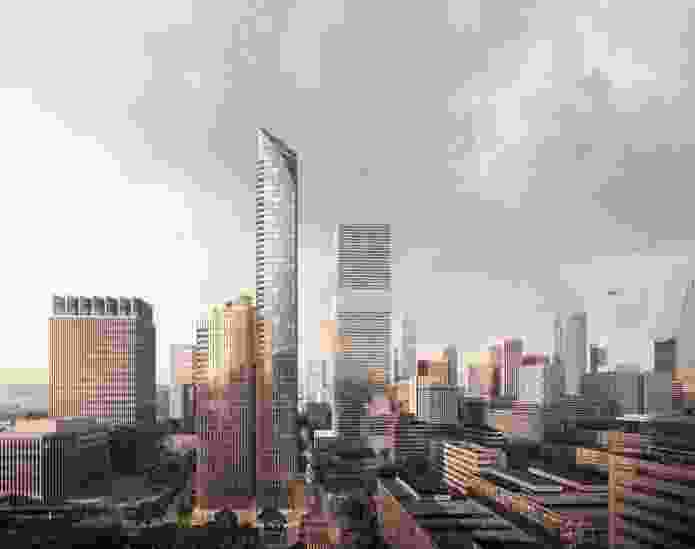 It will house 528 apartments and 5,544 square feet (515 square metres) of retail space and feature an expressive canopy that incorporates a "breathing green wall" designed to improve the city's air quality and introduce a unique landscaping feature to the downtown streetscape.
An earlier design for a 53-storey tower was submitted for approval in 2018. The 63-storey iteration would be one of the tallest buildings in Los Angeles, behind the 73-story Wilshire Grand Center by AC Martin Partners and the 73-storey US Bank Tower by Henry N. Cobb of Pei Cobb Freed and Partners.
The architects' statement says the design would seek to incorporate a "human scale" despite its height.
"We want to humanize tall buildings, to celebrate the pedestrian activities and consider how people experience it," the statement reads. "We want our tall building designs to be more engaging to the public to contribute to the community by activating and creating a connection with the neighbourhood."
At the ground level, undulating timber shading references Marilyn Monroe's flying skirt moment, when her skirt flies up as she stands over a New York subway grate in the 1954 film The Seven Year Itch.
The architects said the reference to Hollywood would "add cultural value to LA's famous street culture," while the nature-inspired building would help LA become a walkable city.
The amended design is currently before the City of Los Angeles.
Previous projects Koichi Takada has designed for Crown Group include Arc, Skye, and Infinity, all in Sydney.
Related topics