A traditional Aboriginal shelter with a domed roof and bark cladding is the subject of George Tobin's sketch Native Hut (or Wigwam) of Adventure Bay, Van Diemen's Land, 1792.1 While at first glance Tobin's drawing appears cheerful and benign, closer inspection reveals that something is clearly amiss. Neither of the blue-coated figures occupying the hut appears to be Aboriginal, nor does a third figure who watches from nearby. In the middle distance an entire boatload of identical blue-coated figures is making landfall on the beach, having disembarked from the tall ships at anchor in the background. A rifle lies at the entrance to the hut and another is propped against a tree, not far from an ominous pile of bones.
Along with the journal entries of French and British explorers, this drawing was one of the key references for Taylor and Hinds Architects when researching Tasmanian Aboriginal architecture for the newly inaugurated wukalina Walk. While the Hobart architects found Tobin's depiction of the shelter to be accurate, the absence of Aboriginal people from the scene has its own terrible authenticity. By the late eighteenth century a large number of palawa , Tasmanian Aboriginal people, had already been dispossessed of their lives, lands and customs by British invaders. The invaders' accounts provide the prevailing records from that time, with essential knowledge and ceremony forever lost. Tobin's sketch provides a portrayal of occupation in its most sinister sense.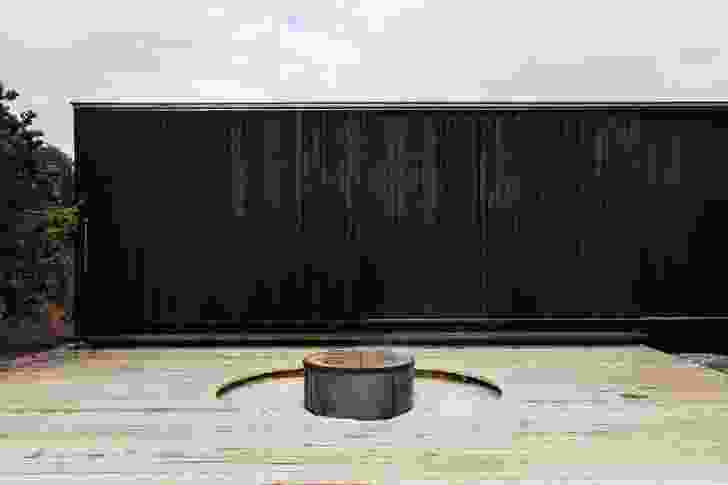 Tasmania's Aboriginal population was devastated by the British, but not extinguished. The surviving community has gradually rekindled its culture and traditions and this year triumphantly launched the state's first Aboriginal tourism venture. The four-day wukalina Walk is Australia's only Aboriginal- owned and guided walking experience, taking visitors on a journey that covers twenty-four kilometres of the state's north-eastern coast and thousands of years of history. The walk's main purpose is educational, dispelling the myth that Tasmania is devoid of Indigenous people while acting as an important link between the local community's elder and younger members. "If we can make this shine it will lead the way for other Aboriginal people," says Audrey Frost, an Elder and member of the board that oversees the operation of the walk.
Clyde Mansell, chair of the Aboriginal Land Council of Tasmania, was still formulating his idea for an Aboriginal cultural walk when he was approached by Taylor and Hinds Architects directors Poppy Taylor and Mat Hinds. "It got to the point where we had envisaged all these things about how we could take people on Country," says Mansell, "but had no idea of how we would house them." Cognizant of the project's potential, but also wary of "coming into the Aboriginal community and telling them what to do," Hinds and Taylor took a patient and consultative approach to the commission. Rather than drive immediately into the design, they engaged a group of University of Tasmania architecture students to investigate concepts and arrangements for the standing camp, while conducting concurrent historical research into traditional shelters and settlements. Eight years later, this process has finally come to fruition in wukalina Walk's first operating season. "It's the first time that we've been able to have this display of elements of our culture," Mansell enthuses.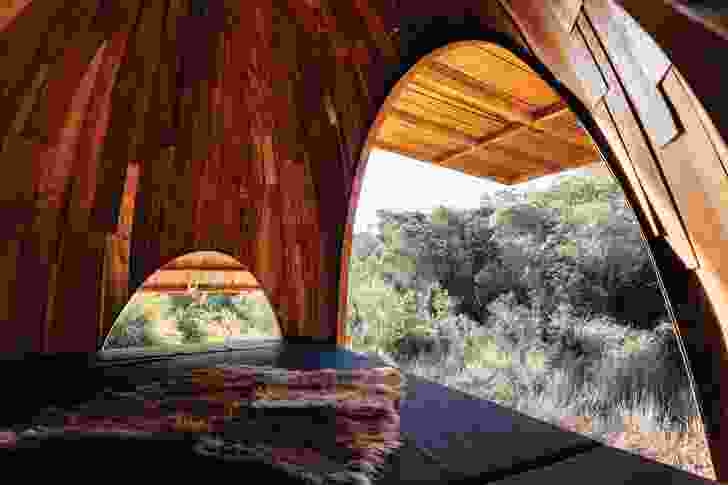 Isolated from the mainland for more than 12,000 years following the thaw of the most recent ice age, Tasmania's Aboriginal people developed their own distinct speech, creation stories and customs. Hinds and Taylor's research revealed that the traditional shelters of the north-east were clad in rough bark shingles and lined with softer paperbark. These dwellings were situated in the lee of the sea breeze and orientated east to catch the restorative warmth of the morning sun. The site selected by trainee Aboriginal rangers for the krakani lumi standing camp is likewise orientated east, nestled into a crescent of banksia scrub a short distance from the beach. In situating the camp site, not a single tree was removed or cut and all structures were airlifted into place by helicopter. The entire site is off-grid and powered by a solar array with diesel generator backup. Less than a year after construction commenced, Mansell says, the landscape has almost returned to the condition it was found in.
Care for Country is a critical aspect of the project, especially given its location within the last remaining habitat of the native Forester kangaroo. The architects' sensitive and considered approach is exemplified by the way the timber boardwalk between the camp site and the beach zigs and zags to avoid disturbing a single tree or shrub. In order to avoid bird strikes, solid panels and screens have been used in place of window glass, while nooks for native animals are secreted within walls. Charred black silvertop ash exteriors merge into the surrounding foliage or disappear completely with the closure of a sliding door or awning. From floor to wall to ceiling, from exposed studs and dowels to window frames and shutters, the camp site's central eating and bathing pavilion is entirely lined in locally sourced Tasmanian oak. Functional and decorative objects are neatly housed within studs or hung from dowels. Lighting is provided by simple silvered bulbs with hanging cord switches. Screened in brass mesh, the kitchen and bathroom perforate the all-black exterior and emit a welcoming glow by night.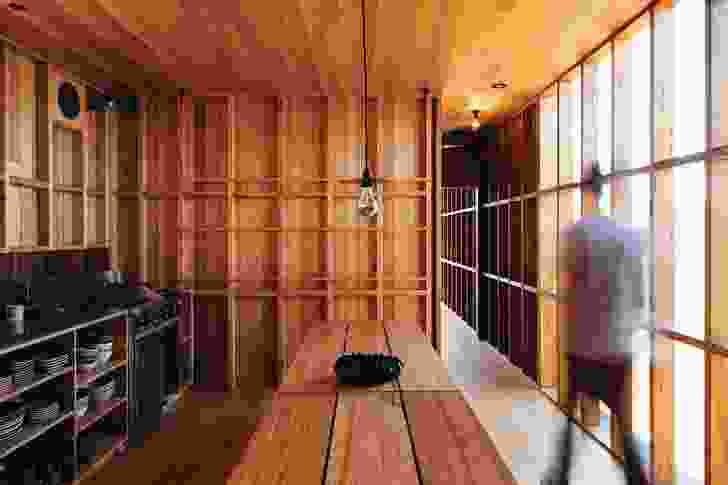 In the modern palawa kani dialect that consolidates several Tasmanian Aboriginal languages, "krakani lumi" carries a double meaning, translating as both "resting place" and "place of rest." The traditional domed shelter depicted by Tobin has been re-created by Taylor and Hinds at krakani lumi, only this time in negative. The camp site's central pavilion contains an excavated half-dome like the maw of a cave, while smaller domed volumes are nested within six dual-person sleeping huts. The space between inner dome and outer lining ingeniously conceals solar batteries, utilities and pulley mechanisms. As in a Rachel Whiteread casting, each dome exists as empty space, a void carved from the mass of a monolithic black cube. Bark cladding is reimagined as a red- stained timber lining that glows in sunlight like exposed sap or an open wound. The Boolean form of the dome is at once present and absent, tangible and intangible, literal and symbolic. It speaks of loss, but equally of traditions celebrated and reborn.
"The myth of a country devoid of indigenous architecture – 'architecture nullius' – has long persisted," writes Philip Drew in his review of Paul Memmott's important 2007 book Gunyah, Goondie and Wurley: The Aboriginal Architecture of Australia . One of the bases for this myth, Drew reasons, is that "Traditional shelters had a lifespan rarely exceeding a season at most. Consequently, symbolism was seldom attached to shelters; nor were they much embellished with decoration."2
While it may be that traditional Indigenous shelters were rarely embellished with symbols or decoration, today it is precisely the unadorned and economical form of these structures that resonates with powerful symbolism. Still, Taylor and Hinds Architects faced a near impossible task with its design of the wukalina Walk standing camp. The camp's architecture needed to somehow embody the symbolic space of the traditional temporary shelter, yet do so within a permanent and contemporary form. Remarkably, Taylor and Hinds succeeded in bridging this divide, expressing the presence of the past while summoning the past into the present.
1. "Series 02: Sketches on H.M.S. Providence; including some sketches from later voyages on Thetis and Princess Charlotte, 1791–1811/by George Tobin," State Library of New South Wales website.
2. Philip Drew, "Gunyah, Goondie and Wurley: The Aboriginal Architecture of Australia," The Sydney Morning Herald website, 14 December 2007.
Credits
Architect

Taylor and Hinds Architects
Hobart, Tas, Australia
Project Team

Mat Hinds, Poppy Taylor (lead architects), Jordan Davis (graduate of architecture)
Consultants

Alternative solutions consultant Holdfast Building Surveyors
Biodiversity, flora and fauna assessment consultant Anna Povey
Builder Builder AJR Construct
Building surveyor Lee Tyers Building Surveyors
Electrical engineer ECOS
Fire engineer Castellan Consulting
Land surveyor Woolcott Surveys
Landscape architect Inspiring Place
Quantity surveyor WT Partnership
Structural and hydraulic engineers Aldanmark Consulting Engineers
Wildlife management plans consultant Birdlife Tasmania

Site Details

Location larapuna (Bay of Fires), Tas, Australia
Site type Rural

Project Details

Status Built
Category Public / cultural

Source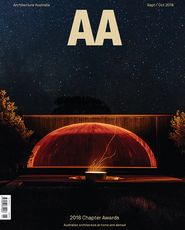 Issue
Architecture Australia, September 2018