A crowd of children in nativity rags pass us, trailing a sun-drenched adolescent in white, side-saddle atop a donkey. As they shuffle by in their angel wings and cowboy hats, dust settles on this narrow road in Lagunillas, revealing the heads of four tall white pillars. We are standing before Gratitude Open Chapel, the first of a series of architectural works curated by Mexican architect Tatiana Bilbao and commissioned by the government of Jalisco for the 300-year-old pilgrimage route la Ruta del Peregrino.
A trail of devotion, gratitude and salvation, the pilgrimage threads 117 kilometres through the Jalisco Mountains of Central Mexico over varied terrain. It climbs to an altitude of 2,000 metres above sea level at the Cerro del Obispo and hikes over the rocky peak of the Espinazo del Diablo before descending into the town of Talpa. Here, in a tinsel-draped church, worshippers meet with the panacean powers of the Virgin del Rosario, a Mexican invocation of the Virgin Mary. During Holy Week in April more than two million pilgrims crowd these narrow, unsealed streets, creating a festive dust storm of singing, dancing families. On this warm December (2013) morning, the Open Chapel is empty and the children's Christmas Posada occupies the streets.
The Gratitude Open Chapel is a minimal affair: four tall white walls of off-form concrete define the edges of a perceived cross in plan. Set in a scraggy field of grasses and surrounded by a stonewall of basalt, the pillars reach 28 metres into the air, casting long, cool shadows in the hot afternoon. In the tallest of the four walls, a fragment of iron is embedded, causing a slight discolouration underneath like a wound. Designed by Tatiana Bilbao in collaboration with architect Derek Dellekamp, this understated, abstract work seems at odds with the pomp-laden approach to religious worship that characterizes Mexican Catholicism. Bereft of iconography and colour, the work appears at once alien and universal: a series of Space Odyssey-esque monoliths dropped into an old cornfield that read intuitively as a place of worship.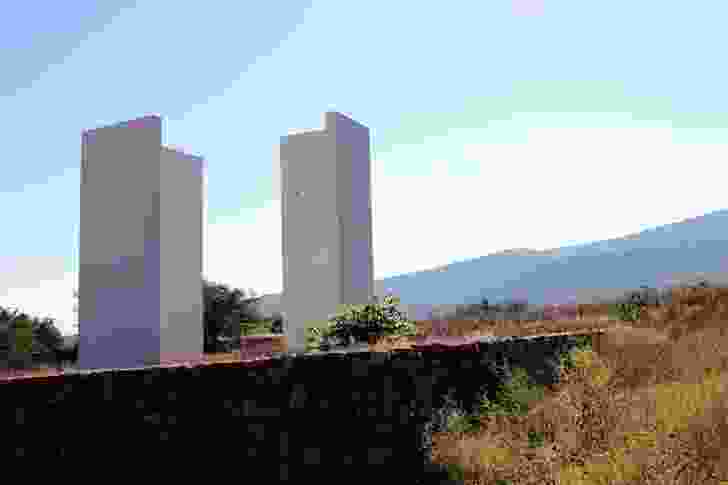 In April 2008, the governor of Jalisco, Emilio González Márquez, announced the investment of 90 million pesos to upgrade the existing pilgrimage route. Devoid of existing infrastructure and with little shade, shelter along the Ruta del Peregrino existed in the form of temporary, makeshift structures or in the ranches of generous and enterprising residents of fringe towns Atenguillo, Guachinango and Mixtlan who depend on the pilgrimage to generate their yearly income.
To revive these impoverished towns along the route, Marquez and Jalisco's minister for tourism, Aurelio Lopez Rocha, enlisted Bilbao to masterplan a series of structures that would provide shelter, spaces for prayer, sanitary facilities and water, while generating additional year-round tourism. Bilbao, in turn, amassed an international team of architects to collaborate with, including fellow Mexican architects Dellekamp, Montiel and Luis Aldrete and, Swiss architects HHF and Christ & Gantenbein, the Chilean practice Elemental, and Chinese artist Ai Weiwei. Bilbao told me it was very important to work in collaboration "because of the spiritual weight" of the project. "I think it touches a very special time in the lives of these people. I thought we needed to be very sensitive. Not only to the place but also to the people and the ritual. Which was very difficult to achieve, but fortunately people have accepted it."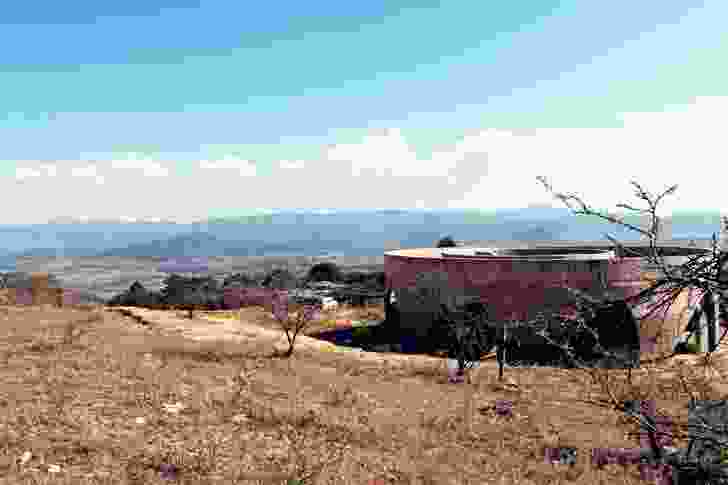 Certainly the locals of the nearby townships have embraced the architectural interventions, crafting and selling small timber replicas of the new works to pilgrims as souvenirs through the Easter rush. Acceptance by the wider public, however, is more difficult to gauge. Governor Marquez's 2009 announcement regarding the injection of funds into the pilgrimage was met with some consternation from parts of the public who feared the works represented an attack on the secular state. This fear was, perhaps, allayed by the deliberately abstract and sensitive approach of Bilbao and team: the eight works scattered along the trail read almost as a kind of counter-melody to the existing pilgrimage, one that plays to slightly different ears. This series of architectural "moments" is largely complementary to the existing ritual, yet makes the route more accessible to foreigners and non-Catholics.
On the ground, the relationship between the pilgrims and the architectural interventions becomes ambiguous due to large amounts of graffiti that has been applied to many of the structures. Christ & Gantenbien Architects' lookout point atop the Cerro de Obispo Mountains, visible along the length of the Ruta as a luminous guide, reveals upon arrival at the summit a scattering of spray-painted names around its base and inside its undulating shell.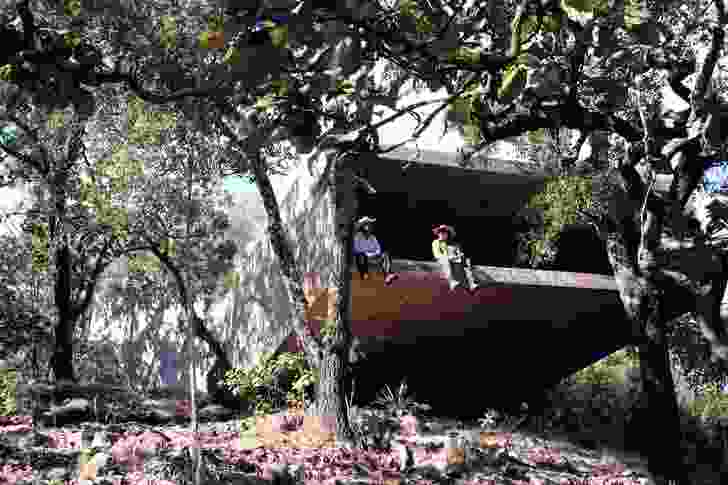 Many of the ground-based works, such as Tatiana Bilbao's folded concrete refuge and Elemental's cranked viewing platform have been largely enshrouded in graffiti. Yet other works remain peculiarly untouched. Architect Luis Aldrete's two sleeping shelters, which, as he notes are "totally insufficient for the amount of people that require shelter during Holy Week," act as a kind of community epicentre, drawing thousands of pilgrims who cannot fit within them to cluster around them with tents, tarps and sleeping mats. Occupied around the clock during Holy Week and encircled by disgruntled travellers, not a single scrawl of paint is to be seen.
According to Aldrete, the graffiti does not represent a form of rejection: it is part of a long tradition by the pilgrims of marking progress, previously done on trees and makeshift structures along the trail. "Along the way, many of these new architectures act as milestones for the pilgrims", Aldrete explains. His shelters, "are a kind of refuge from the journey", and so are differently received.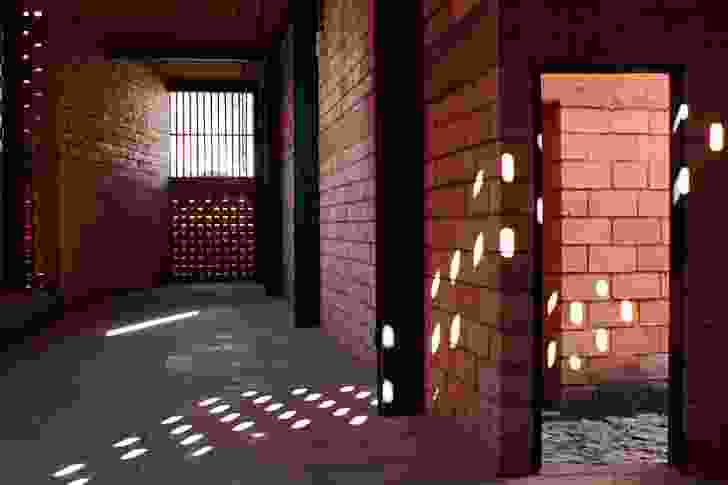 This is no doubt partly the case, but another anomaly of Aldrete's Shelters is apparent: its materiality. Of the nine architectural interventions only Aldrete's Shelters and Ai Weiwei's Sanctuary are constructed using the local basalt rock and adobe mud brick, and both are virtually untouched by the pilgrims. An outcome of extensive on-site research, Aldrete's long, linear shelters employ the 'hit-and-miss' adobe brickwork seen in local houses throughout the region to scatter sunlight and pour fresh air into the communal zones. His works are totally at home in the Jaliscan landscape, referencing its muted earthy tones and dappled sunlight. Ai Weiwei's work, consisting of a low stone pier of basalt rock that guides pilgrims gently out of the earth and into the sky, is so understated that it might be mistaken for an existing piece of water infrastructure.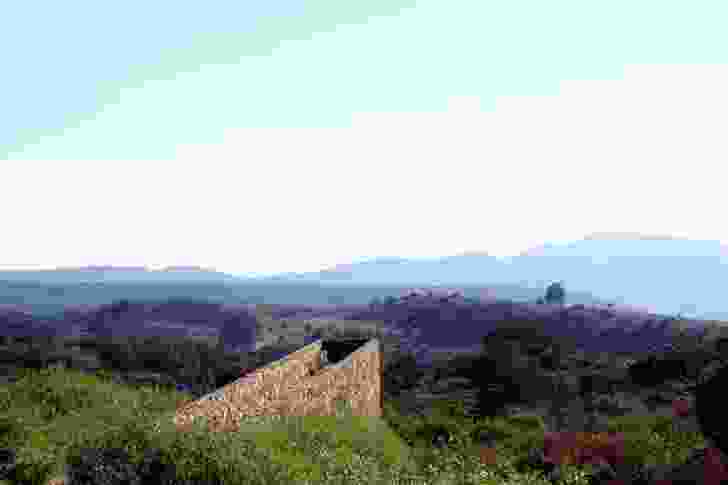 The remaining six works are comprised entirely of white concrete. Unmistakably foreign among the earthen ranches and tiled terracotta roofs, they are tucked between existing trees and shrubs to minimize impact to the landscape, and all works are accessed by the same dirt path that has been trod for centuries. Designed to be easily constructed by local builders and require zero maintenance, the rough finish of each of the white concrete works offer a tactile, human element to these otherwise austere sculptures.
It's a strange intervention – a series of works that look more like abstract land art scattered along an old pilgrimage route. Yet it works – partly because each piece is situated discretely within the landscape and partly because the limited materials prevent the works from overpowering the mood and experience of the trail. Although alien to the immediate built environment, the austerity and abstract quality of the architecture harks back to a pre-Hispanic Mexican architecture which, if not Catholic and Jaliscan, is undeniably spiritual.
Toward the end of the trail the landscape transforms from low-lying shrubs to dense forests. Here, a large white ring appears to have been dropped over a patch of trees, half embedded in the dirt, and half hovering as the land falls away beneath it.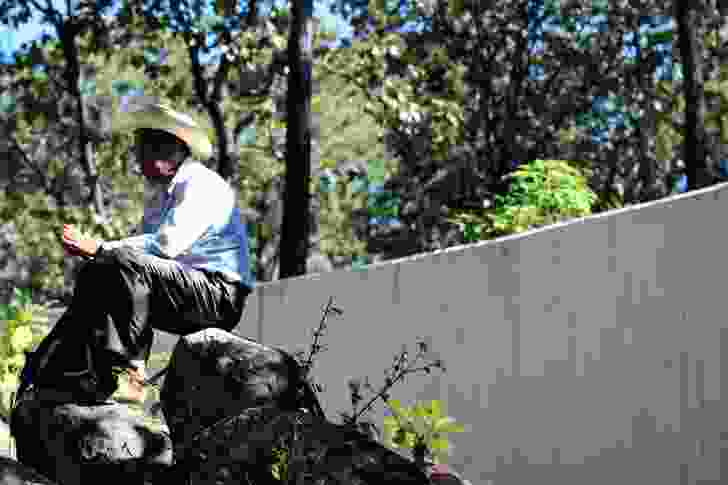 This ring, designed by Derek Dellekamp Architects in collaboration with architect Rosanna Montiel, defines a physical area for sanctuary and reflection without dictating a practice. Like many of the works produced for the masterplan, the ring uses simple, accessible symbolism to evoke ideas of both a higher power and a simple communion with other human beings. Carefully positioned to avoid adversely impacting any trees, the ring skirts the forest floor, its continuous off-form concrete engaging at turns with the dirt, the grass, the trees and sky. In a country famous for its unique blending of Catholic and indigenous religious practices, there is something fitting about an architecture that is deliberately spiritually ambiguous.
In some ways, the ring project might be seen as a metaphor for the masterplan as a whole, requiring both a large embrace and a sensitive touch. In this project Tatiana Bilbao has navigated a sea of competing interests, as though she herself was on a mission from god: government stakeholders, local landowners, zealous pilgrims and a cynical public all with vested interests – while a diminishing budget and expansive project team of architects, designers, philosophers and sociologists added further complexities to the mix. Yet as Bilbao herself has emphasized, it is the large embrace – the collaborative and consultative approach – that enabled this project to become a reality.
"I believe collaborations are totally necessary to do architecture today" Bilbao explained during our meeting. "This society has so many complexities that need to be understood in order to respond appropriately that I think it is truly impossible for one human being to do it alone". What has resulted from this controlled collaboration is a kind of social and spiritual opening up of the historic pilgrimage route. While not all the works within the masterplan are perfectly pitched, the project as a whole sits comfortably beside the existing ritual, acting as a gateway for those of different backgrounds and religious persuasions to experience the landscape of rural Jalisco and its people.
For Mexico, this kind of spiritual layering is not new; it is the basis of a rich and complex national identity. As obtuse as the sculptures may seem to some, it is conceivable that with time, they may take on new meanings for those who gather and pray, buy and sell food, dance, sing and sleep in their midst. The large embrace of this project may not always be a comfortable one, but neither is it entirely disjunctive. Meanwhile, its inclusive approach has brought more than a handful of hardened atheists heading for these hills.