CarriageWorks at Eveleigh
Tonkin Zulaikha Greer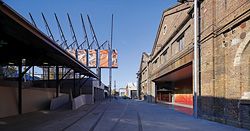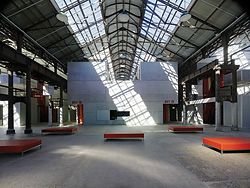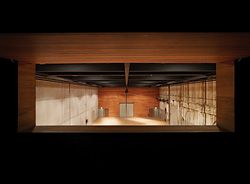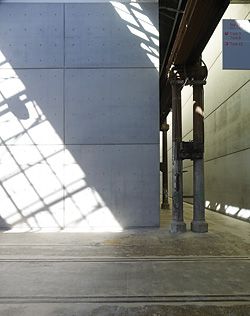 Jury Citation
The Eveleigh CarriageWorks in Sydney is a vast complex of industrial buildings constructed in 1888 to provide workshop space for the New South Wales rail network. These buildings have been transformed to create vibrant performing arts spaces that will, the jury hopes, establish a precedent for the retention of other industrial buildings within this important historic precinct.
The architects have worked with the essential qualities of the CarriageWorks, preserving a gritty industrial character and celebrating the building fabric's patina. Insertions to create theatre spaces, offices and amenities typically sit as discrete concrete boxes within the original structural grid. The potentially alienating scale and rugged character have been masterfully addressed with an hierarchical approach to detailing – raw and robust for new enclosures and refined for tactile elements such as stair handrails. Splashes of bright colour enliven the largely monochromatic palette and provide directional cues for patrons.
Retained features such as old rail track, cranes and lifting beams are critical visual elements within the vast foyer, which spans the length of the building, and they provide creative opportunities for impromptu performance events. Tonkin Zulaikha Greer has been fearless in its design interventions, which are explicitly articulated with an admirable consistency of approach.
Eveleigh CarriageWorks demonstrates the benefit of a "less is more" approach to restoration, the importance of appropriate continuing uses and, above all, the need for intervention within historic buildings to be of the highest design quality.

Architect Tonkin Zulaikha Greer—design architect Tim Greer; project architects Julie Mackenzie, Jeremy Hughes; project manager Brian Zulaikha; architect John Chesterman; graduate architects Trina Day, Bettina Siegmund; architectural assistants Amelia Holliday, Vanessa Vorster, Christian Williams.
Heritage consultant Otto Cserhalmi and Partners.
Structural consultant Simpson Design.
Services consultant Bassett Consulting Engineers.
Hydraulic consultant Warren Smith and Partners.
Acoustics Arup Acoustics.
Lighting consultant Bluebottle.
Communications consultants Jelly Design, Australia Street Company.
Services consultant Defire.
Project manager Root Projects Australia.
Builder St Hilliers.
Photographer Michael Nicholson.

For full coverage see Architecture Australia vol 96 no 4, July/August 2007.