UTAS SCHOOL OF ARCHITECTURE BY SBE AND SIX DEGREES ARCHITECTS – ARCHITECTS IN COLLABORATION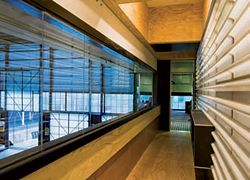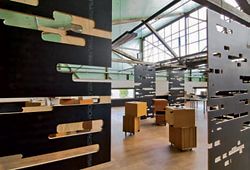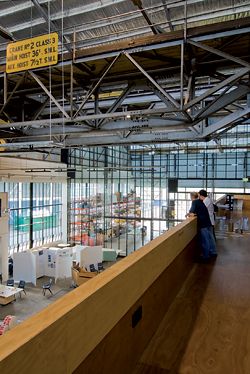 Jury Citation
The appropriate and sensitive revitalization of Australia's considerable stock of historic architecture, particularly the vast sheds of its industrial heritage, is a key issue during the nation's transformation into a contemporary service economy.
Relocating the UTAS School of Architecture to this former Diesel Workshop (constructed in 1950) has allowed the school to represent its particular philosophy of design-by-making in the fabric of its own building. In such an industrial shed the structural elements and materials are rudimentary, unadorned and explicit in their purpose and making – designed for heavy and un-careful use but not for contemplation or appreciation.
The success of the new design lies in the way it maintains, and emphasizes, the scale and ruggedness of the original hall by the insertion of elements that complement the existing in scale and materiality – for example, the vast steel-framed glass wall between workshop and studio – and that contrast with it, such as the intricate pattern of small linear apertures, routed out of the plywood sheets by the school's own CNC Router, which define the different spaces. All new materials were selected for their environmental sustainability, durability, texture and industrial aesthetic, but while the language of the old workshop is continued, there is no ambiguity between the previously existing and the inserted.
The new studios and offices are arranged in a tall linear element along one long side of the shed. This enables the magnitude of the original space to be appreciated. It also emphasizes, by contrast, the transverse lines of the sawtooth lantern roof which is the shed's primary characteristic. The retention of the old crane driver's control booth – now dangling into one corner of an ordinarily scaled design studio – adds a fascinatingly incongruous and slightly comic touch, in which the former and present usages simultaneously cohabit the old shed.
For further coverage see Architecture Australia vol 96 no 4, July/August 2007.
Credits
Architect

Six Degrees Architects
Melbourne, Melbourne, Vic, Australia
Project Team

Peter Malatt, Simon O'Brien, Giles Lawson, Glenn Irwin, Chris Barnett, David Oppenheim, Erika Bartak, Luke Smeaton
Architect

Sustainable Built Environments
Australia
Consultants

3D services modelling Construction Modelling Australia
Acoustic consultant Watson Moss Growcott
Builder Vos Construction
Building surveyor Protek Building Surveying
Cost consultant Simon Wragg and Associates
Fire engineer Pitt and Sherry Building Consultants
Land surveyor GJ Walkem and Co
Landscaping TNLA
Services consultant Engineering Solutions Tasmania
Soil engineering BFP Consultants
Structural consultant George Apted & Associates

Site Details

Location Launceston, Tas, Australia

Project Details

Status Built
Category Public / commercial

Client

Client name University of Tasmania – Asset Management

Related topics