MEMORIAL HALL, MELBOURNE GRAMMAR SCHOOL
PETER ELLIOTT ARCHITECTURE AND URBAN DESIGN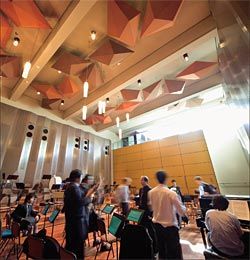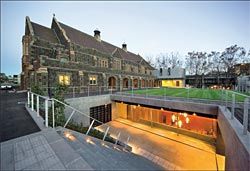 JURY CITATIONThe cultural significance of the Melbourne Grammar School has been successfully retained by this work. The Old Melbournians War Memorial Hall has been reaffirmed as an icon building in the school campus, which includes more than thirty individually listed heritage items. Establishment of new ceremonial entry and address conditions, the opening of axial vistas to the school site proper and the creation of a fitting setting for the hall, together with a new music and performing arts centre, has contributed to the aesthetic, historic and social value of this place.
In a comprehensive and creative approach to the numerous challenges at hand, the work has underscored the past social values and meaning of the 1920s hall and forged new links to the future with a contemporary performance centre.
The Memorial Hall has been restored as a place of assembly with the removal of internal accretions and the creation of subtle yet substantial stage and drama performance facilities.
The intelligent decision to develop some 95 percent of new space under and adjoining the hall, including a new music studio below a terrace accessed from a sunken courtyard, has assured that the status and prominence of the hall is retained while the architectural opportunities of the present are heralded.
The architectural expression of the composition successfully layers function, heritage fabric and school symbols in decoration, with a new built insertion that values light, open space and volume. The contribution to the masterplan for the school is substantial, revealing the significance of the hall and encouraging new directions for future development.
MEMORIAL HALL, MELBOURNE GRAMMAR SCHOOL
Architect Peter Elliott Architecture and Urban Design—project architect Tony Hampton; design architect Peter Elliott; project team Tim Black, Justin Mallia, Penny Webster, Geoff Barton, Rob Trinca, Tony Charles. Structural and civil consultant Scott Wilson Irwin Johnston.
Electrical and lighting consultant Barry Webb and Associates. Hydraulic and fire consultant G. Rimmington and Associates.
Landscape consultant Urban Initiatives.
Acoustic consultant Marshall Day Acoustics. Services consultant Addicoat Hogarth Wilson. Quantity consultant Wilde and Woolard. Builder Cockram Builders, Hooker Cockram Projects. Theatre consultant Entertech. Heritage consultant Robert Sands. Building surveyor Hendry Group Vic. Photographer John Gollings.