Jury Citation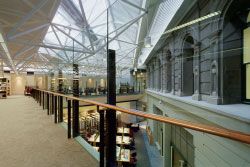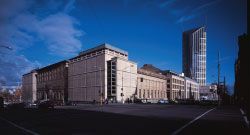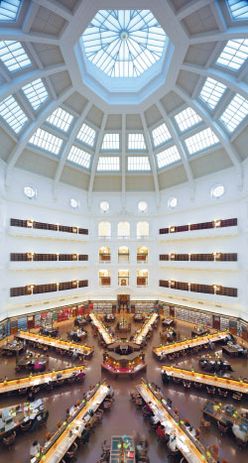 The State Library of Victoria buildings are classified by the National Trust of Australia and included in the National Estate and Victorian Heritage registers. The Swanston Street forecourt and the domed reading room interior are noted for their cultural heritage significance.
Collectively the buildings are important for having been the principal educational and cultural centre for the people of Victoria for over 150 years and many of the individual buildings are well known as significant icons. The library is now accommodated in seventeen distinct but integrated buildings over six floors on an entire city block of two hectares.
The architects have respected the existing historical and architectural significance of this complex and have sought to enhance the expression of the already established planning principles in their work on the site. Over the last sixteen years the project has dealt with both heritage work and contemporary intervention, with new elements clearly articulated and physically delineated from the existing fabric in a most sensitive and appropriate manner.
The attention to detail in this project is the most striking thing for the discerning observer. Materials complement the existing, but are used in a contemporary way, and the traditional materials used in new balustrades, wall panelling and doorways are very sensitively detailed. This new detailing refers to the existing in a very deliberate and exquisite way.
The skilful management of the new and the old helps to blur the boundaries between heritage and new, thus making passage through this complex easy and comfortable, as well as a delightful voyage of discovery. This is further emphasized by the skilful architectural insertion of a new precast building completing the Latrobe Street frontage, and the new insertions in the courtyards.
The architects have demonstrated an extraordinary discipline and tenacity in their application of consistent detailing over a period of sixteen years without succumbing to the temptation of creating variety for the sake of it. This disciplined approach has resulted in the harmonious reconfiguration of this Australian icon.
Images: John Gollings, Patrick Bingham Hall.
Credits
Architect

Ancher Mortlock and Woolley
Ultimo, Sydney, NSW, Australia
Consultants

Acoustic consultant Wilkinson Murray: Paul Bridge
Builder Baulderstone Hornibrook (stage 2, 4, 5), L.U. Simons Builders (stage 1), Hansen Yuncken (stage 3)
Design architect Ken Woolley
Facade consultant Ove Arup and Partners
Heritage consultant Allom Lovell and Associates: Peter Lovell, architectural agents to AMW Peter Richards Architect: Peter Richards
Interior designer Geyer Design: Michael Greer
Original architect Joseph Reed, NG Peebles
Project architect Phil Baigent
Project manager CMR Consultants: Paul O'Dwyer
Quantity surveyor Rider Hunt: Mark Lochrane
Services consultant Norman Disney and Young: Gary Matlock
Structural consultant Ove Arup and Partners: Peter Bowtell

Site details

Location Melbourne, Vic, Australia
Category Commercial / public buildings
Type Heritage

Project Details

Status Built

Related topics