JURY CITATION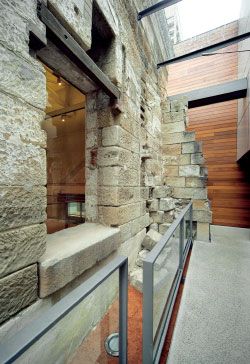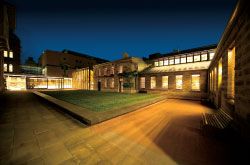 The Mint is of exceptional cultural significance. It contains one of the oldest buildings in Sydney, the southern wing of Governor Macquarie's Rum Hospital, and important remains of the Sydney branch of the Royal Mint, established following the discovery of gold, an important event in the history of New South Wales.
The project represents the transformation of one of Sydney's oldest and most precious historical sites into a meaningful public place, formed by the conservation of heritage structures and the insertion of contemporary buildings. Centred on a courtyard, the new and the old form a significant public place in the city.
The transformation of the Mint consists of a balance between restoration and adaptive reuse and carefully scaled and located new buildings, creating an integrated sequence of spaces. The evidence of archeological research is clearly apparent, while the deliberate revelation of the construction of bygone eras adds a didactic quality to these public buildings. The new insertions are carefully modulated so as to cause little conflict with the historical context, with new and old touching only lightly. The new is uncompromisingly contemporary and does not seek to emulate historical forms. Thus, the new has established a clear layer rooted in its own time.
One of the most important challenges of this project was the integration of services into the heritage elements so as not to distract from the clear volumes of the existing buildings. The adaptations to the existing buildings and the design of the new building envelopes apply appropriate ESD principles to reduce energy consumption and promote the use of natural ventilation and daylighting.
This project exhibits high quality environments brought about by architectural skill of a very high standard.
NEW HEAD OFFICE OF HISTORIC HOUSES TRUST OF NSW – THE MINT
Architect Francis-Jones Morehen Thorp (FJMT) with Clive Lucas, Stapleton and Partners and the Historic Houses Trust. Project architect FJMT: Elizabeth Carpenter. Design architect FJMT: Richard Francis- Jones. Project manager FJMT. Other project team members Jeff Morehen, Matthew Mar, James Perry, David Haseler, Lance White, Stephen Pennock, Karl Bennett, Janine Deshon, Cecilia Huang, Sheena Males Duggan, John Morris; landscape team Matthew Todd, Vikram Mukherjee. Structural consultant Taylor Thomson Whitting. Electrical and mechanical consultant Steensen Varming. Hydraulic consultant Warren Smith and Partners. Landscape consultant FJMT. Acoustic consultant Arup Acoustics. Quantity consultant Page Kirkland Partnership. Communications consultant Steensen Varming. Builder St Hilliers. Heritage architect Clive Lucas, Stapleton and Partners—project team Clive Lucas, Sean Johnson. Archaeology Godden Mackay Logan. BCA compliance Trevor Howse and Associates. Access Access Australia. Photographer John Gollings.