JURY CITATION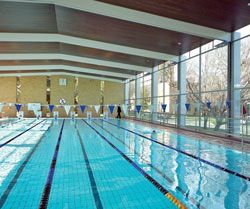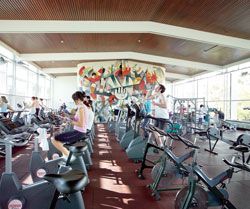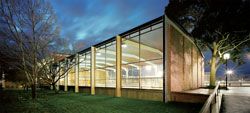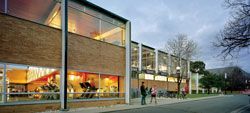 As a fine and assured example of the so-called Postwar Melbourne regional style, the Beaurepaire Centre is of considerable historical, social and aesthetic/technical importance. Designed by Eggleston, MacDonald and Secomb in collaboration with Bill Irwin in 1954 for the University of Melbourne, it was completed in 1957. The project was part of the university's 1950s building programme which resulted in a significant group of Modernist Functionalist buildings. Today it retains all its major elements, which demonstrate its original form and function as a swimming pool and gymnasium complex.
The work by Allom Lovell and Associates spans conservation, reinstatement and adaptation. Contemporary uses and modern facilities are accommodated within the original fabric in a way which celebrates the original structure, materials and surfaces. This is no museum piece.
The conservation team has cleverly inserted new services without dominating the existing surfaces. New floor finishes that are more appropriate to contemporary activity have been inserted in a way that has neither destroyed nor completely hidden the original.
Contemporary building codes, including equity of access, have been managed by the insertion of new elements which look appropriate and hide nothing.
The university and the architects are to be congratulated for choosing to conserve and adapt this building to current usage.
This has not only retained a significant piece of architecture from a period which is often looked upon as being unworthy of retention, but also provides a very clear statement that the reuse of existing buildings is often more financially viable then their replacement. In this respect there is the added benefit of reducing the energy input when recycling is undertaken instead of demolition and replacement.
The Beaurepaire Centre project is the successful culmination of conservation ethics and practice. It takes its place as a model for society to rethink its attitude to conserving buildings of significance from our recent past.
Project Credits
BEAUREPAIRE CENTRE POOL, UNIVERSITY OF MELBOURNE
Architect Allom Lovell & Associates—design architect Kai Chen; project architect Anne-Marie Treweeke. Pool and pool hydraulic consultant David Powick & Associates.
Structural and hydraulic consultant Scott Wilson Irwin Johnston. Electrical and mechanical consultant Arup.
Acoustic consultant Watson Moss Growcott. Builder McCorkell Constructions.
Project manager and quantity consultant Donald Cant Watts Corke. Building surveyor Philip Chun & Associates.
Original architect Eggleston, MacDonald & Secomb.
Photographer John Gollings.