In 1891, a small outback Queensland town was the site of an event that shaped Australian history – the great shearers strike which ultimately gave rise to the formation of the ALP. The shearers met under a huge ghost gum in the main street of Barcaldine, the so-called Tree of Knowledge, which became a symbol of the workers' struggle.
Over time the tree had suffered and in 2006 was poisoned. Although the tree is dead, the history lives. Thanks to the remarkable efforts and advocacy of the architects and the support of a small community and three levels of government, Barcaldine now hosts the Tree of Knowledge Memorial.
Here architecture rescues the object and preserves, explains and honours the memory in a powerful, haunting, enigmatic structure. From twenty kilometres out on the Longreach road, a mysterious form appears, locating Barcaldine in the seemingly endless flat landscape and drawing the traveller to the town. Gradually revealed is a huge cube, a sheath of suspended timber shards, each chamfered end like a leaf, which carves out in negative the ghost of the tree.
This remarkable structure may not have existed and the tree been lost if not for the compelling vision, intelligence and tenacity of the architects and their collaborative relationship with mayor Rob Chandler, who supported, promoted and carried this project through many difficulties.
This important work demonstrates the transformative power of architecture and the pivotal role good architects can play in public advocacy and community contribution. Barcaldine has a source of great civic pride and an attractant to the town, and Australia is richer for the preservation of an historic icon of national significance.
– Jury citation
Credits
Architect

Brian Hooper Architect
Yeppoon, Qld, Australia
Project Team

Michael Lavery, Ben Vielle, Helder Pereira, Emma Healy, Angela Winkle, Brian Hooper, John Angel, Allen Dwyer
Architect

m3architecture
Qld, Australia
Consultants

Builder McNab Constructions
Building surveyor Philip Chun & Associates, Michael Moran
Council engineer Barcaldine Shire Council
Electrical Hawkins Jenkins Ross, Virendra Khatri
Heritage Gordon Grimwade & Associates, Martin Rowney
Hydraulic services Thomson Kane Hydraulic, Mark Kane
Landscape Gamble McKinnon Green Brisbane
Landscape consultant Ross Gamble
Project manager Angel Consulting, Barcaldine Shire Council
Structural Bligh Tanner, Paul Callum
Town planning John Gaskell Planning Consultants, John Gaskell
Traffic consultant Viney Traffic Engineering Pty Ltd, Neil Viney

Site Details

Location Barcaldine, Qld, Australia
Site type Rural

Project Details

Status Built
Category Landscape / urban
Type Culture / arts, Installations

Source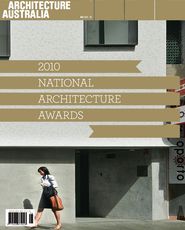 Issue
Architecture Australia, November 2010
Related topics