Wherever you are and at whatever stage of life, hospitals are sites of intense emotion. They are foreboding presences and they haunt us. Individuals, families and communities unite to combat their closure or erasure. And these emotions attract political posturing. Lady Cilento Children's Hospital, a new "quaternary" or top-level comprehensive treatment, training and research facility in South Bank, Brisbane, aims to combine site, urban location, internal spatial logic and innovative regimes of care in a facility that attracts new allegiances at a city scale. This is a daunting task because the project brings together two hospitals – one from the north of the river, one from the south – each imbued with community and professional loyalty. Complex negotiations set the scene. These moves, often legal, always political, required a design intelligence that is not often recognized as such. Conrad Gargett Lyons used local knowledge and interstate expertise informed by the latest international research to overcome many levels of suspicion and nostalgia as it created the conditions that enabled the merger.
An early design act created a site that had city-wide significance, that transcended parochial allegiances and that was large enough to accommodate the 95,000-square-metre program. The best available site was too small. A land swap reversed the Depression-era excavation that had situated the playing field of an adjacent school several storeys below the level of its classrooms by infilling the space with a multistorey car park, thereby raising the playing field up to the level of the school campus and removing a bulky element from the hospital program. Other negotiations saw a telco facility shrink from a three-storey building to a buried junction box and this, along with some road realignments, freed up an area that has become a handsome plaza between the new hospital and the striking red brick South Brisbane Town Hall. The result of these moves is that today, the hospital has a prominent location and forms a visible urban counterpoint to the central business district, amplifying a hill at one end of the South Bank parklands (with the Queensland Performing Arts Centre, State Library of Queensland, Queensland Art Gallery and Gallery of Modern Art at the other end).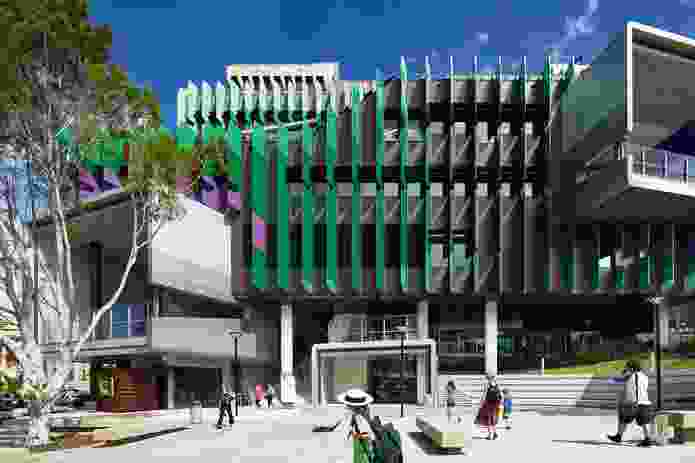 The hospital sits comfortably on its site, its mass buttressed above a street-width colonnade on its quiet, 175-metre-long southern entrance side. On its opposite northern face, it has another colonnade buffering its emergency department access road from a busy main road. The plaza sweeps easily down a full level from the southern face along the fifty-metre-long South Bank-facing elevation, wrapping around a children's play area. Above floats a broad, double-volume entry portal flanked by verandah-like spaces that wrap around a cafe and, on the northern face, provide a locale for Aboriginal smoking ceremonies. The hospital, having a regional catchment, is surmounted by a helipad and must also cater for various cultural ceremonies for quieting departed spirits.
In a city sometimes said to be on seven hills, the hospital completes an acropolis, making a south-east–north-west ridgeline nosing towards South Bank. Seen from the parkland, from across the river and from the roads around it, it seems so settled in as to be a manifestation of a pre-existing geological fact. The interior makes use of the geography by locating a vertical atrium inboard of each end, linking them with a broad and high arcade and cutting further arcades as spokes from these vertical cores. This spatial armature rises up the building floor by floor to the eighth level, interspersed with two-storey voids that provide a cascade of visual links between the levels. The spokes emerge regularly from the skin of the building as deeply framed portals that signal the orientation of the interior to the outside and to the city centre across the river. This means that the floor plates do not read as spatially hermetic pancakes, but rather as an interleaved whole. There is always a readily available view that pinpoints your position. Never is there the sense of being locked away in a spatial limbo. And, from the outside, the building is seen to focus its interior on framed views of the city, a not insignificant psycho-cultural message to citizens.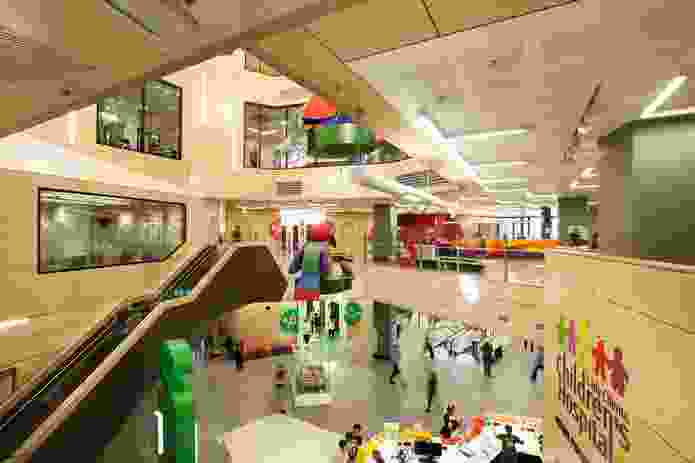 As floor plates step back, garden terraces are formed. Sixty percent of the site is landscaped. Much of the upper-level landscape is built up out of small containers that can be removed and replaced in a maintenance cycle. Real grass carpets some terraces. Some gardens are adjacent to the largely open-plan staff areas, which is in itself an innovation in hospital planning, achieved by exposing key staff to good corporate exemplars. Other terraces serve as outdoor rehabilitation areas for patients.
Levels nine to twelve are ward floors, with four per floor laid out in two bifurcated lobes, one on each side of the central circulation. The rooms in each ward line the windows, the inner space houses service rooms and at the centre of each lobe is a nursing station. Children can see out to the city but also keep an eye on the activity of the ward.
Wayfinding, seldom as difficult as in a conventional deep-plan hospital, is concentrated on the armature with its regular core-to-core links and spokes. These are also colour-coded with wraparound colour used in lift lobbies. A "Queensland" colour wheel was devised and this ensures a graduated tonality that makes the colouring seem less a strident direction system and more what you might experience in the transition from one landscape zone to an adjacent one. The wheel concept also served to harness the individual colour preferences of briefing staff to what all could see as a harmonious whole.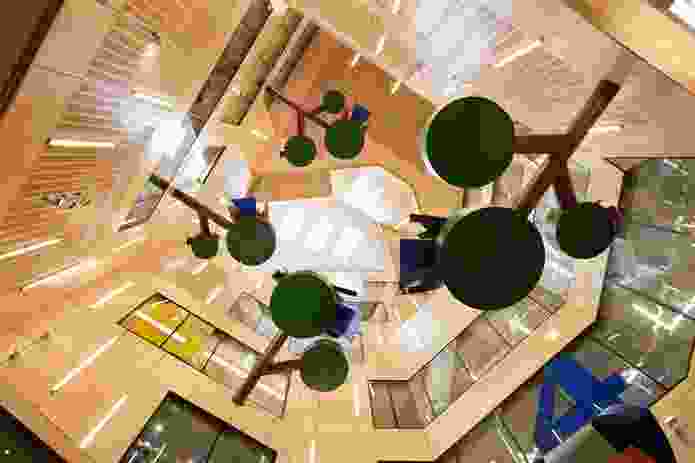 The briefing process involved deep discussions with departmental staff and the use of diagrams to help surface new ideas about modes of care. It is, for example, believed that this is the first "no waiting" emergency department in Australia, thanks to a revised arrival and triage process housed in a new plan configuration. User group sessions drove other innovations. There is a separate entry for patients who have graduated to monitored remission status so that their "cognoscenti" status is recognized and they do not have the feeling that they are starting all over again when they come for interim treatment or monitoring.
In the cruel world of quaternary care, such small gestures make a big difference and this hospital is replete with signs of caring. Nowhere is there a sense of an unbounded labyrinth. At children's eye level, vitrines at reception desks house a changing array of small objects provided by city museums and the state library. The world at large is here. Though not as much as originally hoped. In a microcosm of the political climate that the design had to weather during its seven-year gestation, a "one percent for art" policy provided substantial funding at the outset, only to be diminished following a change of government (despite proof that access to art aids recovery). However, the main atrium contains toy-like birds by Emily Floyd and there are invented Rorschach test-like butterfly emblems by artist Helga Groves on the timber-veneered surfaces of the arcades. A brightly coloured diamond faceted mobile by James Angus sparkles in the air above one of the portals.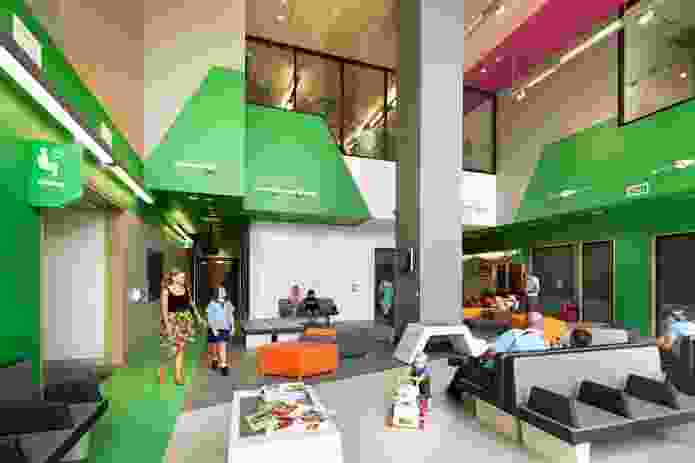 Around and occasionally within the arcades, departments form in small organic wholes. "If you need anything, just shout" is a realistic mantra repeated as a visitor moves through. Theatres and other technical areas were off limits during my visit, but are reportedly world's best practice. Training and retaining staff is vital. The geographical rootedness of this acropolis – with its upper-level staff and training floor visually linked to surrounding research facilities, nearby schools and ever-reachable views of the city – anchors this generation to the present moment in the flourishing of this city. Only once is there a descent into normative hospital "labyrinthese": a narrow dogleg corridor that grinds past a family long-stay area to one of the roof gardens. Perhaps for this reason, this "secret garden" is popular with staff. This could also be because on this roof terrace, pergolas and vertical planting form enclosing nooks. If purposed to serve the families in the long-stay area, a direct opening into it would seem to be desirable. There is a sense here of an argument lost, late in the piece.
The internally driven logic of the design has created a very bulky hill. Breaking up this monolith, coloured fins cover the exterior in scales angled to ward off the sun as the earth rotates. Like the line separating the darker scales from the lighter ones on a fish, the median lines of this wrapping are marked out on the skin in tones of green. The fins are incised at eye level to allow lateral views from the inside and this amplifies their organic appearance. Out of this skin emerge the thick white frames of the portals, creating a scalar illusion: the building looks toy-like as it presents this precinct to the city. This new hospital is a powerful work of city making. It deserves to be embraced by the citizens that it serves.
Credits
Project Team

Katharina Nieberler-Walker, Tarek Barclay, John Percival, Payam Helmi, Shaun Ellis, Merissa Cunningham, David Cooper, Megan Randerson
Landscape architect

Conrad Gargett
Brisbane, Qld, Australia
Consultants

Architect Conrad Gargett Lyons
Building services AECOM
Civil and structural engineer Cardno
Horticultural consultant Asset Horticultural Consultants, Landplan
Irrigation Irrigation Design Australia
Landscape contractor Landscape Solutions (roof gardens), Dig-It Landscapes (ground)
Managing contractor Lend Lease
Planning Cardno
Plant supply Greenstock Nurseries
Project manager Aurecon
Quantity surveyor Aquenta Consulting
Structural and civil engineer Cardno Alexander Browne
Traffic engineers Cardno
Wayfinding Dot Dash

Site details

Site type Urban
Category Public / commercial
Type Hospitals

Project Details

Status Built
Completion date 2014

Client

Client Queensland Health
Website health.qld.gov.au

Source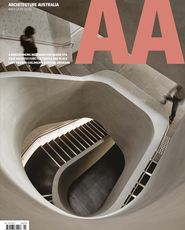 Issue
Architecture Australia, May 2015