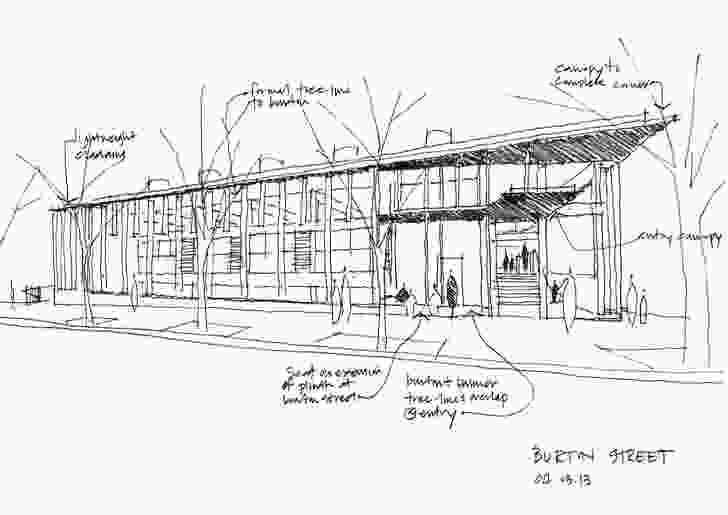 A new community centre in the Darlinghurst area of Sydney, built to a design by Lahznimmo Architects, has been opened for use by the City of Sydney. The East Sydney Community and Arts Centre (ESCAC) is a redevelopment of the Heffron Hall community centre built in 1966 that was named for former NSW premier Robert Heffron. The redevelopment features multi-purpose spaces for rehearsal, creative use and community hire. Lahznimmo Architects' design was selected by the City of Sydney as the result of a competitive tender process run in 2012.
The ESCAC sits at the centre of a number of public buildings and spaces. To the north of the building is the newly restored Albert Sloss Reserve. To the south, fronting Burton Street, is the Burton Street Tabernacle, a 132-year-old heritage-listed Baptist church which was restored and converted by Tonkin Zulaikha Greer Architects in 2013 as the Eternity Playhouse theatre.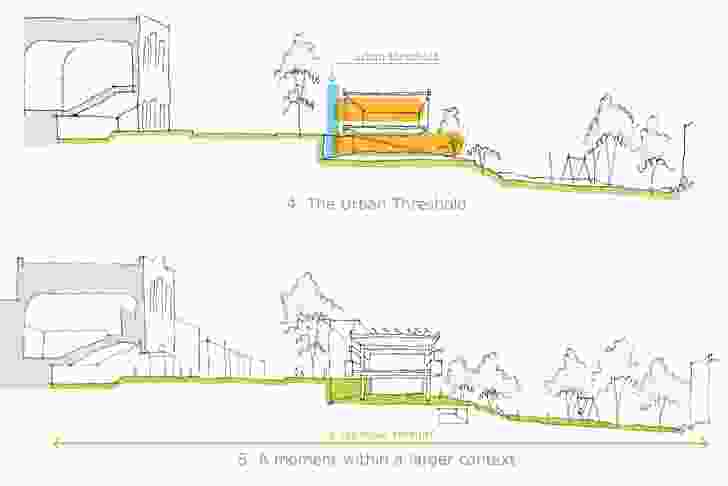 In a design statement provided to ArchitectureAU, the architects said that improving the connectivity of this "cultural domain" was a key element of their design. "The redevelopment of Heffron Hall was an opportunity to improve the physical and visual access across this domain and to map a continuous creative terrain that embraces all activities from the theatre of the Tabernacle Hall and Burton Street to the recreation of Albert Sloss Reserve, all via the ESCAC as the linking element."
The reserve was also part of the scope of the project, with Spackman Mossop Michaels Landscape Architects collaborating on landscape architecture. The design knits the reserve and the community centre together by cantilevering a community room on the upper level over the park, which is intended to create a "treehouse" feel as the vegetation below grows.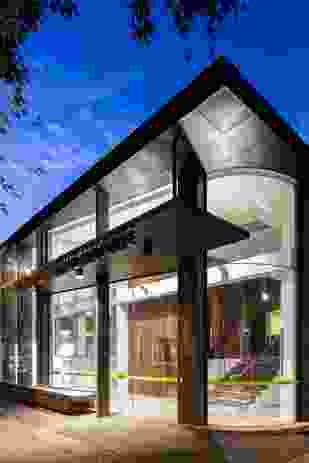 The structural shell of the old Heffron Hall has been maintained and cloaked in a "veil" of glass and aluminium. Opaque structures like toilets and the elevator have been concentrated at the west side of the building away from Palmer Street, allowing for a high level of visual permability from the east and south.
"From a heritage perspective, our principal concerns were to maintain the continuity of community activity on the site and to preserve and enhance the existing remnant sandstone retaining wall along Burton Street. Each block of the sandstone wall was marked, carefully disassembled, cleaned and re-assembled to provide a highly textured element within the lower level and reminds us of the previous historical layers of this site," said the architects.
The centre's Burton Street facade has been activated with an interative swinging sculpture by Jennifer Turpin and Michaelie Crawford of Turpin and Crawford Studio that is composed of three large translucent acyrlic pendulums that can be manipulated from below with cables. Titled S(w)ing, the sculpture is intended to provide "joyful and kinetic activity for both users and passers-by."
Related topics