URBAN INITIATIVES' DIVERSE AND ONGOING WORK FOR THE CITY OF GREATER SHEPPARTON TAKES THE DAY-TO-DAY DEVELOPMENT OF THE PUBLIC DOMAIN SERIOUSLY. THE RESULT IS A HUMANE AND GENEROUS PUBLIC REALM.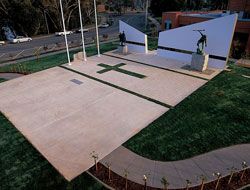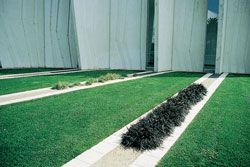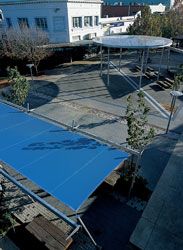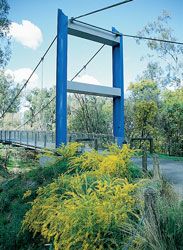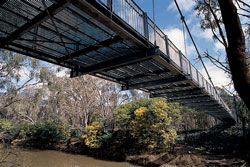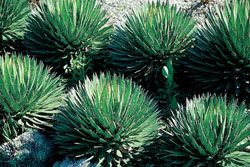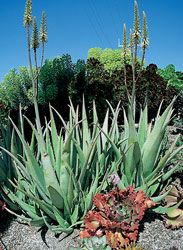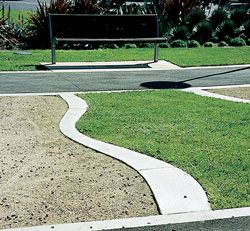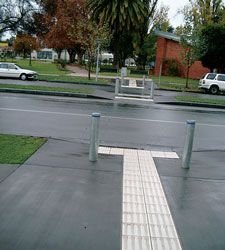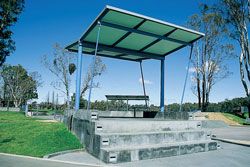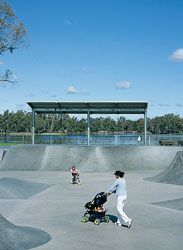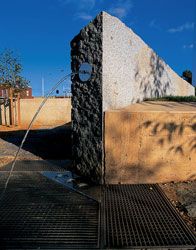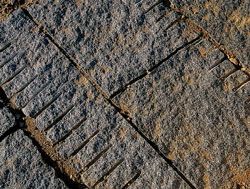 THERE IS A saying from the planning stages for freeways through rural areas, about whether a town deserves an [nobr]off-ramp[/nobr] or not. "Does it have the 3 Ps?: Can you get petrol?
Can you get a pie? Can you take a piss?" Shepparton – a city located on the floodplain of the Goulburn River in country Victoria, with a population of 56,000 people – does have an off-ramp, but as a rural centre it is still affected by such forces. The Melbourne landscape architecture practice Urban Initiatives has been working on public projects for the City of Greater Shepparton for four years. Their work has been very broad, from policy to streetscape design to detailed design of signage, bridges, parks, memorials, malls and building context for municipal buildings.
These projects comprise a comprehensive and systematic upgrading of the city fabric.
The programme of work is not dissimilar to that undertaken in the capital cities, in which an infrastructure of public landscape underlies the city's aspirations to consolidate itself as an economic entity based around a modern quality of life for its citizens. And while rural Australia is still recovering from a twenty-year red brick paving frenzy, much of it initiated by allegedly heritage-sensitive landscape architects, Urban Initiatives has developed a design language for Shepparton that is self-consciously modern, deviating strikingly from the general synthetic heritage approach of most country towns.
The economic decline of rural Australia has been well documented. It is not simply an issue of towns improving themselves, but a matter of their entire sense of identity. The tourism industry has long been looked to by country towns for salvation, but there are only so many Berrimas and Burras, so what of the rest of the towns struggling to survive? In this context, the efficacy of design in the country is an important question, particularly for landscape design, which has been undertaking heritage-based improvement schemes for country towns for the last fifteen years, generally with little success or finesse. The process has, at best, been one of amplification, of seizing upon motifs or fragments of specificity and building them into some tangible, readable "sense of place" (although more often than not this is actually sheer invention). Country towns now prefer to be known as "regional" rather than "rural" and, as corporate entities, need branding help – places have become products. Like councils and subdivisions in the city, the canvas for municipal branding is the public landscape, and so in the regional context, the job of the landscape architect, as in the city, is the creation of branded civic infrastructure.
The work of Urban Initiatives in Shepparton is interesting not for its design quality – although that is consistently elegant – but rather for its ability to provide the consistency of treatment that is required of urban infrastructure and, simultaneously, to allow for significant difference and to deal with site eccentricity. This view of the landscape as simply another municipal infrastructure or service is both confronting and potentially liberating. On the one hand, such a view questions the importance of design in delivering public space, if it is simply for quantitative functional provision. On the other hand, it gives a substance to landscape architecture, assuring it a functional relevance that its fickle garden roots disallow.
Most designers of any persuasion, and the public in general, would agree that the provision of public space of consistently high quality is as vital as ever. But the argument for consistency is much more contentious in design terms. While Sydney has opted (admittedly [nobr]post-Melbourne[/nobr]) for a design language that allows individual urban public space projects to be distinctly different, while maintaining a basic materials palette, Melbourne has favoured consistency to a much more restrictive degree, to the point where the quality is now monotonously good but rarely excellent. Urban Initiatives has been involved in much of this work for the City of Melbourne, but the practice's policies in Shepparton have been noticeably freer and more adaptable.
The Shepparton work uses consistent materials and types of detailing, as well as colours of course – a hallmark of all urban branding these days (blue and silver for Shep). But the policies allow a usage which, although actually quite conservative, becomes radical in the rural context. In critiquing projects that result from a policy-based system it is difficult to separate the success or failure of the projects from a discussion of the system. The question becomes, how has the system allowed for some design excellence while also exhibiting uniformity? Unfortunately, the colour blue comes forward as the most consistent thing among the Shepparton projects, as well as a particular stylization of detail, which begins to appear almost as a caricature of itself. However, that said, the quality of design is high and restrained, even if that restraint makes the projects seem a bit too fiddly and pretentious for what is still fundamentally a country town.
Above all the work is humane, as if the designers of the individual projects considered whether they should treat Shepparton any differently from the way they would the city, and correspondingly gave Shep as good as they would a City of Melbourne project. The work is contemporary public domain work, no better, no worse. The pertinent issue is as much to do with what has developed into a default approach to the urban landscape, based around kits of parts and their consistent deployment, as it is to do with a specific design solution for a place.
The strength of Urban Initiatives' work in Shepparton is that it understands both the nature and opportunities of these kinds of briefs in a way that values design, and then undertakes them earnestly and humanely.
JULIAN RAXWORTHY IS A LANDSCAPE ARCHITECT AND FREE-RANGE ACADEMIC.