Claire Martin: When considering your work in the context of the 2012 National Architecture Conference's theme of "experience," and in the context of what you describe as "design activism," I was reminded of the book Sense of the City: An Alternate Approach to Urbanism (Lars Muller Publishers: 2005), in which the editor Mirko Zardini talks about the sociality of the senses, and the perceptual as both cultural and political.
Anuradha Mathur: When we were thinking about this [conference] we were conscious that there is a great value given to the idea that your senses are getting something that your eyes aren't. We believe that experience is constructed by the way we are conditioned and educated – so we don't take experience as innocent in that sense. For instance, when designers say they don't want to talk about the picturesque, but half the world appreciates a place because they have been conditioned to look at the picturesque, it becomes apparent that we need to pay heed to what is not seen or experienced. In Mumbai we found that when people have been conditioned to see an island, that is what they see. You may experience the beautiful views, have the wind on you, the light, but what you experience is an island city instead of an estuary. So in participating in this symposium we were interested in trying to open up that acculturating. Most of our work begins with that probing.

CM: A number of the conference speakers have referred to landscape. Wang Shu passionately invoked the value of landscape over architecture, but not necessarily through his work; he didn't really present the landscapes in which he contextualized his buildings.
AM: Yes he was a tease … I think his work is amazing. He just didn't want to show it to us. Perhaps, as Dilip and I were discussing earlier, he does not want to objectify architecture or landscape.
Dilip da Cunha: I thought there was this attitude, a kind of concern [towards landscape] more than actually showing us the process by which he incorporates it, or by which he doesn't. With regards to the larger theme of the conference there is a tone of critical regionalism and an implication in some of the writing that the professions have moved beyond considering context. However, the moment you work predominantly with plan, with drawing lines between inside and outside, here and there, architecture and landscape, critique can only happen within the limits of that visualizing. You spoke about tactility, but what does that mean? How do you actually make that the grounds of the visual? You know you are doing it on the grounds of the visual ultimately, that is what plan and section do. So one of our challenges is to invent ways of communicating, documenting and designing, imaging and imagining that incorporate other dimensions of experience.
CM: You spoke in Australia at the 2009 AILA1 National Conference in Melbourne, where there was much discussion of resilience. You are interested in the erasure rather than the construction of the line. Does erasure provide the possibility of moving beyond resilience?
AM: We have shied away from the word resilience. We have had to use it only to counter position it to control. So when we talk about resilience we are really talking about the reed, the bamboo, about a certain type of flexibility and agility. When we last presented we were on our way to [exhibit in] Mumbai. In a place like Mumbai the word resilient can be misunderstood. People are resilient in places like that. So we have to be careful in how we use it, because we are not asking them to put up with hardship. Like sustainability, resilience has become too easy. It's just become a word.
CM: You talked about demonstrating a certain attitude towards landscape architecture. Would you like to talk more about that attitude?
DC: In some ways we are uncomfortable with the terms landscape and architecture. Landscape already has a sense of design to it that seems to have been let go by the landscape architecture profession, and that particular aspect of design is in the vocabulary of everyday conversation. So the way we look at landscape architecture is that we see it as the ground of other disciplines – it is the ground of history, the ground of geography, of ecology. It's a paradigm that is so well permeated in all design and related disciplines. It is grounded, [but] has not been defined with the same clarity and ambition as an architect's ground has been defined. They have been given the task of building, so you see that. But landscape architects can claim this, and that gets to the attitude question. We want to question what landscape architects take for granted. We find that landscape architects define their discipline sometimes a little narrowly.
AM: In that sense we don't put ourselves within the professional boundaries of landscape or architecture. So we were intrigued and excited to be presenting [here]. In some ways it felt more comfortable here because we were seen as outliers, so people were ready to listen. The [landscape architecture] field gets bound by certain typologies of projects: parks, streetscapes, waterfronts. We are always trying to break that down. We find that even landscape urbanists get trapped by these typologies, predominantly using urban park projects to describe what landscape urbanists do, rather than embracing an open field of possibilities. They have missed the point of the project being a landscape sensibility that truly opens the surface of the earth – where you cannot say "is this landscape, is it urban, is it rural?" Landscape has that capacity to go beyond those boundaries. It's because the word landscape is so burdened that people are looking for those attachments to urbanism. We are interested in landscape beyond urbanism.
Further coverage of the 2012 National Architecture Conference.
1. Australian Institute of Landscape Architects.
Source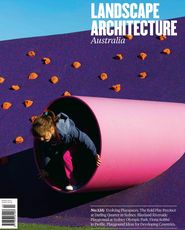 Issue
Landscape Architecture Australia, August 2012
Related topics