In the laneways behind ubiquitous Victorian terraces of inner-suburban Sydney, small, self-contained apartments are sprouting up above garages like little gable- and dormer-shaped mushrooms. This is an outcome of a recent change to the New South Wales State Environmental Planning Policy (Affordable Rental Housing) 2009, which allows "secondary dwellings," or granny flats, to be fast-tracked through the development assessment process.
Architect Peter McGregor of McGregor Westlake Architecture has watched this "transformation of the lane" at the rear of his Redfern terrace with both interest and a critical eye. "The council is encouraging an attic roof form with a dormer window, but the convoluted roof form constrains internal amenity and the floor-to-ceiling glass on the lane creates privacy issues," says Peter.
For Laneway Studio, he challenged himself with a set of three principles: to be a good citizen and engage with the laneway; to be a good neighbour and minimize overshadowing and bulk; and to maximize the internal space, light, ventilation and privacy.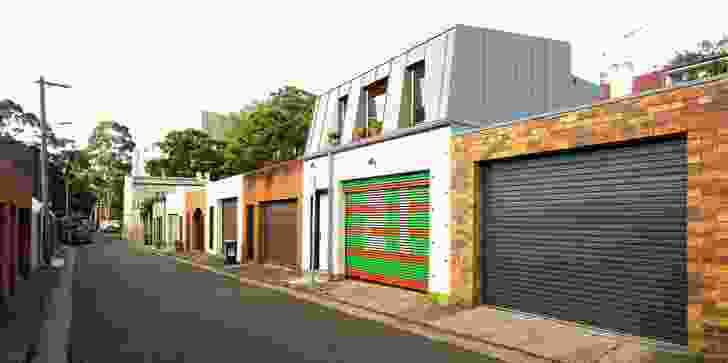 To achieve this, Peter negotiated with the council to create a mansard roof form spanning the width of the block, thereby maximizing volume to the front and enabling a more minimal bedrock and bathroom volume to the rear. A mansard roof comprises two slopes on each side, commonly seen in the roofscapes of Paris. This form allows for deep window reveals, which provides the occupant with views out, while also protecting their privacy from the lane below. "You can walk around naked in here," Peter says with a laugh. "You're free to be private if you like."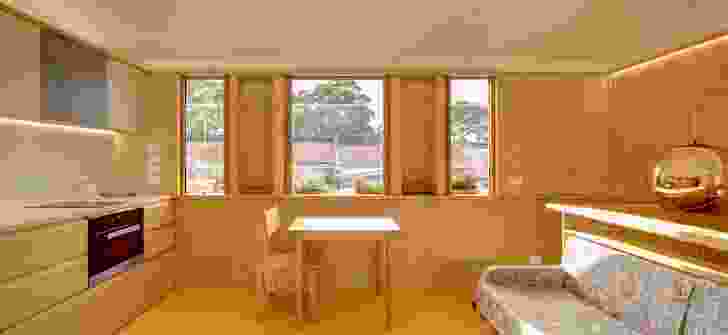 Inside the studio, a living, dining and kitchen area serves as an interstitial zone between the public laneway and the private zone. A cosy bedroom nook and bathroom are hidden behind sliding panels. The entire space is lined in Australian hoop pine of three types: solid sections, veneer panels and plywood. "We wanted to use one material because the space is very small. A single material unifies the space and makes it simpler," Peter says.
There are subtle accents of colour – such as the yellow floor, the alternating pale blue and white overhead cupboards and the green bedroom storage units – which Peter says are inspired by Le Corbusier's Cabanon, a holiday cabin on the French Riviera. In fact, Laneway Studio bears many other hallmarks of the modernist master's seaside escape, particularly in the modular regularity of the studio's proportions.
With Laneway Studio, Peter wanted to challenge the council's controls and create a better model for the above-garage studio type. In some ways, this represents a third layer of urban regeneration for the terrace-lined streets of the inner suburbs. First the development of the terraces, second the postwar additions to the rear and now the transformation of the lanes. "There will be thousands of these built," Peter says. "That's why we think of this as a case study."
Source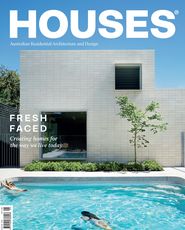 Issue
Houses, October 2018