An exhibition of emergency shelters, aptly named Emergency Shelter, opened in Sydney on Thursday 1 September. The exhibition highlights the need for emergency shelters in disaster zones and the role of the design and construction industry in the aftermath of natural disasters.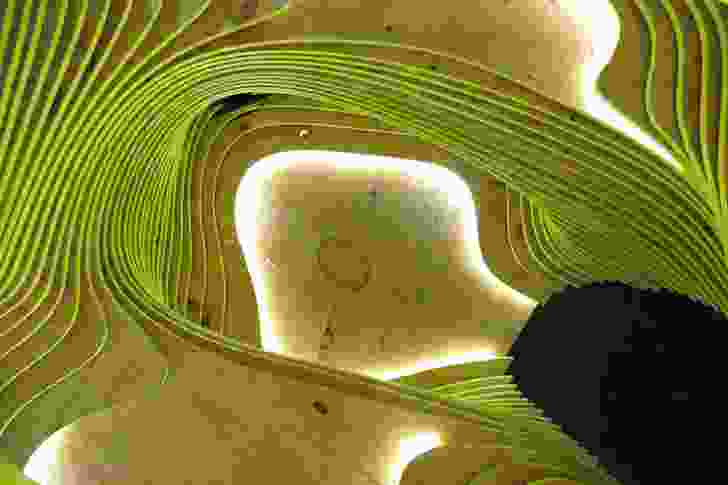 LAVA (Laboratory for Visionary Architecture) proposed an origami cave inspired by the idea of an inhabited water molecule. The design references the Japanese Metabolist movement's idea of prefabricated capsules as living spaces, and balances the need for mass production with the opportunity for personalized inhabitation.
The design provides sleeping space for two adults and one child, as well as eating and reading space. Lit by battery-powered or solar-operated LED light, the unit turns into a lantern (symbolizing hope) at night.
The unit can be shipped flat-packed, cut from local plywood or dropped from a helicopter, and the interior can be carved out of wood, cardboard, newspapers or other locally available materials. On display at the exhibition is a scale model made from CNC-cut plywood sheets; however, in a real situation the flat pack would be folded into an origami molecule and filled with locally available material.
The Emergency Shelter exhibition features projects by a range of local and international architects, including Ateliers Jean Nouvel, PTW Architects, Tonkin Zulaikha Greer, Cox, Koichi Takada Architects, Sou Fujimoto and Terunobu Fujimori. As well as highlighting the need for emergency shelters in disaster zones, the exhibition also raises awareness and funds for the thousands of people who have been displaced by Japan's natural disasters.
Emergency Shelter is on at the Customs House forecourt in Sydney until 3 September.
Related topics