A crafted jewel of ingenuity and thoughtfulness, this small house occupies the previous site of a typical worker's cottage and manipulates its modest site dimensions to maximum effect. Its elevation is rendered simply and provocatively in robust steel plate, yet the effect is less one of fortification than of a sense of revealed mystery, like Pandora's Box. The magic of this materiality reveals the minimal volumes of the original typology versus the maximum spatial excitement that can be squeezed out.
From the front entrance, the spatial sequence opens up dramatically into a top-glazed, double-height corridor, shot with light, connected to views of an existing palm tree in the courtyard garden. Sculptural and spatial games are played out in crisp white plaster and dark felted walls, which mark the section line of the original house like a memento mori. This house is a deceptively simple ensemble, which actually demonstrates the dedication of handcrafted details and junctions.
– Jury citation
The biggest challenges? The mental and physical challenge associated with constructing only on weekends while working full-time during the week, ensuring that a momentum was maintained. The crafting of details formed a rigorous part of the building process with most elements being constructed twice before being constructed a third time correctly; the acquiring of skills we did not initially have had been assumed rather than realizing the time and consideration it would take to adopt the skills required to build; the pleasure of being directly involved, rather than sitting on the sidelines, in one of the most important phases of the design process.
– Muir Mendes
For a full list of awarded projects see 2011 National Architecture Awards – the winners and for more awards discussion see Rachel Hurst and Rory Hyde's responses to the awards and the jury overview by Karl Fender.
Credits
Architect

Muir Mendes
Melbourne, Vic, Australia
Project Team

Bruno Mendes, Amy Muir
Consultants

Building surveyor Gibson Dell
Structural consultant Wallbridge & Gilbert Melbourne

Site details

Location Law Street, South Melbourne, Melbourne, Vic, Australia
Category Residential buildings
Type Houses, Residential

Project Details

Status Built

Source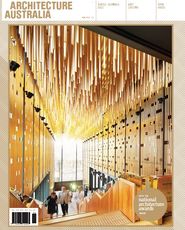 Issue
Architecture Australia, November 2011
Related topics