In recent years the impact of housing affordability has spread beyond the most vulnerable to the middle class, for better or worse raising its profile in the broader community and politics alike. Concurrently, rising concerns about poor standards of apartment construction, and the collective impact this has on our cities, have prompted renewed interest in apartment design standards. While regulation can go some way towards improving our living environments, there are inherent limitations to a reliance on a speculative model of development to deliver affordable, high-quality housing. In response, a groundswell of interest in collectively developed housing models such as Baugruppe has emerged in an attempt to confront these issues in Australian cities. This model has the potential to enable architects to engage proactively with prospective communities as agents for positive urban change.
Baugruppe, which translates to "building group" or cohousing, is the coming together of a community, both ideologically and financially, to co-create a development, removing the developer and the risk associated with speculation from the process. While inevitably increasing the exposure to risk for individuals involved, it can save up to 30 percent of the total cost of a speculative development through the removal of profit margins, marketing and real estate costs. The ability to work with the client group enables the creation of housing specifically responsive to the needs of known residents, with an emphasis on environmental performance and architectural quality. Through the participative design process and inclusion of shared facilities, the projects can foster a sense of community rarely achieved in speculative urban housing.
While these grassroots projects might at first seem like a fringe pursuit in the broader housing debate, their core success can be attributed to a blend of pragmatism and ideology, with the potential for transformative impact at the scale of the city. In her book Self Made City, Kristien Ring notes that Baugruppen at times have accounted for up to 10 percent of all new builds in Berlin, testament to the widespread adoption of the model. While these indicators of success suggest a well-oiled Baugruppe machine, with support from banks, planning authorities and the public, the reality is a more complex and often contested condition. This parallels the barriers facing the avant-garde, such as the "Nightingale Model," in the Australian context. Through interviews with the authors of three collectively developed projects in Berlin – Big Yard, R50 and E3 – a series of lessons emerge regarding the role of the architect and the communities they collaborate with.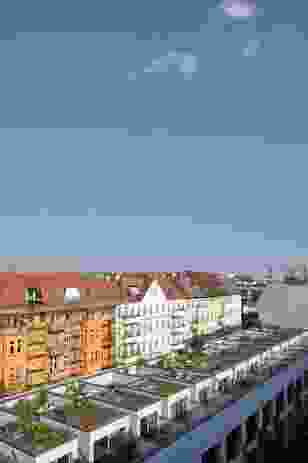 Big Yard by Zanderroth Architekten is an assembly of forty-five family homes in a compact courtyard development in Prenzlauer Berg and the home of one of the two directors Christian Roth. The lush central common garden is positioned on top of a concealed carpark, and separates a street-oriented block of four-storey townhouses from a rear six-storey slab, which accommodates three-storey garden apartments with double-storey penthouses and a shared rooftop.
The consistent design quality realized across a diverse range of dwelling types within Big Yard results from an architect-led process, which has been central to Zanderroth Architeckten's approach to Baugruppe projects. The design team typically leads the procurement of the site, developing a range of standard dwelling modules. Through a subsidiary company, SmartHoming, Zanderroth Architeckten assembles future occupants through online platforms such as CoHousing Berlin before allowing some degree of customization within a structural framework. Zanderroth Architeckten has evolved an effective process for delivering high-quality Baugruppe projects, favouring architectural quality and comparative affordability over customization and collaborative input. Roth emphasizes this focus in his work: "We are very interested in what future inhabitants want, but we don't want to design together. It's almost impossible. We just say – you are getting a good apartment for less money than usual and that's your advantage."
Ritterstrasse 50 (R50) offers an organizational counterpoint to Big Yard. The site in this instance was secured through a limited public competition for a vacant government plot in Kreuzberg. Architects Ifau, Jesko Fezer and Heide and von Beckerath assembled a collection of friends as co-creators of a freestanding building in a garden setting. Rather than being an architect-led project, R50 reflects a close collaboration from the outset between a known community and the architects.
The architectural quality of R50 is deliberately less polished, with superfluous detailing and material use avoided in favour of spatial quality. The site context enabled a central core with potential aspect in all directions, a continuous perimeter balcony and a generous, double-height, ground-floor common area. This framework allowed a wide array of flexible plans to be developed in response to the specific needs of the residents, with economy secured through a fixed palette of materials and window sizes. During our interview, director Verena von Beckerath highlighted the importance of establishing clear objectives at the start of the project and having a strict process for managing collective decision-making.
"Two main things were discussed in the group. We agreed that the house should be affordable, so we proposed that we agree on one standard, and fittings and fixtures would be really the same. We also agreed that the individual approach would be the way the spaces are made. The idea is to have well-prepared meetings and a project manager to structure and moderate the process."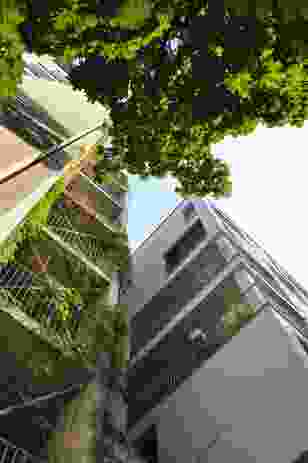 Esmarchstrasse 3 (E3) by Kaden Klingbeil Architeckten is a modest, seven-storey infill project, consisting of six dwellings with a ground-floor studio. This project enabled the client group to explore glued lamination post-and-beam construction at a time when the development industry was not willing to take a risk with this technology. It was built within a perimeter block and fire regulations mandated that a separate concrete fire stair be constructed, fortuitously creating a new semi-private lane into the rear shared courtyard. This simple move opened up a third elevation to the narrow building and created flexibility in plan layout and point of entry through a bridged circulation configuration to each apartment.
The E3 community was formed by a group of friends, who invited Kaden Klingbeil Architeckten to both design the apartments and invest in the ground-floor tenancy. This concept of having "skin in the game" is a recurring theme in Baugruppe projects, securing equal risk and subsequent trust, key to the success of the project. The design process for E3 extended to the total customization of each apartment. In our interviews, architects Markus Lager and Tom Klingbeil reflected on the complexity this added to the process. Lager mentions some cost limitations on this level of customization and involvement of the future inhabitants.
"When we work with Baugruppe we offer different kinds of contracts or rules. On the one hand, there is the possibility to individualize everything, which means more drawings, more cost. On the other hand, we do a workshop and create rules, and create three to four typologies. Then the building is cheaper, but the planning and design are also cheaper."
Exploring the broader tendencies in Baugruppe development, Ring speaks of the diversity of approaches evident in Berlin. These extend from tightly managed architect-led projects such as Big Yard, with a decreased emphasis on customization, to highly participative community-led projects with high levels of customization, such as E3 and R50. Reflecting on the role the architect plays in the project, Ring notes:
"That really interests me, how they each work with the clients. All of it comes down to how many meetings you have with the group, how you structure those meetings and what kind of choices you give the group. They've all made their own decisions on how to do that and it's a very personal thing. I think that these approaches are valid – all of them – it's just that the outcomes are quite different, with a different emphasis."
To conceive of Baugruppe as a singular approach to collective housing development would be to miss the richness and diversity of approaches. These three projects illustrate the possibilities for improved affordability, architectural quality and community agency, set within the context of different organizational structures.
While the physical and cultural context of Berlin and the subsequent genesis of Baugruppe are place-specific, there are a great number of direct lessons for nurturing our emerging collective housing models in Australian cities. Proactive governance is a crucial component, both in the disposal of public land and in assistance with planning processes, as seen in the groundbreaking work of Geoffrey London in Fremantle. However, other opportunities exist for joint venture and hybrid delivery models, in conjunction with affordable housing providers or private developers. The deliberative nature of these projects can also be enabling in the early stages of large-scale masterplanned developments set within a renewal context, such as Melbourne's Fishermans Bend, providing a means of instant activation and the foundations of an enduring urban community.
As a counterpoint to the generic condition of speculative development that characterizes recent inner-urban renewal, the Baugruppe model has the potential to translate the creativity and energy evident in individual commissions into a collective context, while securing concurrent economic, environmental and social benefits for both residents and the broader community.