The 2005 Dreamworks animated film Madagascar, shone a spotlight on the quirky island habitats and its occupants, particularly lemurs, native to the island. Popularity of these curious creatures have increase around the globe and Melbourne Zoo recently doubled its population of ring-tailed lemurs prompting a new exhibit. A conical funnel made of rattan forms an attention-grabbing entry point for the zoo's new rainforest precinct.
Design of the exhibit was a collaboration between Urban Initiatives (landscape architects), Snowdon Architects and Arterial Design (interpretation designers). Aimed at children and families, the experience is a highly interactive one, says Tim Hart, director of Urban Initiatives: "The project involves a walk-though section where visitors and lemurs share the same space, bringing them into quite close contact."
Opening onto the main pathway through the zoo, the funnel-shaped woven rattan entrance draws visitors into the space, where they meet the lemurs in the first exhibit of the rainforest precinct. "We wanted to attract people from the main walking path so it needed to be more than just a simple gate," says Manos Mavridis from Snowdon Architects. "It's designed to quite deliberately funnel and trasnport visitors from the pathway into the exhibit and habitat of these unusual primates."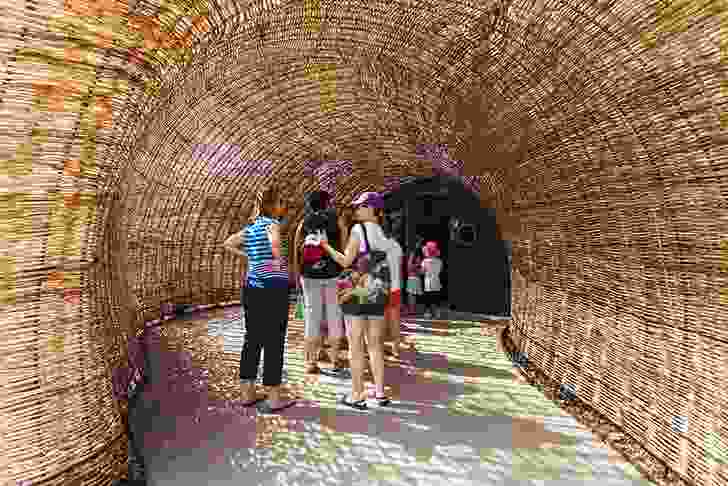 Once inside, a mixture of elevated walkways and a tree house brings people and lemurs together in the same space, without actually touching each other. "Lemurs are very much arboreal animals but they also spend a lot of time on the ground. So at the start of the exhibit, you're at ground level and able to interact with them, and then the elevated pathways take you into the Tree House structure that gives you a way to interact with lemurs at tree level as well," explains Mavridis.
Conceived as a cluster of pods, the Tree House structure, made from matte steel and clad in rattan, is in harmony with the rainforest habitat recreated at the zoo. It provides the pedagogical element, an increasingly inportant role for modern-day zoos.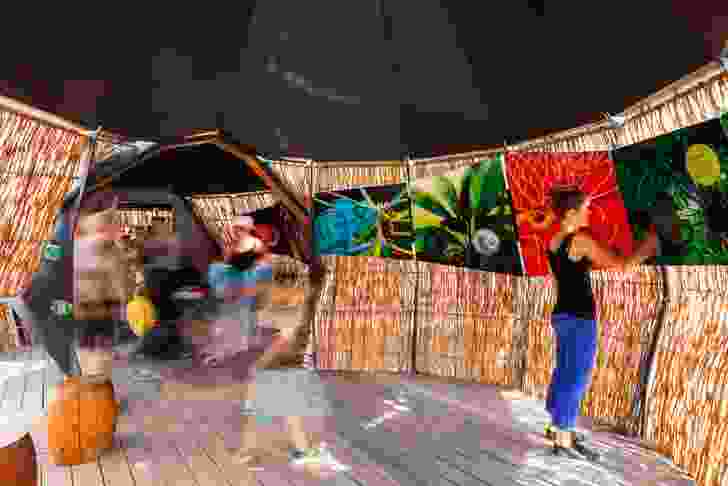 The exhibit has also made use of an existing moat, left over from the previous orangutan exhibit, and re-purposed as a new waterway. The conservation story is a critical part of this exhibit. Rainforest habitats are threatened by the mining of coltan which is used in the production of mobile phones. This story is largely told through signage (by Arterial Design) around the exhibit, and supported by the architectural and landscape design throughout the zoo's rainforest precinct.
"The landscape thematics and materials, as well as the architectural, interpretive and animal enrichment elements of the exhibit all reference natural forms and elements found in the lemur's Madagascan habitat," says Hart.