Expo pavilions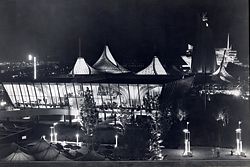 I refer to Professor James Weirick's article in the March/April edition of Architecture Australia on the work of Richard Johnson. It is inaccurate in its description of the professional roles played by Robin Boyd and myself in the design of the Australian Pavilions at Expo 67, Montreal, and Expo 70, Osaka.
I would like to set the record straight. For both the Montreal and Osaka Expositions I was appointed Pavilion Architect by the then Prime Ministers (Sir Robert Menzies and later Sir John Gorton), who took a personal interest in the projects. In both cases I made a presentation to the Prime Minister and Cabinet of my pavilion design. Robin Boyd was appointed Exhibits Architect on my recommendation after Cabinet approval of the building design.
In both cases, Robin, with whom I had a close working relationship on previous projects, was responsible for the selection of exhibits and their design, which brilliantly complemented my building.
I believe that the confusion as to who actually designed the buildings occurred because Robin was given the title of Exhibits Architect. He was, of course, far better known than I was and his Melbourne supporters were determined to give him maximum architectural exposure.
I resigned from the Department of Works shortly after completing the design work for Expo 70. Three years later I was seconded by the Australian Exhibit Organization to design Expo 74 in Spokane, USA. Richard Johnson, then a senior architect with the Department of Works, was my assistant. Richard, I understand, was later responsible for the design of the Australian Pavilions at Okinawa in 1975 and at Tsukuba in 1985.
Professor James Weirick is wrong in stating that after the death of Robin Boyd the design of Australia's pavilions moved in-house to the Department of Works because they were all designed in-house up to 1985, when Richard Johnson left the department.
James Maccormick MBE FRAIA
Educating architects
Recent Architecture Australia issues have brought into sharp relief the dilemmas of educating architects today. On the one hand, there are the insights into the deserved Gold Medal winner, Richard Johnson, rightly proclaimed as the "architect of the city", the paradigm of the "professional", providing "masterful leadership" (AA March/April 2008). Certainly here is an architect who has mastered many aspects of this difficult craft, displaying an array of skills founded on multiple competencies.
On the other hand, read closely Professor Richard Blythe's article in the same issue on the transformation, here and overseas, of the second Bachelor degree into a Masters of Architecture. What was formerly described as the "professional" degree is re-fashioned befitting its newly elevated academic status. Blythe thus shifts from reportage to contention. Does his quest for the "harbingers of new knowledge" come at the expense of the core of the architectural discipline, dismissed (four times in four paragraphs!) as mere competence – "the bare minimum"? Perhaps Blythe is just having a go at the AACA, but this is a worrying mindset from a Professor of Architecture who also happens to head the RAIA's National Education Committee.
The danger in certain schools, which promote brand over content, is the exclusionary bias towards self-styled "academic" trajectories, diverging from society's expectations of teaching future architects well. Given ever-shrinking contact time in the schools, what are our most meaningful choices to advance architectural culture in the public interest? Valorizing the PhD over considered works of architecture? Prioritizing hermetic research over insightful teaching? Emphasizing an abstract design process, not the patient craft of developing the project? Doing theory, instead of studying history? Fussing about accoutrements, at the expense of engaging with the heart of the discipline? Such choices confront the teaching of architecture today, as Alec Tzannes cautioned in his recent editorial (AA January/February 2008). Where are the Australian equivalents of Rafael Moneo, Bernard Huet, Colin St John Wilson, Vittorio Gregotti or many others, who with considerable skill were able to combine significant practices producing outstanding works of architecture, professorships and the direction of architecture schools, insightful writing on the discipline and the editorship of major journals? Compare also to other disciplines such as medicine, where practice, research and professorships happily overlap.
As Robert Venturi commented in Complexity and Contradiction in Architecture, "I make no special attempt to relate architecture to other things … I try to talk about architecture rather than around it … (as opposed to those) staking a claim for architecture rather than producing it … I accept what seem to me architecture's inherent limitations, and attempt to concentrate on the difficult particulars within rather than the easier abstractions about it."
Don't be lulled by the slippery prose by Dr Kaji-O'Grady et al (AA May/June 2008). Neither the RAIA nor the profession has much effective say in such central issues as teaching appointments, funding allocation or curriculum development in what are, after all, public schools of architecture. It may be that many architects, relegated to casual or honorary appointments, selflessly sustain the design studio. That marginalized engagement, so valued by the students, can also be seen as institutionalized exploitation upon which many schools depend and trade. Why are not crossover positions, such as fractional and fixed-term appointments for architects, an intrinsic part of academic appointments? Is not the teaching of architecture too important to entrust predominantly to academics?
Philip Thalis, principal of Hill Thalis Architecture + Urban Projects, has taught at all architecture schools in Sydney, and was until 2006 a tenured fractional lecturer at UTS.
Awards critique
Readers may have been as puzzled as I was by Paul Morgan's letter to the editor, which appears to be an angry response to a damning review by me of his Cape Schanck house (AA November/December 2007). Such a review does not exist. Indeed, I have never had the opportunity to review any projects by Paul in this or any other publication. Moreover, the brief and general overview of the state of architecture that I was commissioned by this journal to write in response to the RAIA National Awards makes no reference to the Cape Schanck house. Given that my observations were drawn from photographs my overview was more limited in scope than were the jury citations born out of visitations, yet had the advantage of being able to encompass the full set of short-listed entries, not just the winners, and to make broader comparisons between categories. Within this framework, I observed that "with a few exceptions, projects in the residential categories appear refined but conservative, suggesting that this type is declining as a site for experiments in living, form-making or technology." I speculated that residential projects were not the site of social and aesthetic experimentation that they had often been in the previous century because of the financial investment housing now represents. I would happily accept that the claim lacks originality – others have made it before me – but to see this argument as pointed criticism of any specific housing project or house among numerous contenders is a most curious misreading. The fact that the Cape Schanck house was the Robin Boyd Award winner suggests that it may well be one of the exceptions and Paul should have the confidence to accept the valorization he has already received and quit looking for barbs where there are none.
Sandra Kaji-O'Grady