President's medal
The award by the Australian Institute of Architects' local chapter of the Sir James Irwin President's Medal to the South Australian governmental agency Integrated Design Commission for its "future" and "potential" is disappointing and biased. Awards are given for achievement, for "exemplar outcomes," not for potential. Many things and all people have potential but we are loath to guess a future outcome. We must remember Adelaide Park Lands Authority's potential as an advisory agency has been completely subverted by the state government and thereby rendered impotent.
Together with press releases over many months, this award strengthens one's suspicion that the local Institute chapter (but not the profession) has been infiltrated by government-promoted biases, instigated, no doubt, by the minister for the arts. One example: what right-minded person believes that destroying parklands or selling them to the highest bidder is for the betterment of Adelaide's culture and heritage? Yet architect Francesco Bonato's commentary in Place magazine (Australian Institute of Architects/SA, June 2011) considers this of value; that is implied in architect Ben Hewett's adjoining essay. Bonato's call for the older and wiser to butt out is offensive.
Anyway, one must suppose former resident thinker Professor Laura Lee came to realize how oppressive are South Australian governments and wisely withdrew future engagement with them. The ability to actively proceed with something as dicey as integrated design (at least as presented by Rann's government) would be far more easily obtained in Lee's US communities than in South Australia's.
All this suggests that newly appointed Government Architect Ben Hewett's advisory position and role as mediator between design professions and governments is not to be envied.
Donald Leslie Johnson Hon RAIA
In response
Thank you for your letter. Your views are welcomed as there is a lack of critical discourse on architecture in South Australia. I will explain some of my reasoning behind and interpretation of the matters you have raised.
Firstly, regarding the 2011 award of the Sir James Irwin President's Medal to the South Australian Government Integrated Design Commission (IDC), my view is that the profession of architecture in South Australia is at a crossroads. It needs to change to survive and I believe that the IDC provides the opportunity and vehicle for this to happen.
In twenty-two years of practice, I have seen the relevance of the architect in South Australia decline. The emphasis has been on "process delivery and risk minimization" at the cost of creative design. With the state government's Thinkers In Residence program and the selection of Professor Laura Lee, design has been elevated to a new level. The IDC was established to communicate a variety of aspirations to government agencies and design industries, providing architects with an opportunity that should be embraced. Along with state government initiatives, local governments are now working on programs to establish criteria for high-quality outcomes. These agencies are critical ambassadors in shaping the quality of the South Australian built environment. The IDC has initiated more discourse in design in the last ten months than I have seen throughout my career.
Secondly, the article by Francesco Bonato in Place, which called for "the older and wiser to butt out:" my interpretation here is that South Australia should place greater value on fostering the creativity of young architects by providing opportunities for their development. For the last twenty years, the environment in this state for emerging architects has been discouraging, evidenced by the poor numbers of new practices established and, of those, the scant few that have flourished. Achieving diversity in the architectural profession ensures its future and generates a more creative environment, which will translate into better outcomes for our community.
I suspect Francesco placed himself in the category of "older and wiser" and his words were not meant to offend the more mature members of the profession.
Finally, with regard to the parklands and its development: there is currently a lot of debate on this, but my view is that the approach should be developed in consultation with the South Australian community and the final decision scrutinized before implementation.
Nick Tridente, SA Australian Institute of Architects president.
This is an abridged version of the letter.
Chancellor & Patrick
Your article "Desire and Identity" by Hélène Frichot purports to be a review of an exhibition of the work of Chancellor & Patrick, but the author's scattergun approach takes in a broad range of subjects. How does one apply the general, the background culture, to the particular, the exhibition is the question?
We were of that generation of architects that were lucky enough to have that sainted trio of Janeba, Hammerschmidt and Strizic as teachers. Fritz summed up the attitude by saying "You will learn nothing from us; you will learn from each other." His firmest command was that the drawing size was to be 22" by 15". The ideal for our abstract environment was demonstrated by László Moholy-Nagy. This was to be applied to the reality of the outer suburbs. Robin Boyd told us what not to do. He tried to do it himself but could not find an adequately rich client. Our heroes were Corb, Mies and Frank. We wanted to emulate their vision and success. They did find clients that were adequately rich, and more importantly, had a vision. We, born into World War II, traumatized by the events around us, had no such chance: we lacked the confidence. Do not talk of DJ, Corrigan or DCM, they were all either before or after the war and don't count. But show me somebody from that group, born into the war, who is a substantial success.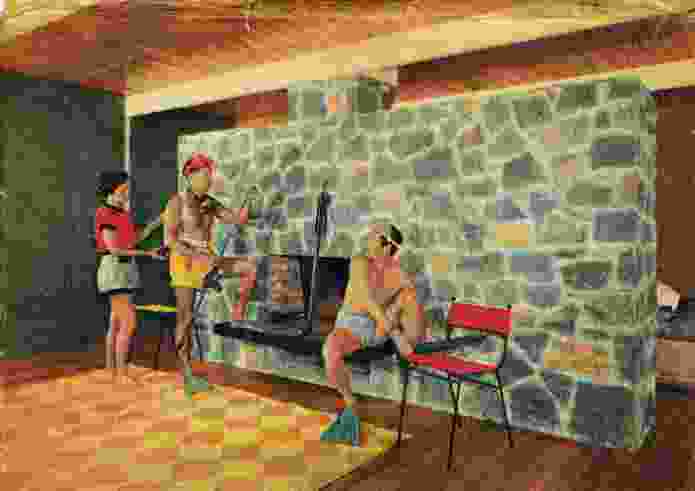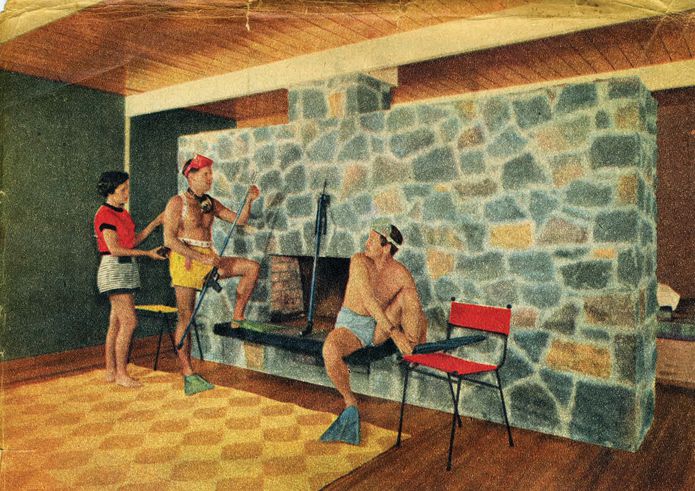 And then there are those of us who wore "stylish sunglasses alighting from Ocean Liners," ha, that's a laugh. We arrived in superannuated tubs and could not afford sunglasses among other things. Our fathers were put to work miles away while the children and the wives festered in migrant camps. The fathers were supposed to pay off our passage, but the economics look dubious. With no English and unacceptable qualifications what was there to do? Very few went their own way early and are now multimillionaires. The rest of us? We just wanted to learn English pronto (a good deal from comics), and get an education.
Chancellor and Patrick gave us a hint of what one could achieve. They couldn't even sketch or draw acceptable perspectives. They had a couple of good houses, second rate as was all good Australian architecture, and then they had that really good bank in Elizabeth Street. It is such a scrappy exhibition dredged from the leftovers in the storeroom. Please, they are better than that. They deserve a critique that is less bitter. Things were not that bad. We thought about the indigenous folk, and finally Noel Pearson, and the others showed we were right to hope. We did not look at women as chattels; they often knocked us back in our boxes, and some of them looked better than we fellers. They were as equal as someone completely different can be. Please let's not have agendas. The photo with the spear fishermen is a joke; we knew that at the time. Leave it … you are barking up the wrong tree … You are trying to make a mountain out of a molehill. There are no mountains in Australia.
Andrew Dandens FRAIA