When the Victorian branch of the Australian Labor Party announced from opposition that a key plank of their 2014 election platform would be the removal of fifty level crossings across Melbourne, over two terms of government, few realized what a dramatic and transformative project this would become.
The need to remove urban level crossings is a legacy of railways having been built expeditiously without concern for their performance. Level crossing removals allow fast, frequent rail services unrestricted by road-based transport. This public transport-focused logic must underpin any meaningful attempts by architects, urban designers and planners to transition Australia's dispersed metropolitan areas to more resilient, low-carbon futures. Building at higher densities alone is insufficient without adequate public transport. Level crossing removals focus attention on the fine grain of building more sustainable cities.
Melbourne's first metropolitan strategy, the 1929 Plan for General Development, identified sixty-six level crossings in urgent need of removal from the 155 then in existence across the commission's study area. The infamous 1969 Melbourne Transportation Plan included $95 million for removing eighty crossings and a proposal for tunnels that became the City Loop. Although the urbanized area had expanded dramatically by 2014, the rail system had not grown substantially.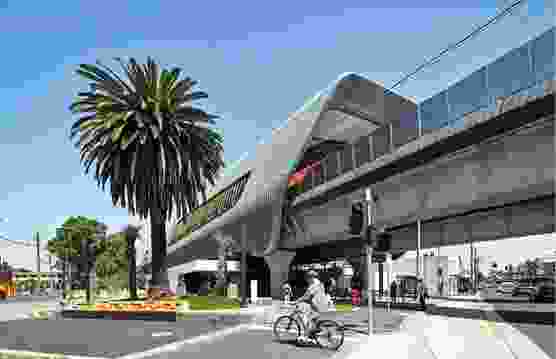 Approximately 180 level crossings remained on the system, despite forty or so having been removed since the 1929 plan (a rate of one removal every couple of years). The current program of fifty removals in eight years would mean a faster rate of removal than at any time in Melbourne's history. Significantly, another twenty-five crossing removals were added prior to the 2018 state election.
This history is telling as it suggests how, over the course of three generations, certain attitudes towards and modes of dealing with level crossings have been normalized. As car-based planning came to dominate Melbourne in the post-war period, the rail-centred reasons for removing level crossings and the urban potentials associated with them were sidelined; rather than being about the creation of broader urban amenity and value- uplift related to enhanced public transport, the focus was limited to the removal of an impediment to road-based traffic.
Thus, the prosaic name "Level Crossing Removal Program" or LXRP (subsequently "Authority," recently revised to a "Project" within a new super-charged government department) reflects the past rather than conjures up the future. A more apt title, to reflect the best of what has been and can be achieved under its auspices, might be "Rail-based Urban Renewal Program."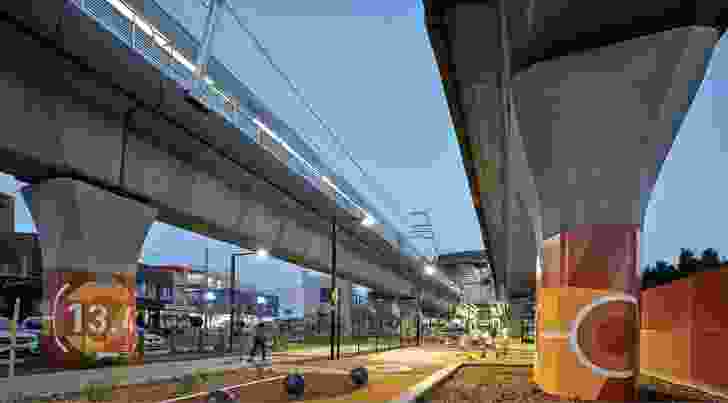 One of the effects of the historically slow removal of level crossings was a narrowing of focus that saw these as singular place-based (if not necessarily place-making) projects. However, once aggregated, their impact on the city will be immense. Each crossing removal affects, on average, at least a kilometre of rail corridor and, within the urban area, this usually includes a station. In some instances, topography has required the removal of more than one crossing to meet rail engineering requirements as well as longer sections of corridor becoming part of the works. On the face of it, this means that the current seventy-five crossing removals could result in seventy-five kilometres of transformed rail corridors and fifty-seven new stations – more than a quarter of Melbourne's total. So, the potential cumulative impact of how well each crossing project is carried out, and how far it capitalizes on its potential, is huge in terms of urban transformation.
At the time of writing, under the LXRP, twenty-nine crossings have been removed since 2015, eighteen new stations have been opened and two stations have been upgraded. Of the level crossing removal projects, thirteen elevated the rail line over the road, twelve lowered the line into a trench, two raised the road over the line, one lowered the road underneath the line and one used a hybrid solution that involved lowering the road and raising the rail line slightly. In a four-year period, this represents an enormous amount of construction, with the majority being completed in 2018. Such a body of work allows some early assessment of the successes and missed opportunities. Of significant influence has been the mode of grade separation as this determines the scale and spatial extent to which architecture and public spaces can be made from the engineering, where most of the capital cost is invested.
Without doubt, the stand-out projects have been those associated with elevated rail. Raising the tracks literally makes the railway a figure in the landscape and provides vast amounts of new space beneath. Melbourne's suburban contexts counter-intuitively favour elevated rail. Viaducts raise the public profile of rail in modest-scaled environments yet demand an architectural response that can mediate that scale as well as make the most of it. Cox Architecture's five stations on the Caulfield to Dandenong corridor capitalize on this approach by inserting a suite of strange but not unfriendly forms into a fast-changing suburban landscape whose identity is, like much of Melbourne, in constant flux.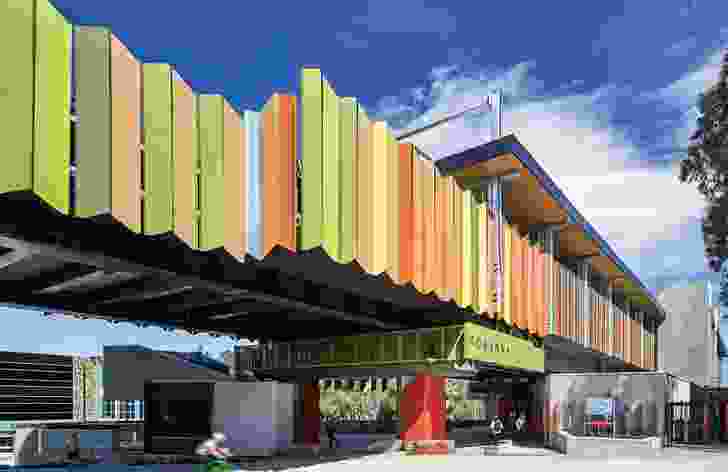 Grimshaw's series of three stations on the Mernda rail extension and the singular intervention by MGS Architects at Rosanna take another approach to place. The Mernda extension references the legacy of agricultural sheds via massive but subtly folded station roofs. At Rosanna, a carefully selected palette (mediated through community engagement) of naturalistic colours and materials allows engineering structures that are otherwise merely functional to enter into dialogue with local flora and residential built form in an undulating topography where landscape is foregrounded. At both these sites, because the stations are prominent in their contexts, architectural design can play a much greater role in ameliorating dramatic changes of scale in constructing a new place.
From an architectural and urban design perspective, those projects where the railway was lowered into a trench are much less satisfying. The series of three new stations at Ormond, McKinnon and Bentleigh by Grimshaw grapples with the problem of presencing the station in a low-rise environment. The facilities themselves are exemplary, especially Ormond, which has access to the platforms from both sides of North Road. It is the paradox of value capture that has led to lack of presence at these stations. At Ormond, an empty concrete deck stands behind the station, originally planned to house a thirteen-storey mixed-use tower. At Bentleigh, the station was designed to include a six-storey residential building above the concourse; however, this has failed to materialize, leaving the station looking unfinished and rather nondescript.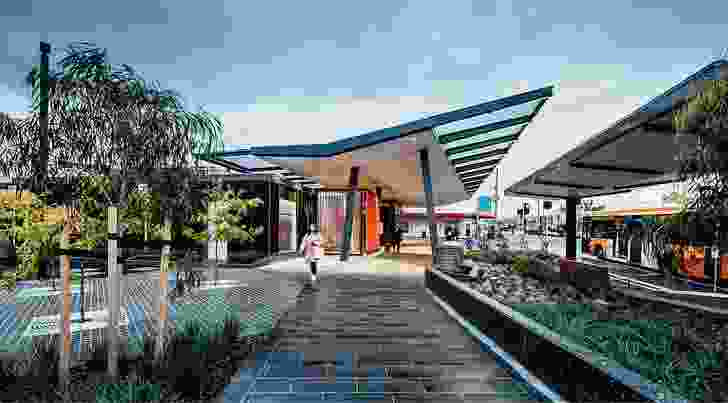 Many have promoted the idea of paying for the cost of sinking rail lines through value capture but, in practice, this can result in enormous local community and council opposition. At St Albans and Ginifer stations in Melbourne's north-west, by Hassell, the minimal public-facing non-transport accommodation in the programs (a cafe-kiosk, a waiting area and some shops) has made giving civic presence to the stations an almost impossible task in the context of low-scale suburbia dominated by six-lane arterial roads. This raises the question of what ought to be co-located at stations and who is best placed to create (rather than capture) this value? Adding educational, community, cultural and medical facilities or recreational and other non-residential uses at stations would work better in terms of spreading patronage around. Such community programming could allow governments to find common ground over local desirability and bring forth the benefits of combined funding rather than creating conflict by enabling private profit and alienation of public land.
Last but not least is consideration of the space between stations that results from level crossing removals. In all but elevated solutions, the space between stations remains a railway corridor. Regulations now prevent significant vegetation from being planted close to railways and trenches are required to be protected by anti-suicide fencing. As a result, amenity in these spaces may actually be reduced after level crossing removal.
Where level crossings have been close enough to warrant a continuous viaduct, as on the corridor between Carnegie and Hughesdale, or Clayton and Noble Park, substantial new linear parks have been created (in this case, by Aspect Studios). These have provided a new kind of urban public space for suburban Melbourne that combines improved public and active transport infrastructure with fine-grained improvements to local permeability and amenity, increasing opportunities for social and economic life not only adjacent to stations but within local neighbourhoods at new nodes of connection previously separated by railway tracks.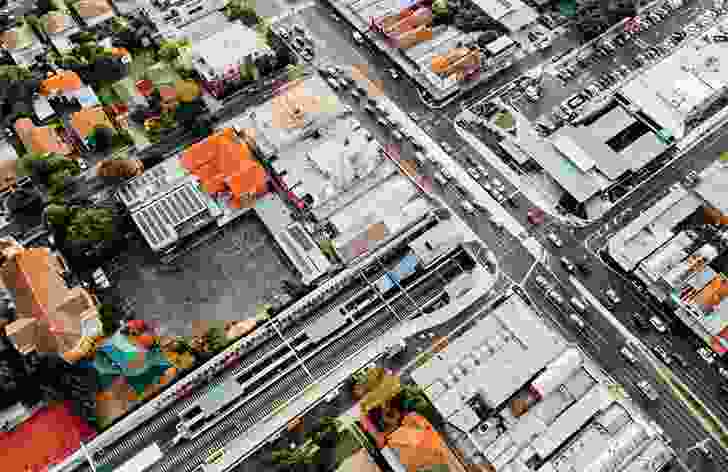 Victoria's Level Crossing Removal Program has shown remarkable agility in its ability to complete an enormous portfolio of complex infrastructure projects in what is by Australian standards a very short period. It has demonstrated that removing level crossings can do far more than ease local traffic congestion by building new nodes within an evolving network of public space focused on sustainable transport. It is to be hoped that planning for the removal of the remaining crossings will take into account lessons learnt and overcome any constraints in the delivery of the world-class multi-modal public transport network that Melbourne deserves while maximising opportunities for extending the public realm.
— Ian Woodcock is a senior lecturer and director of urban design in the Department of Architectural and Industrial Design at Swinburne University of Technology, Melbourne. He has over thirty years experience encompassing practice, research and teaching across government, private and community sector settings. His research focuses on urban change, sense of place and the use of design as a research method.
The Caulfield to Dandenong Corridor is built on the land of the Wurundjeri and Boon Wurrung people of the Kulin nation
Rosanna Station is built on the land of the Wurundjeri and Woiwurrung people of the Kulin nation
Ormond Station is built on the land of the Boon Wurrung people of the Kulin nation.
Credits
Architect

Cox Architecture
Australia
Project Team

Jonathan Gardiner, Patrick Ness, Zoran Babic, Amanda Barker, Parinaz Bezchi, Gate Boonklurb, Julio Brenes Bolanos, Yitian Chiew, Venu Chippa, Stephanie Courtis, Ivana Dancova, Duy Dang, Majid Ettefaghioun, Kirsty Fraser, Rachael Halstead, Stuart Harper, Vanessa Jackson, Sef Kazi, Mark Kowalyov, Salim Jalal, Stephen Lawrance, Zen Lee, Daphne Liang, Daisy Lorrimar, Richard Morrell, Danielle Ohlson, Maki Robinson, Daniel Romano, Simon Smith, Elizabeth Stonehouse, Livee Tan, James Thomson, Paul Trinchi, Jeffery Truong, Colin Wilson, Martinus Wiriyanto, Edmond Wong, Thomas Zachariassen
Consultants

Access consultant Disability and Safety Audits
Building surveyor PLP Building Surveyors and Consultants
Construction partners Lendlease Engineering, CPB Contractors
Engineering services Aurecon
LXRP client representative WSP
Landscape architecture and urban design ASPECT Studios
Rail operator Metro Trains Melbourne
Signage consultant Multiple Studio

Site Details

Location Melbourne, Vic, Australia

Project Details

Status Built
Category Landscape / urban
Type Infrastructure

Credits
Architect

MGS Architects in partnership with Jacobs

Project Team

Cameron Lacy, Simon Wollan, Ahmad Fardi, Sue Buchanan, Bessie Lehman, Andrew Hancock, Bhaven Raval, Bee Kwang, John Murphy, Evelyn Hartojo, Alice Choi
Consultants

Fire engineer Red Fire Engineers
Structural, services, civil, lighting, acoustics and CCTV Jacobs

Site Details

Location Melbourne, Vic, Australia
Site type Suburban

Project Details

Status Built
Category Landscape / urban
Type Infrastructure

Credits
Architect

Grimshaw Architects
Australia
Project Team

Neil Stonell, Jason Embley, Matthew Hutton, Tam Dao, Robert Ventresca, Alexandra Griffith, Sun Lee, Sarah Chapman, Amil Alhasan, Oana Chirvase, Duncan Munro, Navid Varzaghani
Consultants
Site Details

Location Ormond, Vic, Australia
Site type Suburban

Project Details

Category Landscape / urban
Type Infrastructure

Source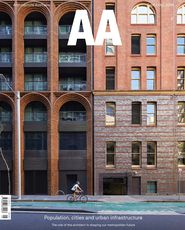 Issue
Architecture Australia, September 2019
Related topics