For a second consecutive year, Melbourne-based interiors firm Mim Design and sustainable artist Joost Bakker were charged with the pavilion's design, inspired by the brief "a journey of the senses." Bakker wrapped the three-storey pavilion in metres of recycled and rusted wire, creating a bird's nest in the Birdcage. Inside, Bakker hung thousands of pink tulips from the ceiling, creating a lush background of foliage and flowers.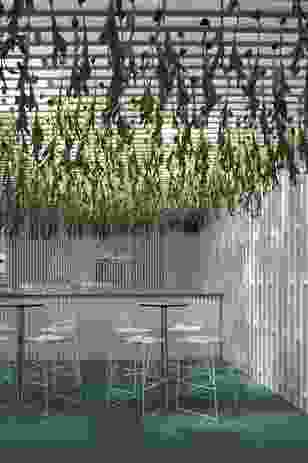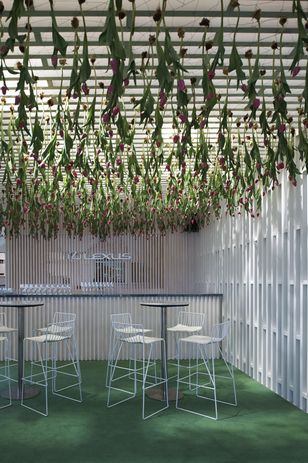 Mim Design chose a palette of emerald and forest greens, which was showcased in the plush furniture and carpet throughout the pavilion. Vertical timber fins painted white distinguished the dining and lounging zones, while custom-designed wallpaper and Carrara marble bars upped the elegance.
Among the pavilion's installations were a wall of intricate paper butterflies by artist Georgie Seccull and a to-scale polystyrene sculpture of Lexus's New Generation RX vehicle made by Nicolas Hogios, chief designer at Lexus.
Each year the Lexus Design Pavilion endeavors to create a complete food and design experience. This year Attica chef Ben Shewry returned to the pavilion to present a pop-up of his renowned Melbourne fine dining restaurant, while downstairs, Sydney chef Dan Hong dished out dumplings and cheeseburger spring rolls from an open kitchen.
Lexus and Artichoke magazine co-hosted a special Oaks Day Design Lunch inside the pavilion with more than 20 of Melbourne's leading architects and interior designers in attendance as their guests.
Read Artichoke editor Cassie Hansen's review of the 2014 Lexus Design Pavilion.