The privileged few who get to flutter around The Birdcage each year will know that to enter this champagne capital requires a strut down a pretty, rose-covered concourse before coming face-to-face with the austere entry gates and even more austere security guards. The Melbourne Cup Carnival takes place in early November, a time when the first flush of once-flowering spring roses are at their peak and Flemington Racecourse becomes freckled with them. The 2014 Lexus Design Pavilion, located at the southern end of The Birdcage, took its inspiration from these blooms, as well as the fashion, the champagne and, of course, a car.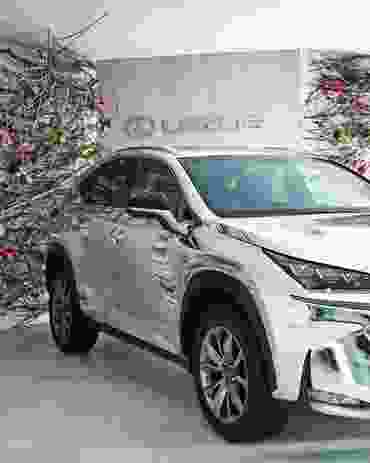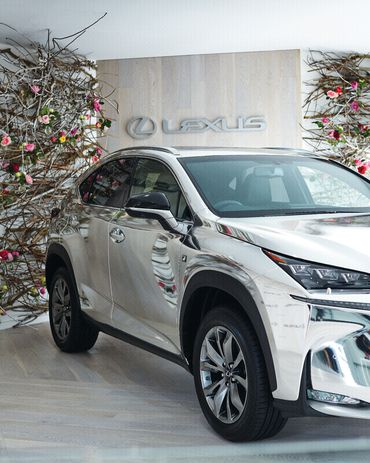 The car in question is the NX, a new luxury vehicle from Lexus with sleek metallic lines and an exaggerated grille. In creating a concept for the Lexus Design Pavilion, Mim Design (who worked closely with catering company The Big Group and its event management arm Design Depot) reinterpreted the car's curves and angular forms into patterns, fabrics and motifs, which were seen throughout the marquee. The car, proudly on display at the entrance and set in front of a media wall, signalled one of many photo and branding opportunities in this year's marquee. This space also featured mounted stacks of branches and roses – the first tip-off that sustainable designer Joost Bakker was involved in the project.
Beyond the entry, the ground floor was punctuated with a hard-working brass bar on the far wall, which acted as a DJ booth one minute and a champagne station the next. Adjacent to it, a manned hatch pumped out burgers by chef Neil Perry – among them, cheeseburgers with thirty-six-month grass-fed Cape Grim beef (this was The Birdcage, after all).
Simultaneously softening the space and giving it depth, the marquee walls were painted with an ombre effect courtesy of artist Chris Watterson. With its custom-designed pattern of fragmented colours, the banquette seating added another layer of pep and colour and a comfortable place to perch.
Lexus's marquee was one of the few in The Birdcage with multiple floors and the well-heeled crowd seemed drawn to moving upwards. Stairs on the back wall, flanked by a mirror on the right side, provided an impromptu spot for a pout check before the big reveal of the first floor.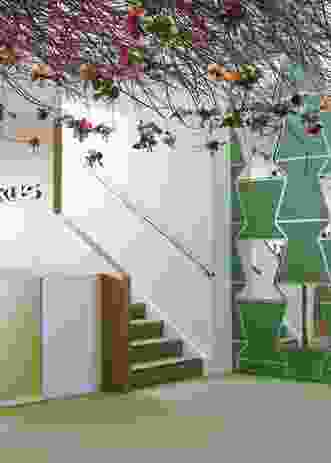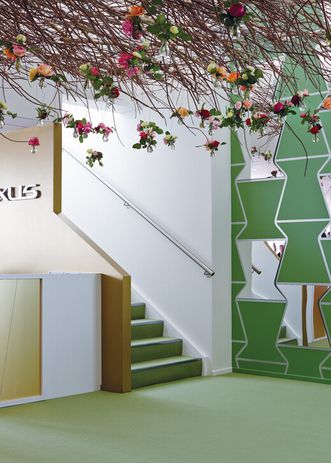 "On Derby Day morning, I was walking behind someone as they came to the top of the stairs. They turned around the corner, stopped in their tracks and said 'wow'. That's exactly what we wanted to create," says Mim Design principal Miriam Fanning. Where the ground floor provided a casual but refined experience, the upper floor was glamour ground zero, backed by the forty-eight-seat Attica pop-up restaurant and its overhead canopy designed by Joost Bakker.
The organic canopy installation featured a steel grid suspended from the ceiling, with hundreds of freshly coppiced smoke bush branches attached to it with galvanized wire. The wire was also used to suspend hundreds of light globes, saved and collected from retrofits Bakker had worked on over the years. Appearing like dew droplets, the globes were cleaned and filled with water to become bijou vases for rose bulbs. At 5 am on each morning of the carnival, Bakker and two assistants filled each globe with fresh water and roses, finishing just before the racecourse gates opened at 9 am. Between five thousand and six thousand roses were used in the three days the pavilion was open.
Celebrity landscape designer Jamie Durie designed the pavilion's rooftop deck space, overlooking the racecourse, where punters enjoyed the sunshine surrounded by a vertical herb garden.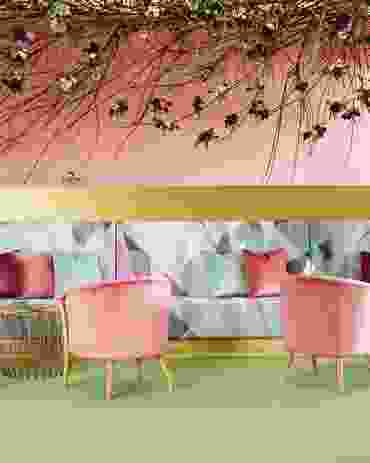 Behind the glamour of these short-lived structures comes a number of challenges that their designers must negotiate.
"There's no built structural walls in a marquee – everything is lightweight, so if you have to support something, the design has to be self-supporting or it can't make a structural impact on the existing form," says Fanning.
"Lead times are difficult too. Builders only get on site just four to six weeks before the first race day." These lead times also mean that creating furniture schedules can be fraught, with certain items often not in stock in time to be included.
Despite these hurdles, Fanning wouldn't have it any other way. "I know that it all gets pulled down, but to me, as a Melburnian, the carnival is such a great celebration. To be involved in something that's known on an international level, where everyone gets dressed up, has a great time and appreciates it – it's nice to be a part of that," she says.
Products and materials
Walls and ceilings

Walls painted in Dulux Paint finishes with ombre effect by Chris Watterson. Woodcut timber flooring and wall finish. Porter's Paints antique gold.
Windows

Marble window sills.
Doors

Paint finish by Dulux.
Flooring

Woodcut timber. Vinyl by Bolon. Carpet by EC Group.
Lighting

Spica feature pendants in brass by Iacoli & McAllister. Lights by Douglas and Bec.
Furniture

Custom banquette and dining tables designed by Mim Design and manufactured by Grazia Matera. Custom banquette fabric designed by Mim Design and made by Sparkk Fabric.
Credits
Design practice

Mim Design
South Yarra, Melbourne, Vic, Australia
Project Team

Miriam Fanning, Emma Mahlook, Rory Johnson, Georgie Marks
Consultants

Builder Diadem, 3D Comm
Landscape designer Jamie Durie
Project manager Diadem, The Big Group, The Design Depot
Sustainable designer/canopy installation Joost Bakker

Site Details

Location Melbourne, Vic, Australia

Project Details

Status Built
Completion date 2014
Category Hospitality, Interiors
Type Installations

Source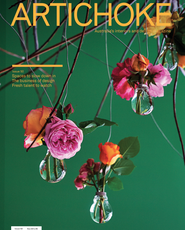 Issue
Artichoke, March 2015
Related topics