<b>PHOTOGRAPHY</b> LUCY MORTON, JOHN GOLLINGS <b>REVIEW</b> KAREN BURNS
Cultural criticism shares the blindness of its object. It is incapable of allowing the recognition of its frailty…. No society which contradicts its very notion – that of mankind – can have full consciousness of itself. ›› %br% THEODOR ADORNO, "CULTURAL CRITICISM AND SOCIETY" (1951) PRISMS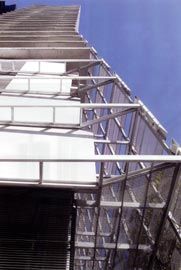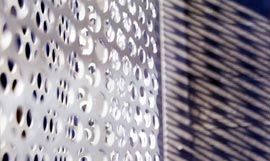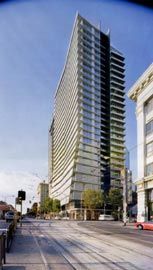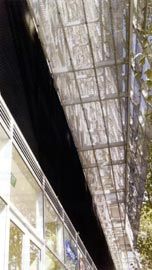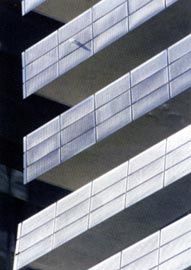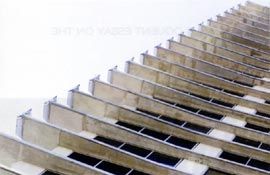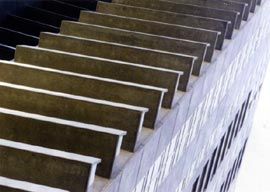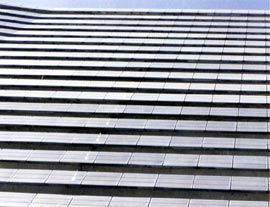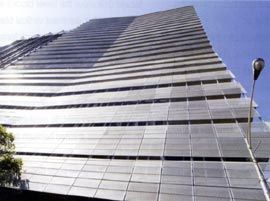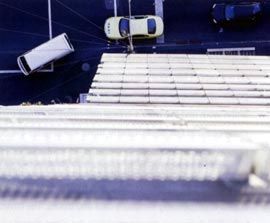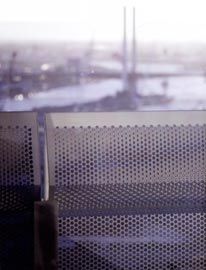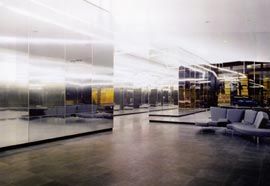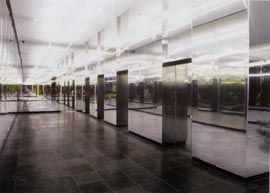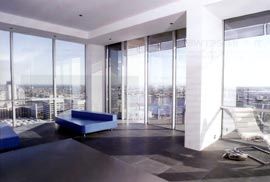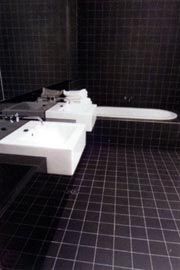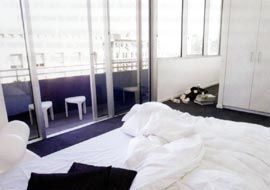 LIBERTY TOWER BORDERS one edge of Melbourne's tidy orthogonal grid plan.
The grid's regular structure offered nineteenth-century colonial planners both an economy of form and an economically speculative instrument. Like dense archaeological strata, Liberty Tower – a speculative residential building – excavates yet another layer of the city as vertical capital. Inevitably, the developer-driven residential tower genre highlights the terminal marriage of shelter and economics. Contemplating Liberty Tower's fine design values detonates a series of culturally charged words – aesthetics, criticism and economics – and sends them into delirious and powerful proximity.
Some bizarre help is at hand in the form of Theodor Adorno's 1951 essay "Cultural Criticism and Society". Revisiting this old essay is a sobering and useful act. Adorno impales the cultural critic's familiar puritanical and louche roles – as reporter, expert, judge, propagandist/censor, appraising collector and detached diagnostician – and thus anticipates the endgame of much cultural critique. One such endgame is criticism's desire to speak from the magic mountain or the tower, a space of objective transcendence mirroring the transcendent position society designates to "high" culture.
With a fine-edged but murderous knife, Adorno shatters this autonomy and skewers cultural critique right into the heart of the economic system which routinely overwhelms, or is disassociated by, the critic.
Many acts of criticism, as Adorno notes, perilously judge the work against a cultural ideal. Issues inevitably haunt the category of speculative residential building. Yet it is an unproductive endgame to castigate one building for failing to definitively resolve or critique the social inequity structuring relations between capital and domestic space in our culture. The surfacing of such contradictions, and the inevitable failure to resolve them, are in Adorno's terms the labour undertaken by a work of art.
The desire for a work to interrogate the aesthetic and political conditions of its existence is a modern demand. It is historically and culturally relative. For example, we do not expect Michelangelo's Sistine Chapel Ceiling to deconstruct Christianity and the power structure of the Catholic Church. Under modernity, however, the cultural critique of the work and the work's critical self-reflexivity must mirror each other. But there are many paths in this game. Liberty Tower investigates the conditions of the tower genre in several ways and necessarily presents the contradictions attending urban inhabitation.
From the prized western apartments of Liberty Tower the panoramic ocean/urban vista offers a rare sense of the city in motion. Freeways and bridges are mere ribbons dotted with speeding miniature cars and trucks. The city is soundless up high, its unbridled dynamism more palpable in the silent distant view than in the distractions of the street. This position of both being within the city and apart from it is one of the contradictions of modernity's vertical urban inhabitation.
Liberty Tower. The marketing brand name contains the strange lure of Modernism's cosmopolitan premises, its promise and absurdity. Liberty is a ponderous and not-to-beused- lightly abstract noun. One way to read these contradictory filaments of urban ontology (how does one be in the city?) is through the building's organization of perforation and wrapping as key design elements. Here various design moves unfold: nothing is what it seems, complexity unstitches singularity.
Thus the building unfolds the tower's possible trajectories. Different on each side, Liberty Tower is a compendium of approaches to facade treatment: the west and east faces investigate conditions of regularity, the north side explores the use and aesthetic value of function, while the south is organized around a black core symbolically exposing the building's heartland. Uniformity is successfully retrieved and reversed – it was a little injured in late Modernism's show-trials.
The tower's dominance, its massive presence within the cityscape, is remembered and teased apart here. Illusory mass is explored on the main facade. At a distance the perforated aluminium screens provide a skin to some volume, but the screens also warp under the weight of regularity. A slight vertical crease ripples across the facade. It slowly flares outwards over the car park zone. The eastern facade is the most regular and least adventurous, and perhaps it is deliberately intended to be so reductive about speculatively driven design. At every corner each facade wraps over the other like a series of delaminating layers. This project successfully destabilizes the tower's singular and unitary object status and retains a remarkable coherence in doing so.
Modernity's spectre haunts the twentieth-century history of towers and its successes rather than failures are usefully remembered. Its cadaver is reordered in this building. For example, under Modernism form famously possessed more than one function, in both use value and aesthetic terms. The deployment of balconies on Liberty Tower's north successfully retrieves this lesson, one ably demonstrated in Frederick Romberg's Newburn apartments. From a distance the regular line of horizontal plates marching up the northern face begin as external frames for the facade work, then mutate into exposed concrete plates in turn acting as balcony structures. Modernism possessed the canny knack of efficient design, of encoding structure, decoration and space in the balcony form. For a deconstructionist, this building offers a delightful sense of the many different echoes reverberating between a nominated word and the destiny of that echo in a material object.
Deconstruction's pressure on conventional formal relationships continues to reverberate. The designers of Liberty Tower relentlessly interrogate habitual formal hierarchies, such as the boundary between exterior and interior. For example the south facade delineates the tower block's interminable horizontal, hierarchical striation pieced together with a dominant vertical black core. Design surgery exposes the internal mechanics of the H-tower block form . Allegorically then, the building projects the interior as a shadow cast on the exterior wall. Where indeed is being in the city located?
From any point the city is somewhere and something else and slips away from us. It is a dynamic relation not a definitive space.
Metropolitan life, experienced as transient situations and experiential passage and surprise, is successfully established in two of Liberty Tower's spaces. The narrow, darkened lane created beneath the eastern undercroft releases a sense of flickering liminal street life. Arguably the remainder of the street-level boundaries are governed by the familiar regular plate glass fishbowls of commercial life and the joy of discovering something a little different leavens their habitual mode. Once we enter the residential lobby we encounter the city's shadowland of mirage. The lobby ritually marks the transition into the tower's interior but it offers conundrum in place of clarity. Reflective glass and stainless steel panels applied to the wall surfaces set up a mirror play of vertiginous space in a homage to Adolf Loos. The thread through this labyrinth of disorientating illusion is a running network of continuous fluorescents suspended below the ceiling and designed by the artist Stephen Bram. Illumination's powers of guidance and failure are wittily played upon. However, the piece's power wanes a little by being set beneath a white ceiling, thus exposing the chicanery of structure holding the lighting in place. A black ceiling was intended and it was one of those things that got lost along the way. Nevertheless the entry successfully descends into an underworld where image and the real traffic in ambiguity.
Inside, travelling in the strange claustrophobia that forms any residential tower's windowless corridors, elevators and car parks, one reaches the apartments themselves.
I was unable to view any of the studio or one-bedroom apartments so this review is written entirely from the experience of the larger two and three-bedroom apartments.
Here is a world of sleek and appealing white, grey, black and stainless steel minimalism, perhaps the late twentieth century's form of more eternal design values.
Built space finds one of its commodity forms in its short fashion cycle, a process that destabilizes any claim to transcendent aesthetic values. Perhaps minimalism returns a longer term value?
Overall the building's relentless attention to details and approaches suggests extraordinary professional comportment in a young design firm's first and very major, large project. The management of design values orders most things from facades to internal details. Control reigns supreme as standardized components such as off-the-rack door handles on sliding aluminium doors are replaced by more Modernist, laboratory-like evocations. One of the cultural signs of signature design is often repetition: of regnant aesthetic order rather than chaos or haphazard stuff. Moreover, at Liberty Tower control over climate design and an admirable concern for environmental issues (downdraft at street level, the overuse of air conditioning, more energy efficient forms of heating et cetera) demonstrates the value of thoughtfully deployed professional knowledge.
As Adorno observes, our institutionalized forms of thinking often separate knowledge and aesthetics from commodity culture.We routinely criticise their mutual dependence in places where their inevitable connection is glaringly self-evident – as they are in a speculative residential tower building, or in a review thereof – rather than acknowledging their stunning complicity in every apparently less visible, less masked, less "ideological" place. The economic muse hovers all around us.
DR KAREN BURNS TEACHES AT THE CENTRE FOR IDEAS, VICTORIAN COLLEGE OF THE ARTS, MELBOURNE.
Project Credits
LIBERTY TOWER
Project architect Elenberg Fraser—Zahava Elenberg, Callum Fraser, Dean Boothroyd, Cassian Lau, Ben Albury, Megan Hounslow. Documentation architect (shell) DesignInc—John MacDonald, Christon Smith, Karl Engstrom, Frank Cruize, Rohan Wilson, Yatsushi Honda.
Project manager Baracon Group. Builder Abigroup Contractors—Michael Longmire, Nick Kiskiras, Steve Stavrou, Basil Falvaris, George Isihos, Terry Edgington, Roger Soso, Lance Sleeman, Ron Lovett, Terry Phillips, Jarrod Frew, Matthew Davies, Ari Dollas, Steve Cveck.
Building surveyor Gardner Group—Paul Gardner, Andrew Gibson. Civil, structural engineer Bonacci Group— Brendon Stapleton, Stuart Rossiter, Christine King, Diego Ascui. Services engineer MacCormack & Associates— Tony MacCormack, Paul Brown, Gerry Petterson, Francis Ma, Steve Michener. Facade consultant Bonaldi Australia—Rico Bonaldi. Acoustic engineer Harding & Associates—Jim Fowler. Land surveyor Reeds Consulting Engineers—Alan Norman. Fire engineer ArupFire—John Papworth, Jan Ottosson. Artwork Anna Schwartz Gallery— Anna Schwartz, Stephen Bram. Client Mainland Properties—Roger Hart, Morry Schwartz, Danny Schwartz.