Review Graham Crist
Photography Rhiannon Slatter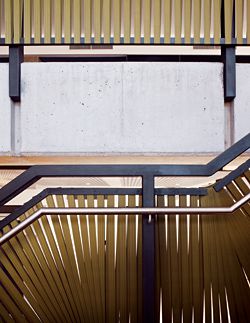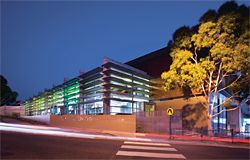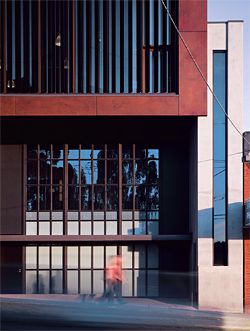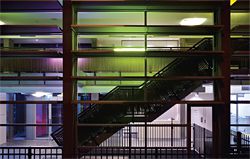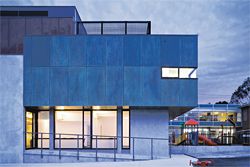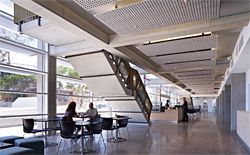 his building in the eastern suburbs of Melbourne confronts two important and difficult architectural questions. First, the problem of representation (image and type) for a modern church; second, the problem of civic presence for suburban public buildings. The two are linked here by a church intent on representing itself as modern, relevant and present in its suburban community.
Those ideas have their own history – of speaking in the local tongue, of doing away with high ritual and of democratizing the religious experience. Importantly, it means that there is nothing sacred attached to the building itself, only to what goes on inside it. For someone brought up on cathedrals and robes, such ordinary local churches can be shocking. The Syndal Baptist Church Life Centre doesn't look like a church, and that's not a problem for these Baptists.
In fact, that's the point.
Religious buildings have a special place in architectural modernism. Despite the secular thrust of modern architecture, they were hardly forgotten as architectural projects. Le Corbusier famously tried it; Frank Lloyd Wright did more than one (Greek Orthodox and Jewish); so did Oscar Niemeyer, Alvar Aalto and Philip Johnson. Even Mies had a go. These types are curious because they test out modernity versus traditional, and the architects themselves. They embody another idea about modernity, another idea about public expression.
Churches are often uniquely prominent public institutions in suburban environments, the only thing rising over domestic or retail sprawl. This building, however, is a lot more than a room for worship – it is a community meeting and education centre, a youth hangout, a childcare centre and a big cafe. The community that it serves is large and diverse; sermons are delivered in four languages and available as podcasts from the centre's website. It would seem that there is an agenda for this institution to integrate with its environment. So what about that context?
I find the commercial buildings so prevalent in these eastern suburbs some of the hardest to digest. The corporate office park types, usually hard-edged and dark-curtain-walled, are everywhere. But there's all the other stuff as well. Opposite this corner building there's the quirky Chinese restaurant and on the other side the Supercheap Auto barn, flanked by a brand new McMansion. The corner site for the church, sloping and looming over the others, is truly a difficult one. Backing onto it is the huge car park owned by the church.
The new building is grafted onto an older, smaller church to the east (still used as a separate hall) and adjacent to an even older and smaller hall behind. They represent three generations and chart the rise of this church's success.
The buildings probably represent the 1960s and 1970s respectively – modest brown and cream brick buildings, the 71kind architects tend to hate. I wander around to the back of the second church where there is a little car park and small brick buttresses – the faintest, most distant resonance of ecclesiastical Gothic. Fixed on each buttress is a disabled access pictogram. I am reminded of drawings of Edmond and Corrigan's churches: in particular, Robert Pearce's image of the Chapel of St Joseph, where the parishioners approach in wheelchairs and depart in blessed rapture. I am forced to make comparison with Edmond and Corrigan's famous series of churches: each one an attempt to reconcile with the suburban environment, a church aiming to be local, modest and, therefore, relevant. In its environment, though, the Syndal Baptist Church has chosen a contemporary commercial image, rather than a church one or one responsive to the ragged built environment surrounding it. I suspect this suited the architects well, as their allegiances lie with well-crafted and orthodox modernism. That taste for modernism fends off the ugliness of the neighbours and the awkwardness of church types.
Here is the parallel dilemma for architecture and an institution like the Syndal Life Centre. In what proportion do we critique the uncomposed environment around us, and the unquestioned tastes of our own profession? At what point does an institution's quest for relevance make it so indistinguishable from the rest of the world that it loses its ability to offer critique? Baptists, like architects, believe some weird things – things that are a challenge to the way many other people think. Popular media usually portray both Christians and Muslims through their most conservative and fundamental versions, while more progressive denominations, such as Baptists, rarely feature. Perhaps there is a link here between the context of this particular church and the invisibility of its religion.
Inside the Life Centre, the ambience is overwhelmingly like a good quality university facility, which, in turn, is generally like contemporary corporate function centres. The main auditorium of six hundred seats makes an excellent lecture theatre; a large glazed west-facing wall offers surreal views over tiled rooftops. At the front, the cross is so subtle it is barely visible and, surprisingly, there is no font for baptisms.
It should be said that there is a lot of skill in this architectural work and that it deals with an immensely difficult site context and a complex program mix. I don't think that it is either humble or integrated with its neighbourhood (as the architects have suggested), yet I think that is not accidental. Though it is very contemporary, this building embodies many architectural and urban questions that are not yet resolved, at which we need to keep chipping away.
Graham Crist is program director of architecture at RMIT and a director of Antarctica.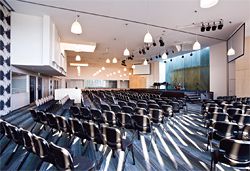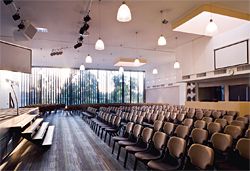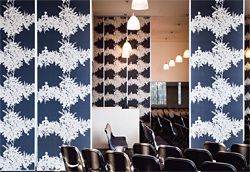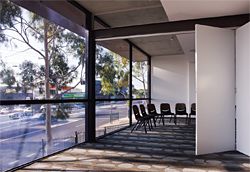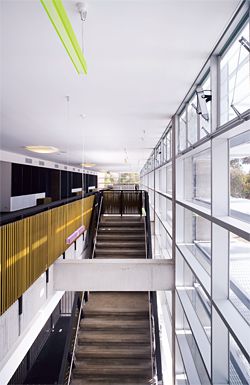 LIFE CENTRE, SYNDAL BAPTIST CHURCH

Architect
Atelier Wagner Architects— project team David Wagner, Jacqui Wagner, Susie Syer, Helena Thomas, Megan Griffiths, David Ascroft.

Structural engineer
Street Moorhouse.

Services engineer
Lincolne Scott & CRKnight.

Quantity surveyor
Stephen J. Pitney & Associates.

Acoustic engineer
Watson Moss Growcott.

Building surveyor
Wilsmore Nelson Group.

Landscape architect
Gardenridge.

Builder
APM Group.

Council
City of Monash.

Client
Syndal Baptist Church.