Our favourite lighting products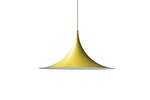 Gubi Semi pendant
This simple and elegant pendant was designed by Claus Bonderup and Torsten Thorup in 1967.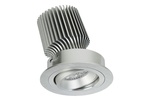 LEDlux 14 watt downlights
These downlights have a sixty-degree beam angle and are available in warm white and cool white.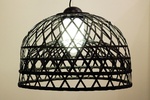 Mooi Emperor light
Made of a bamboo rattan cage shade, each of these lights is woven by hand.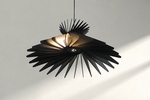 Spline pendant light
Designed by Tom Fereday, this light is matt black and available in a small or larger size.
www.craftdesignrealisation.com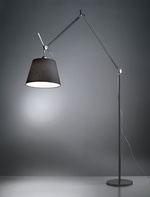 Black Tolomeo Mega Terra floor lamp
This design classic created by Michele de Lucchi and Giancario Fassina is now available in black and polished aluminium.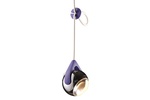 Tobias Grau Falling Star Suspension
This contemporary LED pendant light comes in a range of finishes, with the option of a contrasting colour cable.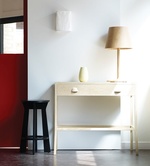 Indigo light
This soft light is casual and adaptable and available with a 100 percent cotton-indigo or linen-white shade.
Light on Landscape
This outdoor, low-voltage or LED spread light fixture can be either spiked or surface mounted and is constructed of solid spun copper.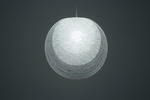 Yamagiwa Mayuhana suspension light
Designed by Toyo Ito, this pendant is made from spun fibreglass and plays with light and shadow.
Porcini Stem
Inspired by the shape of a mushroom, the Porcini stem is available in a range of different textile colours.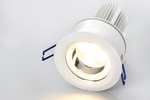 Superlight ECO12
This stylish LED downlight has a ceiling cut-out of 90 mm for easy replacement for existing halogen downlights.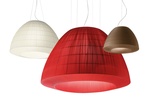 Bell lights
Part of the Lightecture range from Axo Light, these Bell lights are made of super-smooth fireproof pongé fabric.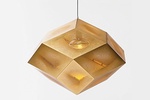 Etch Light 100
This trio of new Etch lights is made from acid-etched brass panel products.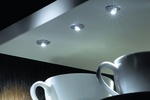 Hettich Magic lighting systems
The latest in European design, this new range of LED lights is for kitchens, bathrooms, furniture, ceilings, walls and more.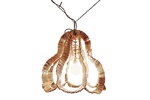 Peggy-Sue pendant light
This quirky pendant light by Volker Haug pays homage to the household peg to create an effective sculptural form.