Lightweight brick-look technology arrives in Australia
A new type of facade system that could change the way brick is used in medium- and high-rise building is now available in Australia.
Used in projects such as Belmont House by TP Bennett (Uxbridge, UK) and Burdett Road by Carey Jones Chapman Tolcher (London, UK), Corium is a brick-look, ventilated rain screen façade system designed to make it easier for architects to achieve original and bespoke building finishes.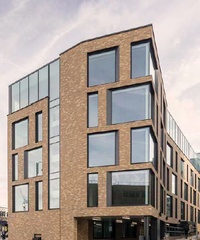 Distributed by PGH Bricks and Pavers in Australia, the facade system is easy to use and lightweight, which makes it possible to provide the aesthetical appeal of brick at height.
Corium is an end-to-end system that can deliver design impact while also providing cost savings due to reduced construction times.
It is already being used for commercial and high-rise buildings in the US, as well as the UK.
According to Rob Sindel, managing director of PGH Bricks and Pavers parent company, CSR Limited, it is Corium's speed of installation and design versatility which sets it apart.
"Corium can be used on mid to high-rise buildings," he said. "It's lightweight, and once the framing system is in situ, the brick façade can be clipped into place, significantly reducing construction times.
"Corium offers the benefits of a brick cladding system with faster construction and a traditional brick look."
The facade system is available in a range of colours and textures, and mosaics and decorative patterns can easily be achieved to add new dimensions to buildings.
Corium can also be mounted at any angle, including overhead, to create soffits, ceilings and arches, providing a high degree of design versatility.
For more information, head here.