The NSW government has announced two of Sydney's sports stadiums will be demolished and rebuilt.
The Cox Architecture-designed, 40,000-seat Allianz Stadium at Moore Park, built in 1988 as the Sydney Football Stadium, will be replaced with a new $705 million, 45,000 seat facility while the 85,000-seat ANZ Stadium at Sydney Olympic Park by Populous and Bligh Lobb Sports Architecture, 1999, will be replaced with a $1.25 billion rectangular stadium, which will seat 75,000.
Sydney Football Stadium was a bicentennial project originally designed by Philip Cox. The stadium is described as "an undulating structure sweeping down to the edges abutting inner-city residential areas, rising in the centre to maximise mid-field seating," in Cox Architects, a monograph edited by Renée Otmar published in 2000.
"It has been likened to many things, a giant roller coast being one, and it has a rollicking larrikin feel while capturing the drama of the theatre in the round.
"The planning concept of a broad ocular is based upon a desire to create a triptych with the two existing and iconic circular stadia, the Sydney Cricket Ground and Sydney Showground."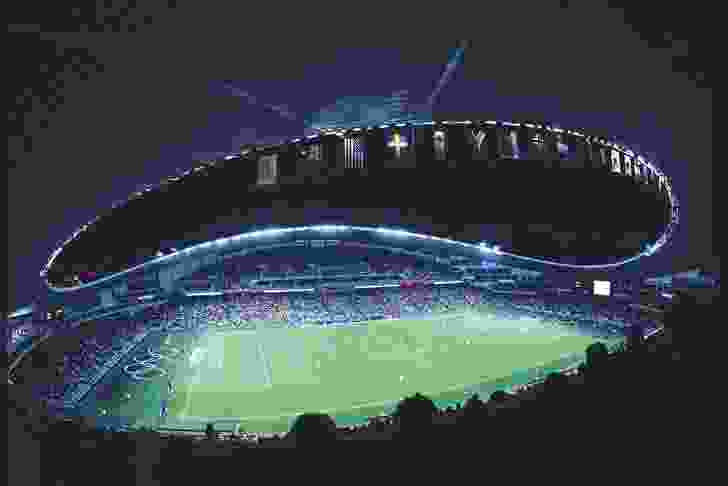 The Olympic Stadium, now known as ANZ Stadium, was purpose-built for the 2000 Sydney Olympic Games. It was designed to have a temporary capacity for 118,000 people with a long-term capacity of 85,000. The design was inspired by Sydney's iconic harbour bridge. "The distinctive white steel trusses that support the roof of the stadium, each 295 metres long, half the span of the Harbour Bridge, are deliberate symbols of power," said Populous.
The Australian Institute of Architects questioned the government's decision to demolish the stadiums and replace them with new ones of similar capacity.
"The Sydney Football Stadium is barely 30 years old, while the Olympic Stadium is less than 20 years old," said Andrew Nimmo, NSW chapter president.
"When our major public buildings don't last 30 years, we have a real problem. These are places that some of the greatest memories of modern Sydney were made, places where Sydney was elevated to the world stage.
"To demolish, rather than to refurbish, seems like an extraordinary waste.
"These stadiums are buildings that should live for at least 50 to 100 years. We are doing something wrong as a society if we apply a throwaway mentality to assets that are still so relatively young.
"Great cities are made up of many layers of built fabric. We cannot wipe the slate of history clean every 20 years. The loss of these building would be like losing a major landmark from the horizon."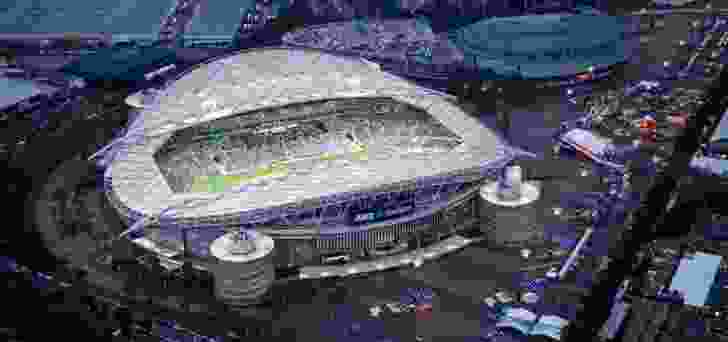 His comments echo those made by Sydney lord mayor Clover Moore, who, in an opinion piece for the Sydney Morning Herald, accused the NSW government of bowing to "pressure from the powerful Sydney Cricket Ground Trust" in its decision to demolish the stadiums.
"Many of the clubs oppose the rebuild, and safety upgrades to the stadium designed by eminent Australian architect Philip Cox would cost far less at about $150 million." Moore wrote.
"Spending on this work to improve safety would be far more responsible, with the rest of the funds used instead to support much needed grass-roots sports clubs and upgrading facilities in Western Sydney."
NSW premier Gladys Berejiklian defended the decision, telling the ABC the Sydney Olympic Stadium is no longer fit for purpose. "By the time we start construction it would be nearly 20 years old and that was built for an Olympics, it wasn't built for modern, global events and it wasn't built for spectators."
The state's sports minister Stuart Ayres also said Sydney Football Stadium should be replaced because it did not have enough female toilets and seats for people with disabilities.
"I am not going to be a Sports Minister that locks out women and people with a disability from coming to experience the best sport and entertainment here in NSW," he told the ABC.
Construction for the new stadium at Moore Park is expected to begin in 2018 with completion anticipated in 2021.
The new rectangular stadium is expected to start construction in 2019 and will be complete by 2022.
A spokesperson told ArchitectureAU that architects have not yet been appointed for the new stadiums.
Related topics