Maintaining beauty while steering away from preciousness is almost mandatory when it comes to suburban homes for young families. It's an approach that has attracted fewer acolytes, and certainly fewer publishing pages, than that characterized by fantastical homes with fabulous budgets. Perhaps the tide is turning, and perhaps the green agenda is feeding the change. While the trend continues for megastructures with vaulting volumes and unwieldy cantilevers that often pay less heed to context than to intricate detailing and lists of must-haves, there is, hearteningly, a concurrent push towards pragmatism and a bit of good old-fashioned reining in.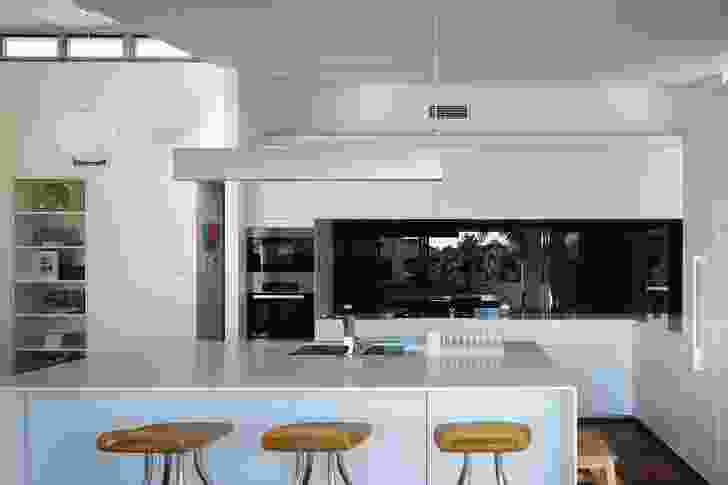 Simon Wynn of S3 Architects follows the "beautiful but not precious" mandate to a T in his home for a young family of four in inner-western Brisbane. He speaks of something like an epiphany after moving into his own early-modernist home a couple of suburbs further west.
"Living in this cleverly designed, modest house in Kenmore has revolutionized the way I approach architecture," he says. "It's allowed me to look closely at a lot of places from the era. There are lots of ideas from those houses from the 60s and 70s that I've employed here, and I've also adopted their simple timber construction methods as a very cost-effective way of delivering within a reasonably tight budget."
The 800-square-metre site ticks all the boxes in terms of suburban amenity. The street is quiet, and the northern aspect is further enhanced by a slight elevation, affording views into a forested mountainside nearby. A green lung of local parkland bounded by a creek and rugged bushland helps send welcome summer breezes homeward. But it is also a street whose inhabitants were somewhat married to the notion that old equals good, and where "new-fangled" architecture is considered with scepticism.
The mix of humble, mostly post-war homes and a few unremarkable 1930s Art Deco pieces form two orderly lines on either side of the bitumen. Low boundary fences are now and then interrupted by wooden gatehouses that appear aspirational among the bare lawns. The character code of the area demands that new houses, like many of the existing ones, must have pitched roofs and timber facades, and have a degree of transparency that permits exposure to the street. All these elements tend to add to the expense. S3 adopted a package of logical solutions to address the requirements and retain cost-effectiveness. It also appeased the neighbours' concerns about change.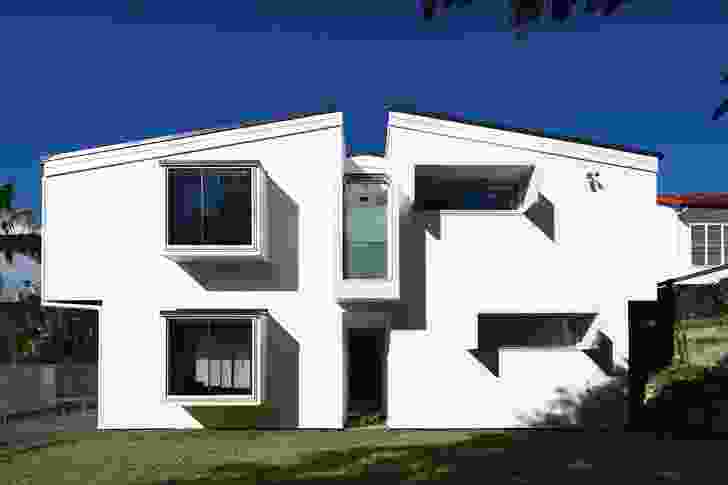 A standard, factory-built truss roof sets up a 3.3-metre grid down the centre of the home. A separate roof is propped up over the living spaces, or "where it counts," as Simon notes, to provide extra height and light. The frame is all timber, avoiding the unnecessary cost of steel.
The street elevation is a symmetrical arrangement. A solid masonry gatehouse stands like a remnant ruin or carved portico, framing a view of the tall glass entry door that sits beneath the apex of the triangular roofline. Red cedar shiplapped exterior walls on either side are recessed, and framed by the crisp line of double-width fascia board in white painted timber. Large sections of sashless windows are punched into the shiplap facade, so that street surveillance is a two-way game between those at home and those passing by.
While the interior layout is dictated by the 3.3-metre grid, an offset corridor and a series of generous, lofty front rooms hide the clues to the patterning. The skillion roof over the living room – a small extravagance within the scheme – shelters the main spaces as well as the outdoor room, where, evidently, most of the "living" takes place. The skillion lifts up to a long clerestory of operable louvres, bringing further light and breeze into the space. While the remainder of the house has 2.4-metre-high ceilings, it is the memory of the lofty light-filled living rooms that pervades. Northern light is drawn into the spaces, while closer views into neighbours' backyards are edited by solid balustrades that wind from the outdoor room along the length of the northern elevation.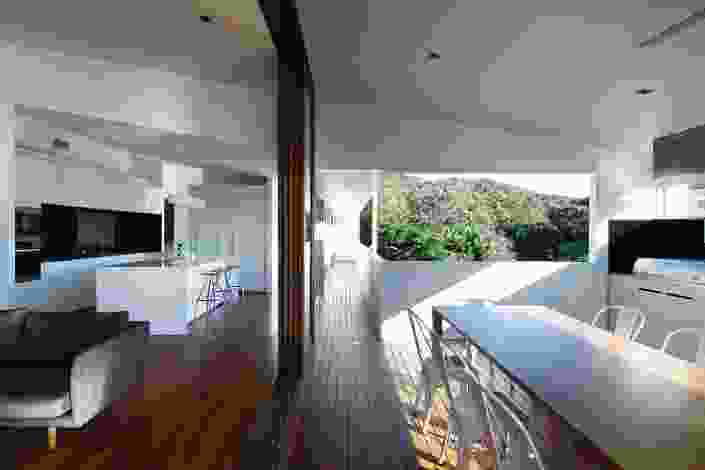 The layout is rational, with all the family's day-to-day living spaces on the upper level, and "extracurricular" and spare rooms under. The same rationalism is at play to apportion material gestures. There's an element of the bespoke in important points of contact – for the hand, or eye – in carefully selected moments. Simon admits to "splurging" on such elements as the shadow line between the walls and ceiling, the attractive door hardware and an ethereal stairwell of floating timber stringers.
Standard aluminium doors and sash windows are used throughout. These are augmented by attractive 3.6-metre-high timber sliders between the living and outdoor rooms, again, "where it counts." The effect is that the eye, and in many cases the hands too, are drawn to the bespoke elements, sublimating the rest. For example the sashless windows forming the sloped ceiling of the roofless ensuite shower create a delightful place to start each day.
Products and materials
Roofing

Stramit Longspan in Colorbond 'Monument.'
External walls

James Hardie Scyon Axon, painted Dulux 'Lexicon Half Strength PW1G9H'; VJ Syrian red cedar; spotted gum battens, Feast Watson 'Woodshield.'
Internal walls

Flushed plasterboard, painted Dulux 'Lexicon Half Strength PW1G9H'; VJ Syrian red cedar.
Windows

Aneeta sashless windows, clear anodized with timber frame.
Doors

LCJ spotted gum feature stackers and entry door, Feast Watson 'Woodshield'; Bradnam's Windows and Doors clear anodized domestic aluminium shutters.
Flooring

Boral spotted gum tongue-and-groove hardwood; Feltex carpet, wool cut pile (to bedrooms only); exposed aggregate external concrete and polished internal concrete, both 10 mm 'Charcoal' aggregate; spotted gum decking.
Lighting

Beacon Lighting general lighting throughout; Andrews Light Up phase pendants; Austube extrusion suspended over kitchen.
Kitchen

Kiri chrome sink mixer from Methven; Quadrato stainless steel square sinks from Abey; Fisher and Paykel integrated fridge; Häfele pull-out pantry and pull-out rubbish bin; Miele integrated dishwasher and stainless steel built-in oven, five-burner gas on glass cooktop, undermount rangehood and built-in microwave; CASF Corian, Glacier White; satin 2-pac joinery, Dulux 'Lexicon Half Strength PW1G9H'; black colourback glass; custom-made handles to pantry and integrated fridge by cabinetmaker.
Bathroom

Aurora Cangas wall-hung basin and ICE 400 powder room basin, white; Decina Carina bath, white; Azzurra CAL WC, white; Methven chrome Kiri tapware; Barben chrome towel rails, robe hooks and shower shelf; Clarke and Clarke powder room wallpaper, 'Vogue Black/White'; Amber Tiles polished black 600 mm x 600 mm vitrified tiles; polished white 100 mm x 300 mm ceramic tiles; clear toughened glass frameless shower screens.
Heating/cooling

Hales and Lunn awnings.
External elements

Electrolux built-in barbecue, Schweigen rangehood and Jetmaster Kemlan outback fireplace, all in outdoor room.
Other

Aneeta glass-roofed and walled shower; custom spotted gum feature staircase; custom Syrian red cedar TV room divider; Nook sofa by Jardan; custom rugs by Tretford; custom oak table by Small Australian Projects; outdoor chairs from Matt Blatt.
Credits
Architect

S3
Brisbane, Qld, Australia
Project Team

Simon Wynn, Kellie Morris, Justin Boland, Steve Rhodes, David Asplin, Wayne Dowden, Greg Wynn, Matt Hamilton
Consultants

Builder Abri Homes
Engineer GLF
Landscape architect Verde Design Group
Project manager Tom Low (TLPC)

Site Details

Location Bardon, Brisbane, Qld, Australia
Site type Suburban
Building area 420 m2

Project Details

Status Built
Design, documentation 3 months
Construction 6 months
Category Residential
Type New houses

Source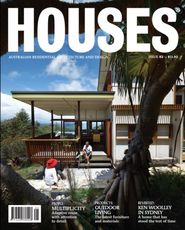 Issue
Houses, October 2011
Related topics