Small houses hold a fascination for architects when designing for someone else or for a make-believe market. Here, on the slopes of Tasmania's Mount Wellington, young architects are also "walking the walk."
The house, described as "just a box," is thoughtfully sited on the corner of a steep slope, away from neighbours, their view corridor and an important birch tree. It is positioned for maximum sideways views and to allow for possible future expansion.
The visual distraction of intermittent road traffic and powerlines is screened out by a double skin of translucent polycarbonate sheeting, which then envelops the main floor of the box, creating a light-diffused but private family realm.
The pattern of movement throughout the small (eighty-square-metre) plan is deftly choreographed and aligned with skylighting and viewing windows, with the magnificent view to the east held off until the mezzanine level.
– Jury citation
Years ago a design lecturer looked over my second-year, student shoulder, sighed and said, "Why can't people just design rectangular buildings anymore?" Busily sketching naive shapes, I disagreed at the time. I can now see his point. Thomas Bailey and Megan Baynes of Room11 also see that point. High up on the slopes of Mount Wellington, they have designed a simple rectangular dwelling, demonstrating at the same time that "austere" and "playful" aren't necessarily mutually exclusive.
– Judith Abell in Houses 81, p. 113.
For further coverage see Little Big House by Room11.
For a full list of awarded projects see 2011 National Architecture Awards – the winners and for more awards discussion see Rachel Hurst and Rory Hyde's responses to the awards and the jury overview by Karl Fender.
Products and materials
Roofing

Stramit Monoclad, Colorbond 'Monument'.
External walls

Linnel and Skinner celery-top pine, rough sawn.
Internal walls

Boral plasterboard, painted Dulux 'White on White'.
Windows

Southern Glazing laminated clear float glass, double glazed (argon filled).
Flooring

Torrenius Timber tongue-and-groove Tasmanian oak; suspended concrete slab, burnished Ashford formula.
Kitchen

Fisher & Paykel oven and dishwasher; Reece Scala tapware.
Bathroom

Reece Nickles Cubic shower.
Heating/cooling

Masport Talisman Clean Air wood heater; Nobo Slimline stone walls.
External elements

Peter Guiver, Guiver Industries.
Source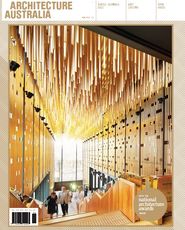 Issue
Architecture Australia, November 2011
Related topics