What do a multistorey carpark and a critically endangered moth have to do with innovative hotel design? Stumped for an answer? No, this is not a trick question from an architectural practice examination. Instead, it was the real-world conundrum that faced design studio Redgen Mathieson in its design of Little National Hotel in Canberra.
Clues to unravelling Little National's curious development are given as you approach the building. Canberra is known for its broad avenues and verdant nature strips, but the fenced-off field of overgrown grass and flowers that adjoins the hotel does not have the usual manicured appearance. In this small patch lives a colony of the protected golden sun moth – a factor that greatly influenced the design of the hotel, both its exterior and its interior. Further complicating the process was the fact the development was originally conceived as a four-storey carpark, to which the client then decided to add two levels of hotel accommodation to the top. This meant that Redgen Mathieson had to work with the predetermined carpark grid as the base module for the hotel rooms – all while not disturbing the moths.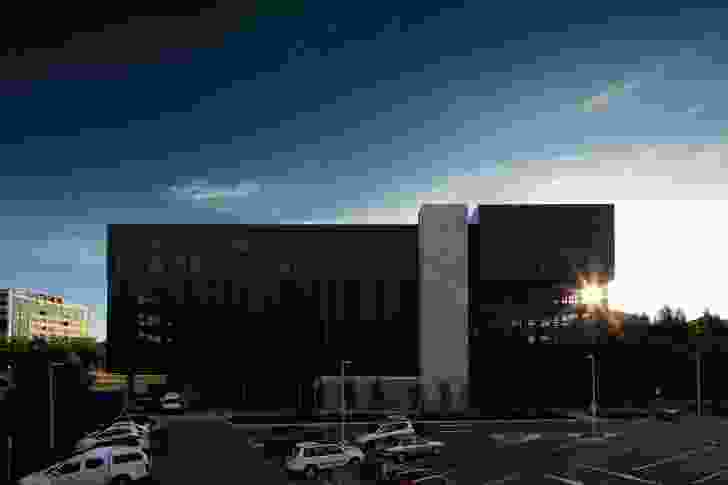 With Little National being located in the suburb of Barton, close to Parliament House, design codes dictated that the building could not look like a carpark. Redgen Mathieson director Harlan Redgen says the studio's approach was to create an envelope that was neither overtly residential in language, nor of course, like a carpark. The carpark's levels are clad in perforated black metal panels, while the hotel is faced in black glass. Articulation of the carpark facade is achieved through what director Phillip Mathieson calls "wings" that allow ventilation of the levels. The edges of these wings are marked in the colours of the golden sun moth, providing shots of contrast, while acknowledging the building's small but important neighbours.
Little National is the latest addition to development company Doma Group's hotel precinct in Barton. The hotel is positioned in the affordable range of the market, and its owners wanted to offer "affordable luxury" for the urban traveller "without compromising aesthetics or design." This stance is first announced in the ground-floor lobby, adjacent to the carpark entrance. Mathieson says that the first challenge of the interior was "how to deal with luxury in a carpark." Redgen Mathieson plays on this aspect by including a polished concrete floor that continues the language of the carpark, offsetting this with the lux of travertine walls and white translucent glass. The most striking aspect of this entrance space is the American oak reception desk. Designed as a pair of oversized trestle tables and positioned askew, the entrance space is a deliberate tactic to reduce the formality of the experience. By avoiding the monumental stone reception desk cliché, it clearly states that this is not a stuffy five-star hotel, even though the design standard is just as good. Hotel manager Kathryn Carling is enthusiastic about the open design of the desk, stating that it "breaks down the barrier between staff and guests" and that the lobby as a whole "sets you up for the experience that is happening upstairs."
As you exit the lifts on the accommodation levels the first thing you notice is the generosity of space and the amount of natural light. A pair of large black-framed mirrors is propped up against the wall, adjacent to vitrines with paper-cut artworks by Benja Harney inside. Redgen Mathieson commissioned Harney to create a series of works inspired by the life cycle of the golden sun moth. These are used throughout the circulation spaces as wayfinding devices, and also serve to educate the interested guest. Off the lift lobby are the communal spaces: the library on level five, and connected via an extremely elegant staircase, the lounge on level six. As the majority of the hotel's weekday guests are visiting Canberra for Parliament and its associated buzz, there was a need for spaces that could accommodate meeting and working. The library is furnished with black-stained joinery with well-designed lamps by Redgen Mathieson, and upstairs the black theme continues with the monolithic black granite dual fireplace that separates the lower lounge area from the upper velvet-clad lounges.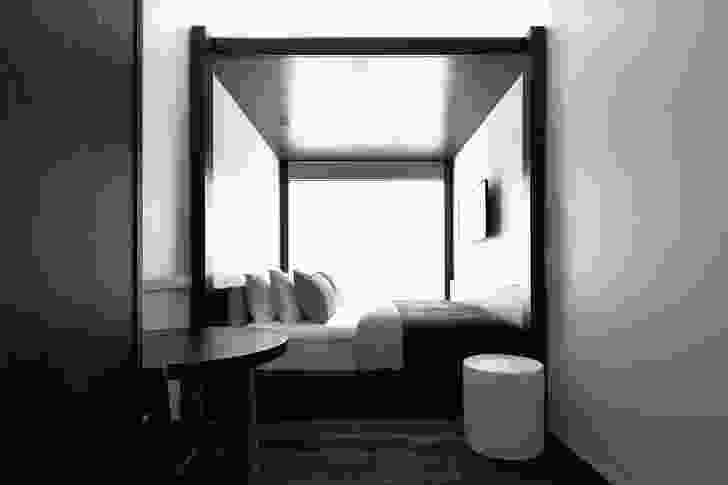 Known for its design and aesthetic rationalism, Redgen Mathieson has deployed its skills in distilling the essence of a great hotel room into a compact space. Literally no wider than a bed, the room contains everything you need for a comfortable luxurious stay into a few square metres. The standout feature is the four-poster raised bed that is paired with the full-height glass wall looking out over Canberra. This creates an intimate feel of a nest, or loft, rather than a large bed in a small room. Redgen says that this was a "big gesture in a small room," while Mathieson adds that in "such a small space it becomes all about the bed." Carling assures that staff have no problems making the beds. Rather than carpet, Redgen Mathieson pushed to have solid timber flooring, and the charred-finish timber further adds to the experience.
Little National is the fourth hotel project Redgen Mathieson has worked on with Doma Group. Mathieson says that unlike working with a large hotel chain they are able to work directly with the client, meaning "there is no rule book." By challenging the notion that "luxury" always equates with "large," Redgen Mathieson has proposed a new model of hotel that while compact on space is still big on experience.
Products and materials
Walls and ceilings

Sapphire Aluminium perforated metal screens to carpark in Colorbond 'Monument' with gold anodized edge. Ground- floor lobby walls are saw-cut and honed travertine tile from PDA Marble and Granite. Guest library and lounge walls feature Lea Ceramiche Slimtech tiles in 'White' and walls painted in Dulux 'Grey Pebble Half.' Hotel room walls painted in Dulux 'Grey Pebble.' Hotel room bathroom flooring is Milestone tiles in 'MAR 351'.
Windows

Lobby windows are framed in white aluminium with white translucent glazing. Guest library and lounge windows are framed in aluminium in Colorbond 'Monument' with clear glazing.
Doors

Clear glazed sliding doors into guest lounge and library with etched logo decals. Doors to hotel rooms painted in Dulux 'Mud Pack.'
Flooring

Lobby flooring is polished concrete. Guest library flooring is Tongue & Groove Eterno Classic European oak timber boards in 'Hekke.' Guest lounge flooring is Lea Ceramiche Slimtech tiles in white. Guest rooms use engineered dark oak floorboards.
Lighting

Recessed round down-lights from Efficient Lighting Systems. Quadra recessed square wallwashers and Quintessence recessed square downlights, both from Erco.
Furniture

Maxalto Cronos sofa from B & B Italia in guest lounge. Guscio two-seater and armchair by Flexform in library, lobby and guest lounge. Peter stool by Flexform in lobby. Feel Good Ten ottoman by Flexform in library and guest lounge. All Flexform furniture from Fanuli.
Bathroom

Custom-made towel rail and solid surface vanity. Gallery Whiteley Collection basin and shower mixer with fixed spout in chrome finish. Grohe Tempesta shower system with Power & Soul handpiece. Innova Zana wall-faced toilet suite with soft-close seat. Inovita Lab Double toilet roll holder in chrome finish.
Other

Various custom-made furniture pieces by Redgen Mathieson. Tapetti rugs. Commissioned artwork by Benja Harney. Enzie spiral staircase at guest library and lounge with European oak treads and white-painted plasterboard balustrade.
Credits
Design practice

Redgen Mathieson
Sydney, NSW, Australia
Project Team

Harlan Redgen, Phillip Mathieson, Tom Bunting, Sarah Fish, Amy Seo
Consultants

Builder BLOC
Documentation architect May + Russell Architects
Engineer Sellick Consultants
Landscaping Redbox Design Group
Lighting S4B Studio
Project manager Doma Group

Site Details

Location Canberra, ACT, Australia

Project Details

Status Built
Design, documentation 12 months
Construction 15 months
Category Interiors
Type Hotels / accommodation