Back in the 1980s, Shane Thompson designed a house for artist William Robinson in the Gold Coast hinterland. The site, which included an old farmhouse, is glimpsed in the artist's canvases of the time: a bush humpy of sorts where the artist casts himself as an Old MacDonald figure amid run-amok chooks, goats and sheds.
Meanwhile, Shane and Sally Thompson were living quite a different life in inner-city Brisbane, in a sleek new house of Shane's own design. The couple was starting to accrue a significant collection of modernist furniture and contemporary Australian art, but something about the rural setting that Shane had helped to create for Robinson must have got under their skin. That, and the fact that Sally is a skilled equestrian who craved a place that also accommodated her horses, led to the couple relocating eighteen years ago to a property on Brisbane's rural outskirts.
This setting was more appropriate to both art and horses. Set at the base of Mount Petrie, the two and a half hectares of land had served as part of an army training camp during World War II. Since then, the densely wooded area had been somewhat abandoned to nature and weeds.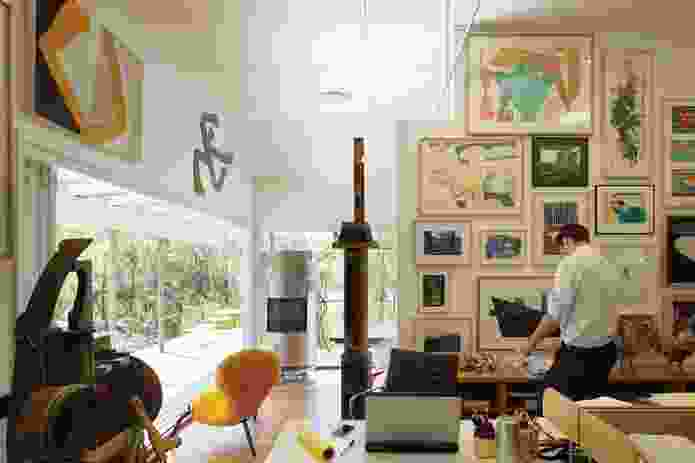 An existing owner-built house in 1956 became, and remains, the Thompsons' home. Created from second-hand materials, it was, Shane says, "an assemblage of different doors, windows and floors." Over the years, the plan has been reworked into a more livable arrangement, but its humble nature has been retained. A northern verandah overlooking the horse paddocks, accessed via foldaway glazing, is probably one of the more serious interventions.
After moving into their new home, and after twenty-four years as a director and principal at BVN (now BVN Donovan Hill), Shane decided to pursue a new practice focused on small- to medium-scale work from a home studio.
Shane expanded the house a little and added stables for the horses. An abandoned church, the same vintage as the house, was spotted in the nearby town of Gumdale. It was purchased and trucked to the property to be positioned near the home as the new studio for Shane Thompson Architects. Scarcely more than a year old, the busy studio now has a staff of six and some interesting projects on the go — a boutique hotel in Brisbane, homes in Sydney, an eco-resort at Airlie Beach.
In adpating the church to the site, a meeting room and a broad verandah were added, suspended over a duck pond making a prime spot for viewing the surrounding restored bushland, where local wildlife is routinely spotted. A verandah also connects the studio to the house. True to the semi-rural vernacular, several sheds are dotted about the extensive gardens, used for horses, machinery and storage alike. In a setting as idyllic as this, it would hardly seem like work at all.
Credits
Architect

Shane Thompson

Site details

Category Residential buildings
Type Houses, Residential, Studios

Project Details

Status Built

Source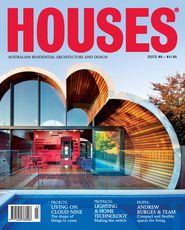 Related topics