Living Modern Tropical: A Sourcebook of Stylish Interiors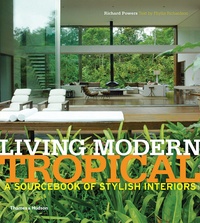 Heavy on glossy images but with enough text to guide you through the concepts explored, Living Modern Tropical is just as its title states: a source of ideas for interiors in tropical climates. The book is divided into ten sections – including Nature, Architecture, Furniture and Outdoors – with each offering examples of products and designs from various parts of the world. The Details section looks at incorporating natural materials into the interior scheme, in appreciation of the natural environment, while Function looks at the habits of tropical living, the requirements of kitchen and bathroom spaces in humid climates and the best part about having a beautiful, open house: entertaining.
Richard Powers and Phyllis Richardson, Thames and Hudson, 2012, pp 320, RRP $59.95.