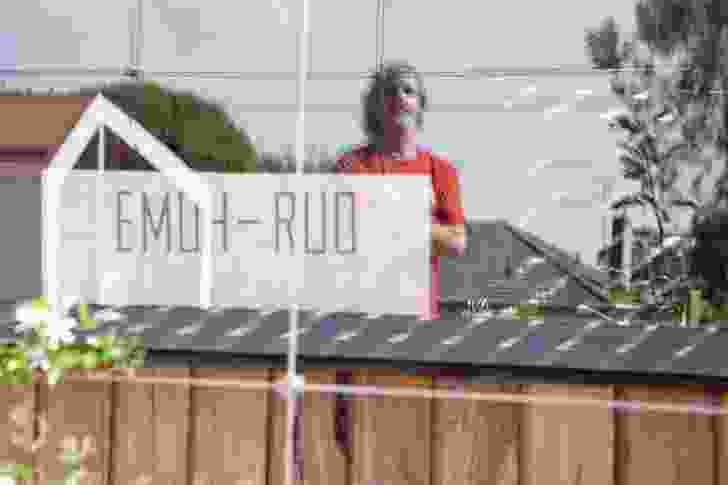 Timothy Moore: On the front windowsill there is a sign that says "emoh-ruo." What does this mean?
Peter: If you read it backwards, it's "our home."
TM: What makes it feel like home?
P: It is beautifully set up. Like, because Mum cannot go up the stairs. We've got two rooms upstairs, which is my brother and I up there, we've got our toilet up there too – we can give Mum as much cheek as we want. [Group laughter.] Everything on the ground floor is perfectly set up for Mum.
TM: Do you find it easy to move around?
Mum: Yes. You sit around this lovely verandah on a chair. When we go out there, then we'll have people come out – they use the barbecue, but not the sitting area.
P: We sit out there heaps. Especially at night-time, like when you have a hot day, and it's nice and cool – oh, we'll be sitting out there for a couple of hours. It's magic.
TM: How do you compare here to where you lived before?
P: It was also a house, but nowhere as good as this.
M: It's just easier to get around. The other house we had had very high steps, and I couldn't manage them. And I had a couple of falls on the steps.
P: And you don't need an airconditioner in this house – open that door and do you know how you've got those opening gaps in the fence? You open them out and you get the breeze, and you don't need any airconditioning. In the last house you'd have to have an airconditioner; you couldn't live without an airconditioner.
TM: What do you think of the brick that is visible in the interior?
P: I love the bricks. It's in my room too. The architects use it for moderating the temperature.
TM: And what do you think of the ceiling as well?
P: I love high ceilings.
M: Now and then there's a few cobwebs up there.
TM: Besides spiders, have you met other types of visitors from outside this complex? Do people come over from across the street?
P: Yeah. They come across here, but I walk the dog a lot, and I'm always talking to people. We've met a few people up the street. It's a good area. Someone said, "Oh, this area is not a very good area." I haven't found any problem with it.
M: No, there's no noise, people are quiet, they don't argue.
TM: How do you find it when you wish to be private? Do you shut the blinds?
P: No, we like keeping it open. Mum likes to stickybeak, that's why there's chairs here. She gets the best view.
TM: What's the best thing about living here?
P: It's comfortable; it's home.


TM: To play the devil's advocate, what could be better? Have you come across anything that you think could be better for you?
P: No, everything's magic … with everything here. Like, we got our gas bill – good gas bill. Forty-five bucks, how's that?
Paul Porjazoski: That's pretty good, isn't it? Well hopefully when you put those heaters on in the winter, because of the brickwork it should actually keep the house warm overnight.
M: Yeah, we have run them for a couple of hours … last week; we ran them a couple of nights ago. They would have felt it upstairs.
P: Yeah. We closed all the other doors, but when we come out of our room, oh you could feel the heat, and that went upstairs as well.
M: Yes, so no, we're not sorry we moved in here. [Group laughter.]
TM: You'll probably get a lot of architecture students trying to move in.
P: Yeah. Oh, they've got to learn somehow, don't they?
PP: When visitors come, what do they say about it?
P: They can't believe it's a Commission house. They'll say … like, everyone says, "Oh it is magic. How'd you get this?" Yeah, everyone loves it. It's one of the best places we've lived in. Everyone's, "G'day, how are you?"
TM: Thank you for letting us come in and have a look at your place.
P: That's no problem, yeah. I'm sorry I couldn't complain about anything. [Group laughter.] There's nothing … nothing I don't like about it.
Source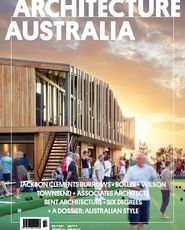 Issue
Architecture Australia, July 2012
Related topics