There are two main responses to the annual World Architecture Festival relative to one's level of cynicism or patience. The first sees it as a wunderkammer of architectural delights and disasters, an enjoyable – if loose – fiesta of global architectural forms. Alternatively, it is simply a crassly commercial and chaotically incongruent showcase of projects for anyone who can afford the exorbitant application fee. In reality of course, it's a mixture of both. WAF is always an amorphous affair and the ad hoc mix of presentations, from the unknown to the familiar, does create an unexpectedly dynamic atmosphere.
The theme of this year's event was "Value and Values," a potentially rich topic for a profession both dependant on and discomforted by its relation to the market economy. Over three days, architects from around the world presented their projects and schemes ranging from residential and cultural through to religion and shopping. Reminiscent of my university days, sharply timed twenty-minute presentations were made to juries of varying calibre. A particularity of WAF is to have jury panels made up of past winners, and it was at times painfully apparent that being a good architect does not necessarily equate to an ability for critiquing another's work.
Alongside the ten rooms of revolving presentations was a curated series of talks that promised much in the festival guide but proved consistently disappointing. This was a missed opportunity for critical speculation upon the ideas of architecture, not only the built form. However, a marked lack of curatorial management meant that speakers generally presented a slide show of their own projects.
Australians made up the largest contingent of participating firms from a single country, showing a strong and diverse set of projects across the twenty-nine categories. In proof of this, Australia scooped the pool of awards, taking home all three major prizes including Building of the Year (Auckland Art Gallery by fjmt and Archimedia), Landscape of the Year, (The Australian Garden, Cranbourne by Taylor Cullity Lethlean and Paul Thompson) and Future Project of the Year, Cox Rayner's concept for China's National Maritime Museum. Awards also went to JPW Architects for the Sydney Cruise Terminal and The Left-Over-Space House by Cox Rayner Architects, Casey and Rebekah Vallance.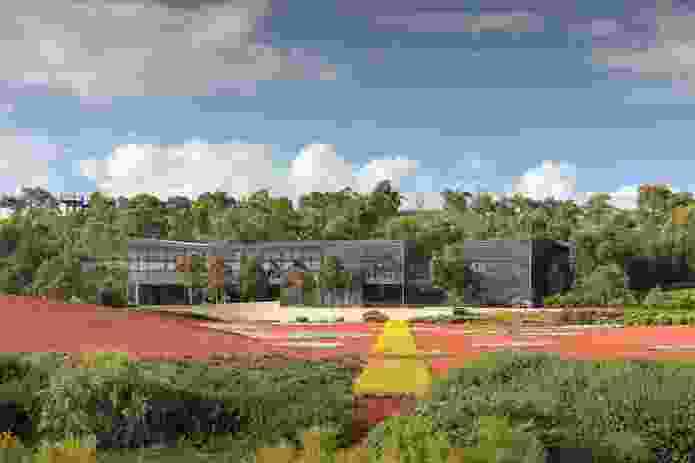 The tone of the festival began with a disappointing return to old school colonialist dogma. While one would hope that we've moved on from the idea that architectural discourse is the domain of verbose, white middle-aged men, the opening discussion by WAF director Paul Finch, Jeremy Melville and Jo Noero (in absentia), only fortified fears to the contrary. This was particularly galling in the globally central location of the festival in Singapore for the second year running, coupled with the clear diversity of gender, age and country in the audience. The conversation revolved around a set of tired and out-dated themes around ethics and architecture, an area that deserves a more contemporary and careful engagement. This weak grab at an ethical stance for architecture only seemed to justify another set of Western values so clearly out of place in this context.
The keynotes were the most fruitful part of this series, beginning with noted architectural historian Charles Jencks, whose exuberant presentation stridently returned the festival to the topic of values. Dietmar Eberle similarly examined the nebulous definition of "quality" within the profession. How to quantify the value of architecture is paramount in a recovering global financial crisis, yet architects are still reticent about refining their skills at communicating that value to the wider public, government and clients. In contrast to these potent conversations, on the last day of WAF, Sou Fujimoto's talk was as light and ephemeral as his projects.
However one does not attend WAF for intellectual succour, but to use it as a lens through which to get a global view of architecture. While a far cry from providing a succinct synopsis of what's happening in contemporary practice, it did expose one to a great variety of scales, forms and types of architecture.
Wilkinson Eyre presented three projects, winning the Higher Education and Research section with their building/landscape, exterior/interior forum project for the University of Exeter. These designs for a museum, a municipal pool and a university building, showed why Wilkinson Eyre continues to lead the profession in creating spatially complex, inventive and refined, large-scale built works without ever succumbing to pseudo-intellectual form making.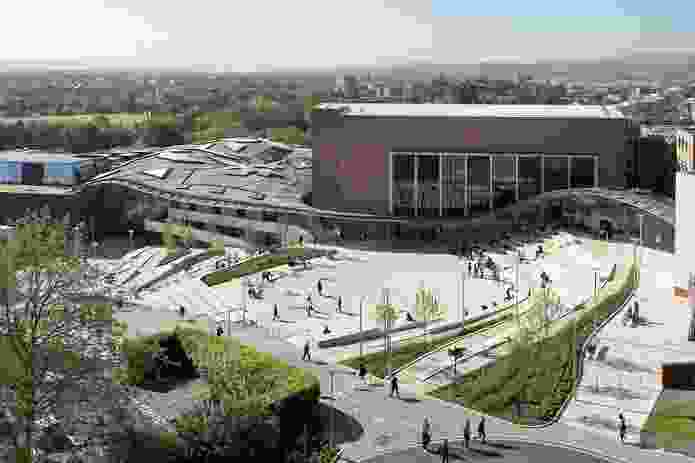 At a very different scale and context was the Women's Opportunity Center in Rwanda by Sharon Davis Studio. Winning the award for Civic/Community, it exhibited an elegantly simple set of circular brick forms whose porous walls and floating roofs naturally ventilated the rooms and collected water. Ownership of the centre as well as new skills were generating by teaching the women how to make the clay bricks used for the buildings. Architect Bruce Engel moved to Rwanda for two and half years to manage the project, engaging the local community and supporting and teaching at the only architecture school there. Sharon Davis sees this as a seed project for future work that will continue to involve local students and resources and to help build skills and knowledge in architecture in Rwanda.
The Sancaklar Mosque in Turkey by Emre Arolat Architects easily won the religious category with its dark and moody imagery that shifted from renderings to photographs with disturbing ease. Behind these atmospheric spaces however was the carefully understood lineage of these religious places. In stark contrast to the globalized banality of so many other projects from Western firms, Özge Ertoptamış made a compelling argument around the specificity of this radical shift in Mosque architecture within both the local (Istanbul) and national context.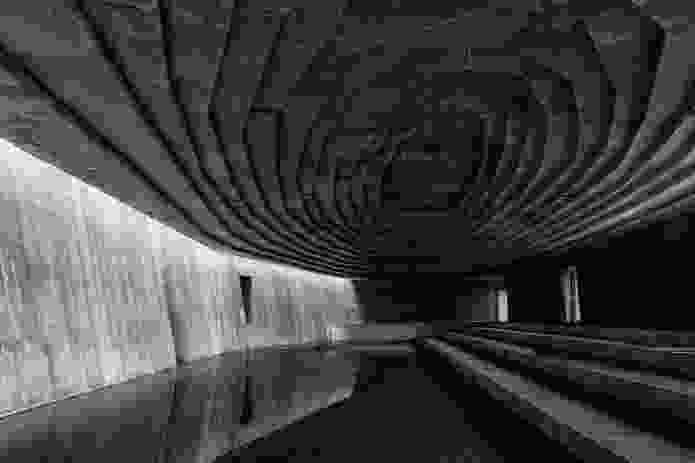 The festival location of Singapore allows for the exposure of this region's architecture, so rarely engaged with in Australia despite its proximity. Standouts here were the established Vietnamese practice of Vo Trong Nghia, and although un-awarded, the Kontum Indochina Café was a remarkable example of inventive site-specific architecture. An expansive horizontal roof plane is held up by a series of monolithic, arching columns all made from bound bamboo stems. The material allows for air movement and shading and while bringing a lightness and texture to the strong forms.
Many were surprised that the Park Royal on Pickering in Singapore by WOHA failed to garner an award, with its fecund, trellising form adding some desperately needed greenery to the Singapore skyline. The influence of WOHA's extensive portfolio in South East Asia was apparent however, and it was exciting to see architects from this region going beyond the "vertical garden" feature wall to seriously engage with high-rise, urban gardens.
The residential sector was covered by the sophisticated regional modernism of the Namley House that won best villa for Singaporean firm Chang Architects. And at a very different budget, the day before we saw A21 present a modular Vietnamese housing system that could compete with low-cost developers while retaining the sustainable and spatial intelligence of an architecturally designed house.
The final presentation of the festival was made by Richard Francis-Jones of FJMT for the Auckland Art Gallery Toi o Tamaki and it was not hard to guess that this would land the golden challis of the festival, the 2013 Building of the Year. Following in the footsteps of Zaha Hadid's Maxxi Museum (2010) and Wilkinson Eyre's Gardens by the Bay (2012), the Auckland Art Museum is elegantly sensitive to heritage and context, well crafted and materially evocative as well as pragmatically sound. And unlike its competitors from other categories that included sports complexes and office towers, there was nothing to dislike about it – no easy thing and a key factor for an award that seeks to transcend classifications.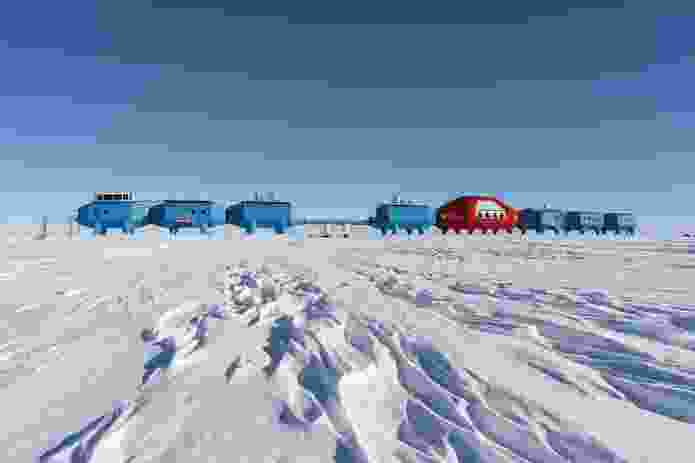 While the supporting events failed to engage much discourse on ideas, by far the most successful part of the 2013 World Architecture Festival was to give architects the opportunity to present their work, in their own words, to an informed audience. The 20-minute time frame doesn't allow for conceptual waffle or representational enigmas, and for the majority of architects this is a good thing. Ideas and process must be honed, communication clear and pithy. This allows for Hugh Broughton to describe why his already iconic Halley VI Antarctic Research Station is not simply a sexy space ship, but rather the amplification of pragmatic architectural concerns around site and inhabitation. In this way WAF provides a unique and important role for the profession. In an age when the 'mediatization' of images is increasingly tuned to the attention span of a Twitter feed, this gives architects back some control in the discussion of what their projects are really about.
Related topics