Three classy neighbourhood restaurants , all influenced by the American south-west in name and style, have been delivered to London by Australian architect Robert Grace and his partner, artist Sarah de Teliga, for the entrepreneurial Hartford Group. The designers consider these projects to be temporary sets rather than permanent architecture, requiring primarily 'a series of one-liners.'
left da Kota balcony . centre Utah communal table . right Idaho
With his first restaurant for of the trio, daKota in Notting Hill, Grace developed sophisticated contemporary allusions to stereotypical images from old Western movies: producing a stockade of rough cedar logs lashed together with leather and continuing the strapping to wrap handrails and elements of the bar. His staircase gently sweeps around lashed logs concealing an air-conditioning duct, past de Teliga's mural of over-scaled calalillies. The drama of the diner's descent to the bar, private dining room and lavatories is heightened with clever lighting which throws shadows on the mural. Grace believes ambience is a construct of excellent lighting and scene-setting. This attitude is most evident in the second phase of work at dakota: producing the outdoor dining area overlooking Ledbury Road. This terrace offers one of London's premier outdoor eating experiences. Concealed behind plants and high-backed banquettes of backlit jarrah slatting, it turns away from the street to look back at the restaurant as its courtyard. With its frosted glass light-boxes and screens, pedestal gas heaters and retractable awning, it provides an atmosphere of sheltered comfort and surprising privacy in a public location.
left Rubber doors to bathrooms at Idaho . centre Staircase at Idaho, incorporating a backlit panel of white marble laminated to glass . right Main dining room at Idaho, with a screen wall of rough-sawn, back-illuminated iroko boards and plexiglass sheets .
Idaho, in leafy Highgate, followed soon after. Here, Grace has transformed a heritage-classified pub with rough-sawn timber, stone floors, leather seats and translucent glass laminated to marble. His client's concern to create a well-heeled contemporary environment is answered by new timber banquettes and mirrors which conceal all the original features of fireplaces, cornices and skirtings. Grace successfully argued to regulators that these furnishings could be removed without harming the historic fabric. The mirrors and sloping timber seat-backs distort and extend views and spaces in subtle and sometimes disturbing ways. Also impressive are the generous scale and materials of the stone walls of the unisex washrooms (although the scent of the rubber doors initially bewilders some diners). Another gently curved staircase – reminiscent of daKota – wraps around a mysteriously glowing, planar ensemble of laminated marble, glass and polycarbonate.
right Utah banquettes and shopfront . left Idaho
Upstairs in the large dining room, a 3.5 metre-tall mirror conceals a fireplace and slopes out to reflect the rest of the room to the eyes of seated diners. Utah in Wimbledon is on the shopping strip of another leafy, prosperous suburb. The ground floor commercial space of this sixties-speculative, three-storey office block, had been one of a chain of pasta restaurants. In his town planning submission, Grace described it as a 'not bad sixties building with post-modern socks' and he sought to refresh some of the building's original integrity. He moved the entry to a corner and replaced the shopfront with floor-to-ceiling butt-jointed glass, overlaid with a laser-cut supersign in a pink film that allows diners to look out, and passers-by to look in, on angles but not straight ahead. De Teliga's colour scheme enlivens the interior with a deep olive on banquettes and chairs at the front of the restaurant and a rich peach in the intimate rear area. Dividing these two zones is a walkway accompanied on one side by a massive, elevated, oval table of white marble and a backlit screen of rough-sawn timber and plexiglass. The dark timber floor accentuates the intensity of her palette and palpably heightens the restaurant's textural qualities.
With this latest trio of the five London restaurants for which Grace has been the architect, very different sites are linked by aesthetic strategies that are humble yet clever and sometimes witty. Importantly, neighbourhood diners are not overwhelmed by design. These environments succeed because patrons are engaged rather than intimidated.







left At Utah, a high dining bench of white marble, with an illuminated screen of iroko and plexiglass at left, concealing a waiter station. above right Idaho bar with restaurant beyond. below Terrace at da Kota.
Images: Teresa Lundquist
Credits
Architect

Robert Grace Architect
London, United Kingdom
Project Team

Robert Grace, Sarah de Teliga
Consultants

Construction manager Reflex Constructions
Developer Montana PLC
Structural engineer Ellis & Moore

Site Details

Location London, United Kingdom

Project Details

Status Built
Category Hospitality, Public / commercial
Type Restaurants

Source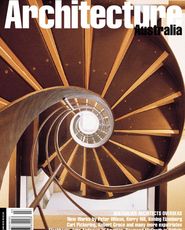 Issue
Architecture Australia, May 2000
Related topics