Photography by Patrick Bingham-Hall
Review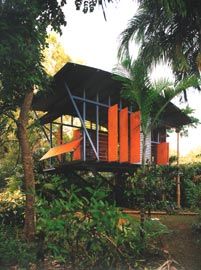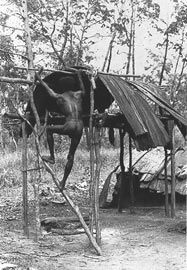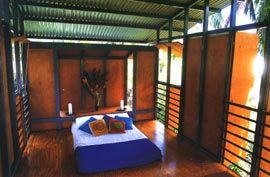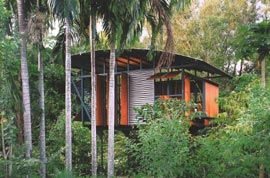 Dwelling in love shacks and dongas in the Northern Territory is close to camping – much more so than occupying the verandah spaces or sleep-outs of Queenslanders. It is an all-weather, all-creature experience where being kept awake by squabbling fruit bats is second only to disentangling green tree frogs from the mosquito net. Love shacks and dongas are independent, self-contained structures with histories that have evolved from a complex of places, events, and people. After Cyclone Tracey hit in 1974, dongas (transportable huts in this example) were built to provide temporary living space all over Darwin. They were often adjacent to the remains of highset houses – stumps, floors and toilet bowls. More recently love shacks and dongas have become the extra bedroom or living space for people living in pre-cyclone code houses. Extending a house in Darwin that does not meet building code requirements is an expensive process. The cheaper alternative is to build a love shack, a structurally and spatially independent room in the backyard.
Simon Scally's love shack is perched at the rear of a suburban house block with a view toward the adjacent tidal creek and Ludmilla mudflats. It is a simple, elegant, and cleanly resolved rectangular space with a sprung Custom-orb roof which slopes down over the top of the bed alcove. In the evolution of this love shack Scally is aware of the history of Darwin, but his inspiration has come from another source, the traditional dwellings in Arnhem Land. Scally has been working on Aboriginal housing and infrastructure projects around the settlement of Maningrida for about a decade, and has always been impressed by the beauty and simplicity inherent in Arnhem Land platform shelters. Platform shelters are usually made from stringy-bark forked posts interlocked with ridge beams and rafters. These are clad in stringy-bark, paperbark, plywood or corrugated iron. They may contain two or more platforms used for sleeping and storage and are often over 1.5 metres off the ground creating another sitting space beneath the platforms. At the end of the wet season (December to April) they were (and still are) built on well-drained ground with fires burning under the platforms to ward off mosquitoes .
Scally's love shack is framed using a steel portal system and the floor beams, columns and rafters are all pre-welded together before being erected on site. This allows the love shack to be largely prefabricated and transported on the back of a truck to its desired location. The size of the dwelling relates directly to full sheet material sizes and there is little material wastage. The portal frames occur at 450 mm centres and as such there was no need for intermittent framing pieces. Between the frames there are vertical and horizontal plywood shutters. In Aboriginal shelters people often adjust the wall and roof linings to enable a view out of the dwelling; they will literally peel back a piece of bark or tin to provide a visual slice or the surrounding environment. The moveable vertical shutters of the love shack are remnants of this practice allowing the occupants to adjust the view, breeze, and light as necessary. The sprung roof, which is higher on the creek elevation and lower on the east to provide shade from the morning sun, was also derived from the natural curving and spanning properties of stringy-bark.
The approach to the love shack weaves through a lush garden, across steppingstones and a timber platform, culminating in a stair facing outwards towards the creek and tree canopy. To enter the space one must turn around and retreat into the dwelling. Staying in the love shack feels simultaneously secure, private and outside. All the vertical shutters pivot in the same direction. When viewed from the outside they appear to be an overlapping skin with few penetrations, but inside they direct your experience away from the adjacent buildings towards the garden and the creek. Scally has even managed to frame the chook pen, another platform shelter, in the view through the shutters.
Scally describes the love shack as "an attempt to respectfully interpret the spirit and ideas behind the Arnhem Land platforms with contemporary materials and construction systems". Perhaps it would be more appropriate to say that Scally has drawn his inspiration for the love shack from the material versatility and spatial qualities of Arnhem Land platform shelters. The spirit and ideas behind these structures is grounded in Aboriginal ancestral history and is the intellectual knowledge of a particular Aboriginal group. Although Arnhem Land platform shelters appear lightweight and temporary, in Aboriginal ceremonies they are pivotal objects which relate to the creation of the first monsoon seasons. Hence borrowing from them needs to be considered cautiously.
Architects continuously derive ideas from history and experience to create buildings and spaces which extend or broaden our view of the world. The love shack, donga, or transportable building has existed in the Northern Territory in one form or another for many years. Scally's evolution of the idea to include notions of Indigenous living brings another layer of history to the love shack. Another interesting facet is that Arnhem Land platform shelters contain symbolism for reproduction and fertility, Scally's slogan for the project aligns well with this Indigenous imagery: "if you can't get lucky in a love shack you just aren't trying".
Shaneen Fantin is a PhD candidate at the Aboriginal Environments Research Centre, University of Queensland, and an architectural practitioner on Aboriginal housing and infrastructure programs in the Northern Territory
Bibliography
Donald Thomson, "An Arnhem Land Adventure", The National Geographic Magazine, vol. XCIII, no. 3 (March 1948): 403-430.%br% Donald Thomson, "Social Organisation Ownership of Land, Economic Structure and the Organisation of Work" in Economic Structure and the Ceremonial Exchange Cycle in Arnhem Land (Melbourne: MacMillan, 1949): 52.%br% Joe Reser, "The Dwelling as Motif in Aboriginal Bark Painting" in P. J. Ucko (ed) Form in Indigenous Art (Canberra: Australian Institute of Aboriginal Studies, 1977).%br% Joe Reser, "Values in Bark: Traditional Aboriginal Dwellings", Hemisphere (1978): 27-36.%br% Paul Memmott and Shaneen Fantin, "Donald Thomson's Contribution to the Study of Indigenous Ethno-Architecture in Australia" in B. Rigsby and N.
Peterson (eds), Donald Thomson's Contribution to Anthropology, Academy of the Social Sciences Canberra: Academy of the Social Sciences, in press)%br% Wally Caruana, & Nigel Lendon (eds), The Painters of the Wagilag Sisters Story 1937-1997 (Canberra: National Gallery of Australia, 1997): 9.
Project Credits
Love Shack, Darwin
Architect Build Up Design—design architect Simon Scally; project architect Mark Phillips; project team Paul Hill, Carly Williams. Engineer Scott Wilson.
Construction Management Simon Scally. Concrete Luigi Brothers. Steelwork Hotly and Beeshaw Enterprises. Client Angela Kelly.