In a world alarmingly besieged by impermanence, the exploration of architectural permanence is an all-too-rare occurrence. Even rarer is the investigation of houses designed as current and future ruins; and of dwellings designed to stand in a potentially post-apocalyptic world. Such rigorous questioning lies at the heart of an extraordinary series of future-focused buildings in the Byron Bay hinterland.
Conceived as relics in the landscape, the three complementary projects on the site offer themselves as deceptively simple concrete and stone carcasses; like ancient structures that have been rediscovered and made exquisitely habitable, but which may at some stage be reclaimed by the forest. Their creation is the result of a decade-long collaboration between Sydney-based practice CHROFI and clients Andy and Deirdre Plummer, the owners of a former dairy property, which they are transforming into a 115-hectare slow-growth hardwood forest specializing in hard-to-find cabinet timber species. With some species taking three hundred years to mature, this is an enterprise focused on glorious varieties of the past being grown for the future.
The Lune de Sang Pavilion, the most recent building to be completed on the site, joins Stone House, the Lune de Sang Sheds, General Manager's Residence and guest houses nearby. The single-storey pavilion forms the hub for farm life. In addition to longevity, the owners required a house that would accommodate two very disparate needs. With a big extended family, they needed their home to be robust yet elegant, catering for large and frequent gatherings. It also needed to afford a private space for Andy in particular to retreat to when desired. They wanted prospect and refuge in equal measure and for the dwelling to be "embedded, sutured and stitched" into the landscape.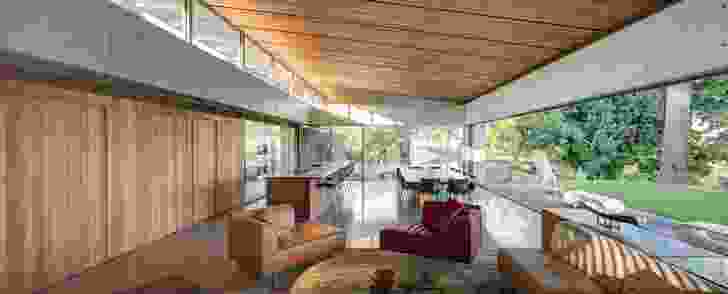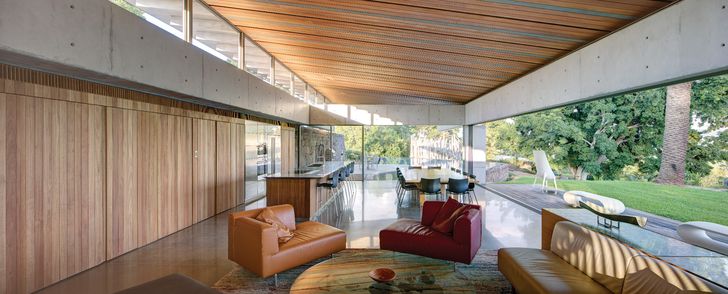 The arrival has been carefully orchestrated down a long, winding driveway. As bordering trees mature, the effect will be a heightened, theatrical one with tree canopies giving way to openness and views in a sequence designed for maximum effect. First impressions are of a deceptively simple structure, a powerful form composed of three dramatic elements. A rectangular in situ concrete and glass-sided box stretches east–west, massive concrete roof beams and columns embedding the house. Along the southern elevation, a seemingly impenetrable wall of local stone, broken only with blackbutt in shaded areas, acts as a spine, stitching the house and landscape as one. Overhead, a strong yet surprisingly delicate oversized steel skillion roof lifts gracefully from the south and swoops to the north, hovering widely and tautly over four roof beams, two cantilevered dramatically to the east and west. The overall result is one of superbly tensioned lightness and strength, flight and permanence.
This box is the more public pavilion and gathering space, appearing initially as one large room catering to social activities such as cooking and dining. Open visually and physically to the north, west and east to a pool and two decks (all protected with massive roof overhangs), it reaches out to the valley while framing distant views. Materials have been pared to the minimum, with honed concrete floors below and golden blackbutt panelling above. A wall of vertical blackbutt panelling along the southern elevation (topped with clerestory windows) conceals a series of annexes housing a bathroom, butler's pantry and mudroom.


Rarely is the line between public and private spaces as strongly drawn as in this home, which has a second pavilion for sleeping, bathing and reclining physically separated and hidden from the living space. From the living area, you must go outside to go inside the private spaces. The private pavilion will become increasingly hidden as plantings mature.
Aiding this demarcation is one of the precinct's many sinuous stone walls, applied not just as a respectful nod to the owners' love of sculptor Andy Goldsworthy's work and old pioneer walls on site, but in this instance also to rise up and conceal, along with an earth berm, the almost subterranean private world behind it.
Entry to the private pavilion is through a cleverly camouflaged blackbutt door that leads into a world of much greater intimacy and beguiling geometries. Replacing the public rectangle's soaring ceiling is a flat-roofed exploded tangram – a series of geometries stretched and frictioned past one another to create one fluid space kinked and divided by cabinetry. Replacing the few massive concrete beams and columns of the public pavilion is a continuous sequence of concrete roof ribs and legs, consciously holding spaces securely. The lower ceilings, closer views, more intimate roof overhangs and tangible evidence of the house and roof anchoring to the site all contribute to a pervasive sense of serenity, and of it being unbreachable.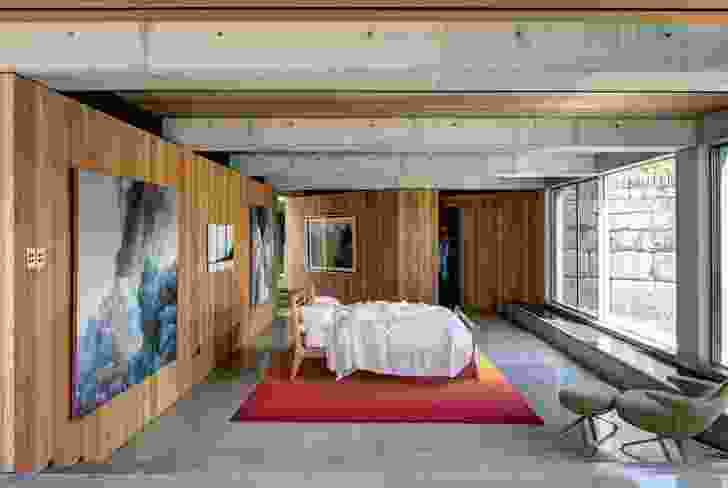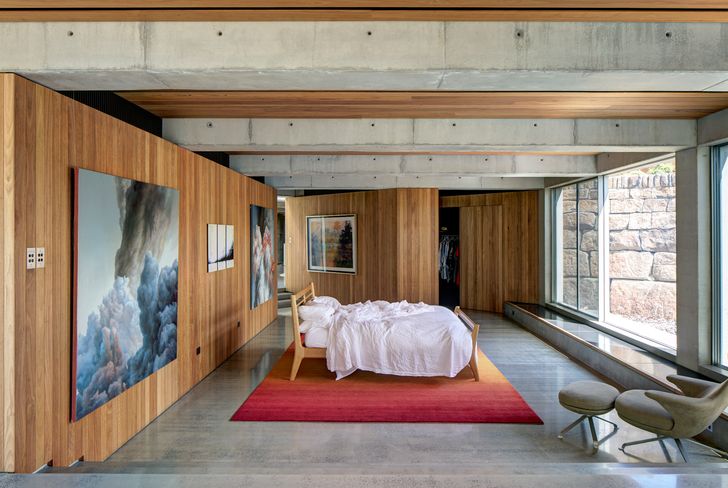 A corridor, with a wall of blackbutt cabinetry and a skylight, divides a rectangular sleeping/bathing/dressing space to the east and a triangulated reclining/art space to the west. In the latter, CHROFI has stretched the internal space north-west to a fine tip, and the roof overhang south-west in a similar fashion. With full-height doors leading to a covered outdoor terrace, backed internally by an unbroken stone wall and circled externally by mounded earth and stone, the effect is of an airy and luxurious cave. It is a secure retreat in which to enjoy an extraordinary collection of art, including works by Claudia Borella, Richard Whiteley and the owner, Andy Plummer.
This subterranean idea is further explored in the open-plan sleeping/bathing space, wrapped on three sides in glass and circled with earth and stone, with the bedroom carved out of the floor and dropped three steps lower. It's hard not to think that in lesser hands, any of these strategies could have resulted in an oppressive space. But here they are liberating, speaking of freedom and containment, flight and permanence. Like the rest of this joyous dwelling, these are spaces that simply belong here. In perpetuity.
Products and materials
Roofing

Lysaght Spandek; ironbark timber decking; in situ concrete; custom in situ concrete splitters.
External walls

Bush rock; in situ concrete.
Internal walls

Blackbutt vertical cladding.
Windows and doors

Vitrocsa windows and doors.
Flooring

Honed in situ concrete; ironbark decking.
Kitchen

Custom island bench and kitchen wall by Boffi.
Bathroom

Custom cantilevered basalt-clad vanity; custom milled log bench; Rogerseller sanitaryware; Boffi fixtures.
Heating and cooling

In-floor hydronic heating.
External elements

Basalt pavers in split finish; Kronos Cava Alborensis pool tiles in 'Aran' from Rocks On ; Moodie Outdoor Products reinforced concrete grass pavers.
Credits
Architect

CHROFI
Sydney, NSW, Australia
Project Team

John Choi, Jerome Cateaux, Steven Fighera, Tai Ropiha, Clinton Weaver, Eoin Healy, Max Kamlah, Elke Jacobsen, Olivia Savio-Matev, Albert Quizon, Dmitriy Lewicki, Ria Chaney
Consultants

Builder Cedar Creek Construction
Cost planner QS Plus
Engineer KPH Consulting
Lighting Lo-Fi

Site Details

Site type Rural
Building area 400 m2

Project Details

Status Built
Completion date 2016
Design, documentation 18 months
Construction 18 months
Category Residential
Type New houses

Source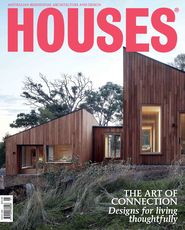 Issue
Houses, February 2018