Inkerman Street in St Kilda East sits smack-bang in the middle of a precinct that's undergone significant urban renewal in recent years. Trendy new apartment blocks now pepper Melbourne's most famous beachside suburb, interspersed with a dynamic mix of heritage buildings, green spaces and places of worship. With the activation of Carlisle Street as a destination cafe strip and Acland Street experiencing a resurgence in popularity, the area is positively bristling with energy.
In the 1990s, Melbourne-based development group Neometro refurbished an existing commercial building on Inkerman Street. The mixed-use development was a catalyst for the precinct's regeneration, as well as an attractive investment opportunity for savvy buyers. Architect Maria Danos's client Chris Christodoulou was one of the first to purchase a studio in the award-winning building, using it as an office for his graphic design practice, until deciding to turn it into a one-bedroom apartment for short-stay accommodation.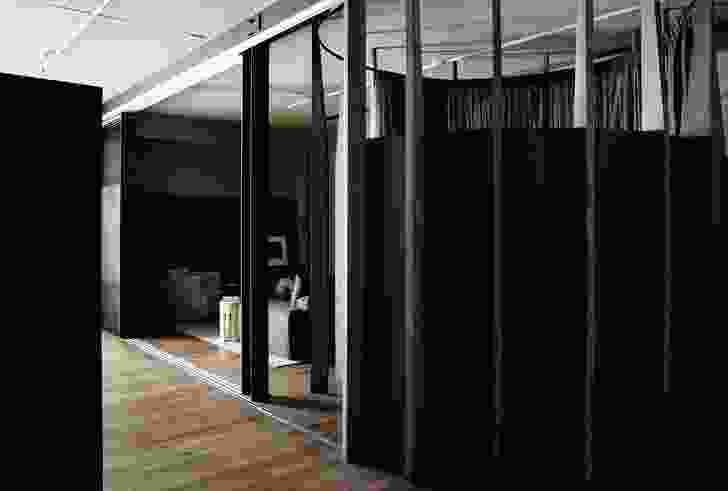 Maria's subsequent renovation respectfully yet elegantly reimagines the one-hundred-square-metre studio as a compelling prototype for this type of rental accommodation, increasingly favoured by both business and leisure travellers. Working with the existing structure rather than against it allowed the Melbourne-based sole practitioner to preserve the building's architectural integrity, while sensitively integrating new and old. "We were lucky to be afforded such a beautiful open-plan space with a generous ceiling height and lovely concrete soffit," she says. "And we tried to retain as much of the original fabric as possible, which is testament to Neometro's work and their timeless design."
The kitchen best exemplifies Maria's judiciously light touch, with approximately 60 percent of the existing fitout left intact. Original joinery has been discreetly updated, with a new benchtop, blackened steel shelves and an upright unit that not only houses the fridge, but also serves as a divider between kitchen and dining room. This unit is a subtle yet highly functional insertion that introduces texture into the space via its MDF routed surfaces finished in warm black.
The colour complements the living areas' original hardwood flooring and punctuates the rich, molasses-toned colour palette, achieving the intimate, hotel-like ambience the client so desired. However, meeting Chris's brief was not without its challenges, especially considering the apartment's proportions. While Maria was careful not to compromise its sense of "largesse," she still managed to inject the scheme with the necessary amount of flexibility to fulfil the programmatic requirements. As Maria explains, "The renovation was very much an exercise in rigorous planning that allows for multiple spatial configurations to anticipate the varied needs of the apartment's different guests, who can adapt the space to suit themselves."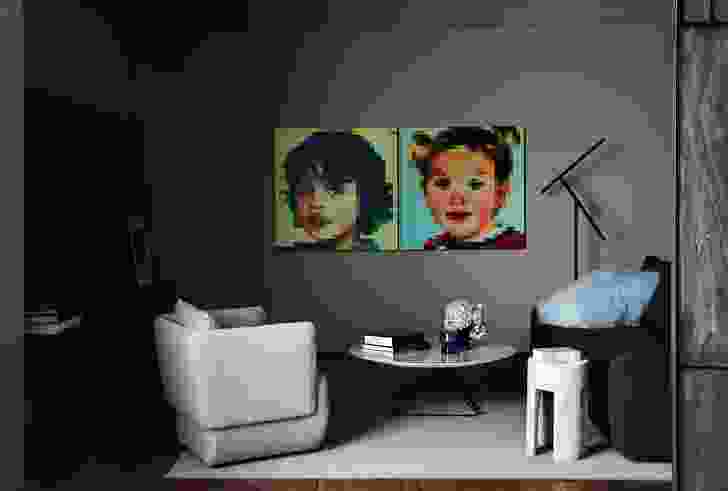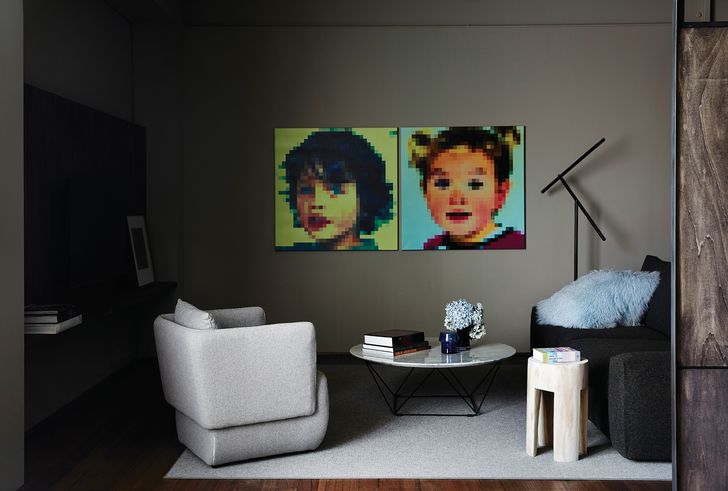 Her design facilitates this outcome by making two significant architectural insertions in the open-plan living areas. The centrally positioned drum is undoubtedly the more expressive in form, but it's no mere folly. A number of chamfered hardwood beams pivot from the interior's existing "spine" (the blackened steel structural beam that runs the full east–west length of the apartment) and fold in and out of the original fire services. They create a contained space for the study, while also being big enough to accommodate a fold-out divan.
"The drum's frequency of posts ensures transparency so the structure doesn't appear too obtrusive in the space," Maria says. "And having the sheer curtain open enables a clear view from one side of the apartment to the other, while drawing the curtain offers a degree of privacy." This sculptural form successfully imbues the plan with definition by channelling guests either north into the lounge or south through the kitchen and into the dining room from the entry. Rhythm and flow are afforded by the drum's insertion, which is matched in scale by the Japanese fusuma-inspired screens that, once extended, partition the lounge and dining areas.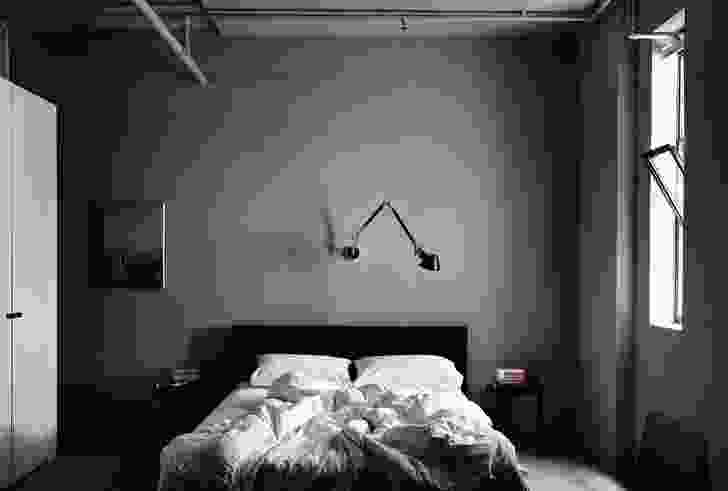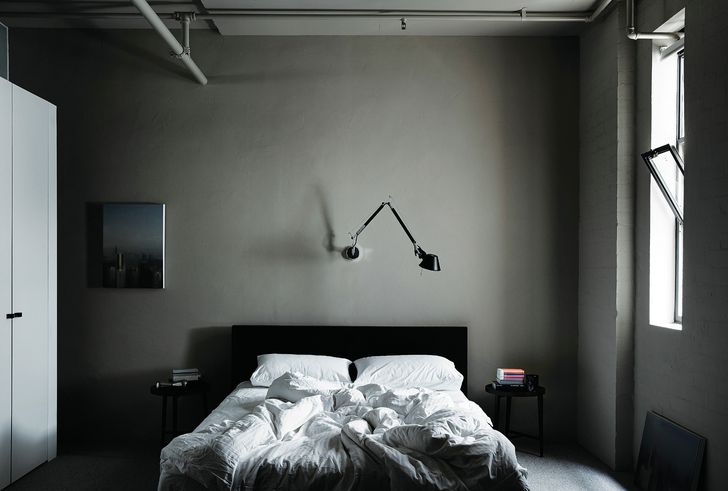 These waxed plywood screens are meticulously finished – the grain of the timber is the scheme's only overtly decorative flourish. They echo the spine's east–west orientation, but most importantly further enable a visually dynamic sense of movement due to their low datum level. It's a well-considered device that ensures light from the dining room's large west-facing window (the apartment's sole window, except for a small one in the opposing bedroom) evenly penetrates the interior. By also lowering the height of the living areas' eastern wall, the architect allows borrowed light to diffuse softly through the carpeted bedroom, making for a relaxed retreat.
Maria's emphasis on craftsmanship would suggest a precious approach; however, this isn't the case. While the interior's detailing may be sophisticated, it's also incredibly robust, which is necessary from a maintenance perspective. And she hasn't shied away from economizing, using plywood offcuts from the screens as the dining room's tabletop and window bench and as shelving on the lounge area's original brick wall. These features add to the scheme's sensuously textural qualities and support a plan that intelligently configures the space with purpose.
Products and materials
Internal walls

Existing walls in Dulux 'Burmese Beige'.
Windows

Existing windows in Micaceous Iron Oxide 'Steel Grey' finish.
Doors

Custom-designed sliding screens in Maxi Plywood Russian birch in Osmo wax finish.
Flooring

Existing Victorian ash strip flooring with Osmo wax finish; Rugs Carpets and Design rug and Bizon carpet.
Lighting

Masson for Light Apollo pendants and Gemini track lighting; Mayfield Lamps custom-designed pendant in black linen.
Kitchen

Custom-designed integrated stainless steel sink and bench; Phoenix Vivid Slimline mixer; existing timber veneer joinery; Formica Black Velour drawers and cupboards fronts; MDF joinery in Dulux 'Dark Secret'.
Bathroom

Fibonacci Stone terrazzo tiles in 'Bedrock'; Inax Repeat Wave wall tiles from Artedomus; Parisi Envy wall basin; Vivo Back to Wall toilet suite; Phoenix Vivid Slimline tapware and Rasi accessories; existing joinery and mirror.
Other

Drum made from Maxi Plywood premium bendy ply and solid Tasmanian hardwood posts in Osmo wax finish; drum curtain made from Altamira Belgian linen with S-fold track; dining table fabricated from ply offcuts in Osmo wax finish.
Credits
Architect

Maria Danos Architecture
Melbourne, Vic, Australia
Project Team

Maria Danos
Consultants

Builder Provan Built, Level 5 Projects

Site Details

Location Melbourne, Vic, Australia
Site type Suburban
Building area 100 m2
Category Residential
Type Adaptive re-use, Apartments

Project Details

Status Built
Design, documentation 3 months
Construction 3 months

Source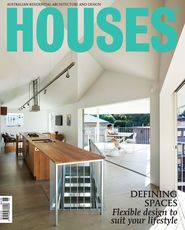 Issue
Houses, December 2016
Related topics