A new public contemporary art space, The Lyon Housemuseum Galleries, has opened in Melbourne's suburban inner-east.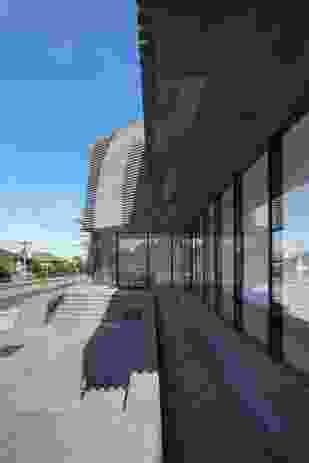 The galleries neighbours the existing Lyon Housemuseum, a fusion of art gallery and private home, designed and lived in by architect Corbett Lyon. Where the original Housemuseum is open to the public only on designated days, the Housemuseum Galleries will stage public exhibitions and be open year-round.
Lyon, a founding director of the Melbourne practice Lyons Architects who is also behind the design of the Galleries, said he was "very excited by plans for the galleries […] with its potential of temporary exhibitions and events."
The Lyon family funded the construction of the galleries through a $14.5 million donation. Lyon also announced today that he and wife Yueji Lyon would donate the entirety of the Lyon family's art collection, amassed over 28 years, to the eponymous Lyon Foundation.
"We are thinking widely in terms of ideas, exhibitions and events to add a rich dimension to the extraordinary cultural life we have here in Melbourne," he said.
"From its inception, our intention has been to share with others the experience of art interwoven with the spaces and artefacts of a living, family home. With the new Housemuseum Galleries we will continue to explore and experiment with traditional concepts of art and architecture, pushing the ideas we began to explore in the original Housemuseum and inviting a wider conversation and engagement with a creative life."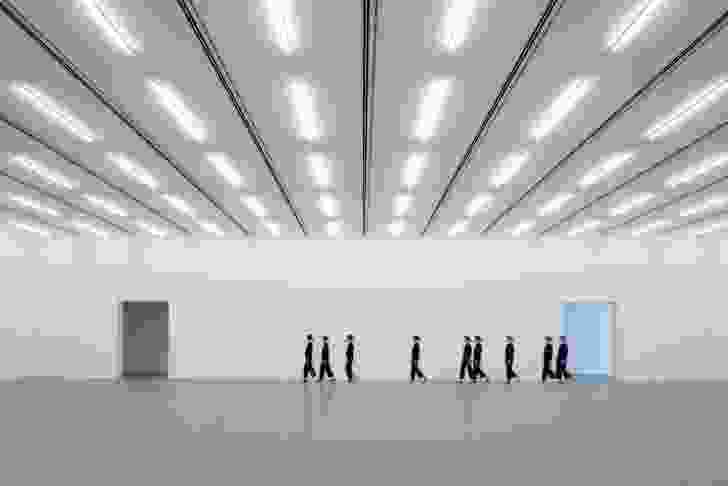 Externally, the angular, textured bluestone facade references and relates to the corbeled brickwork of the Housemuseum fence.
Inside, the focus is a central exhibition space with a soaring 5.5-metre ceiling. The central space is wrapped by four peripheral exhibition spaces. Each of these spaces, which together form a corridor that loops around the main space, has a distinctive design. The space at the rear of the gallery, for instance, has lower ceilings and looks out onto a sculpture courtyard, while the street-facing space has an oversized picture window.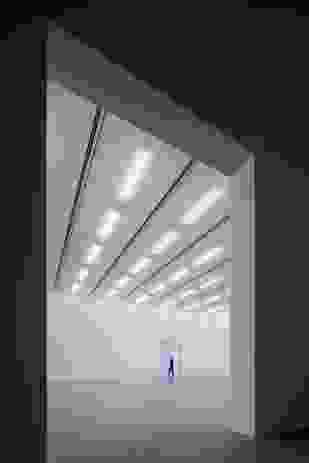 The galleries sit atop Visible Invisible, an enormous artwork by contemporary artist Reko Rennie which was painted on to the entirety of the ground-floor concrete slab before construction began in 2017. Now mostly obscured by the galleries, part of this artwork is still visible as a reminder of what has been buried.
The gallery's inaugural exhibition under executive curator Fleur Watson, titled ENTER, comprises sixteen commissioned works that respond to the freshly minted space and are intended to "contest the neutral white box." Among these are The Clearing by Patricia Piccinini, a thicket of fleshy white growths that fills the main exhibition space, and Untitled Light Intersection by Ian Strange, an architectural intervention composed of lights that references hand-drawn perspective lines and their relationship to architectural drawings.
Related topics