In this unique project, the requirements of a family home are combined with a public museum to display the owners' large collection of contemporary Australian art.
The majority of the space is devoted to art display, with two dominant spaces, one white and one black. A white, light-filled, two-storey open cube with surrounding balconies allows for multiple views of artworks. The black room, by contrast, is closed for projection and video. Linking spaces come in a variety of shapes and sizes, designed for specific artworks.
Intermixed between the gallery spaces is the owners' space for private living. The blurred distinction between public and private space, between light and dark, and between large and small creates a compelling intrigue.
Finely detailed, elaborately crafted joinery pieces, pivoting doors and sliding panels provide flexibility in this experiment of combining the dual requirements of public gallery and family needs.
The external form is ambiguous, a wrapped skin of recessive dark zinc. Sculpture courtyards are formed between the museum and outer fences of textured brickwork, which relate to neighbours' buildings in the suburban context.
Generous and ingenious, the Housemuseum explores a new concept of living with and displaying art.
– Jury citation
Products and materials
Roofing
Internal walls

Custom-fabricated timber panels; Boral plasterboard.
Lighting

iGuzzini low-voltage lighting.
Kitchen
Bathroom

Grohe tapware and fittings; tiled surfaces.
Heating/cooling

Mitsubishi fully ducted airconditioning; hydronic panel radiator heating.
Source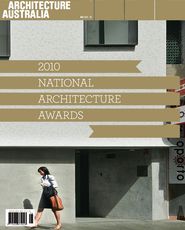 Issue
Architecture Australia, November 2010
Related topics