The irony of reviewing the unconventional design of the interior of Lyons, an architecture and urban design practice, is that the story is remarkably conventional. I mean that literally: the creation of the interior, from commissioning to execution, is one based on an established convention, namely the contract between architect and client.
Superficially, there is something almost provocative about a successful, high-profile firm commissioning another architect to do its office interior. However, the architect of the interior, Nigel Bertram of NMBW, was quick to dismiss this tempting "journalistic story." With good reason – scratch the surface and you realize that the angle is all headline and no story. There are a host of reasons, almost all of them starkly pragmatic, as to why a practice like Lyons would take this course. To pick a few: architects never have time to do their own fitout and it almost always suffers as a result; in a firm of eighty people consensus is extremely difficult to orchestrate; when you are the client you immediately make the challenge someone else's problem; and finally, it energizes a studio culture to bring outside influences to bear. Add to this the fact that Lyons is Bertram's alma mater, and throw in the house he designed for director Carey Lyon, and the picture begins to fill out.
As you can see from the photographs this interior is quite raw, and one might be tempted on first viewing to think it fits into the casual, playful genre of the advertising agency fitout. That would be a mistake. While there is currently a trend for "unfinished" office spaces with such inclusions as billiard tables, bean bags and breakout spaces where no-one ever "breaks out," there is no such nonsense going on here. More often than not, such bombastic interiors are designed around how the culture of an organization is broadcast to outsiders. They must be cool because they look cool. The Lyons interior is about a completely different set of concerns. It is designed around an intimate understanding of how the organization functions internally, and how the mechanics of the interior can conspire to create a working studio that supports a creative team. Outsiders do encounter a place with a distinctive flavour, but it is resolutely that of an engine room, not of some kooky creative realm.
And what of the architectonics? The base building, a former department store with high ceilings and large windows, appeared like a Roman ruin prior to occupation. Bertram has worked with the specifics of the structure in terms of detail, construction and geometry in order to build in particular ways. Construction was straightforward but clearly conceived in detail, and the whole manages to look effortless in a way that belies the thought that has gone into it. The limitation of the palette allowed the limitation of trades, which directed the detailing and capital outlay. Carpenters did virtually everything, with the odd glazer and sparky thrown in, and most surfaces remain intentionally unfinished.
The end result, driven so much by pragmatics, evokes the suburban under-house rumpus room or garage as much as a working office. I was immediately put in mind of Victa two-stroke gas cans sitting amongst paint pots on plywood shelves, and there is certainly a sense of garage-like versatility to the space, with its array of bicycles parked right across the reception area. The project remains a work in progress and, as Carey Lyon himself said of the interior when I visited, "the client's happy." That kind of endorsement from an informed user surely marks the work as an unqualified success.
Products and materials
Walls and ceilings

C–D grade structural plywood linings. Woven Image Ecopanel pinboard surfaces. Aluminium cladding.
Windows and doors

KDHW stud framing. Lidi custom external blinds. Henderson sliding door tracks and fitting. Sikkens Cetol HLS Ebony stain. Reclaimed Lockwood door furniture.
Flooring

Ontera recycled carpet tiles.
Lighting

Superlux Equipose clamp-on desk lamps. Zumtobel Miral strip lighting. ECC Parallel spot lighting.
Furniture

Custom-designed tables, joinery and bicyle racks by NMBW. Laminex kitchen benchtops. Loose furniture, mobile light fittings and artwork by Carey Lyon and Corbett Lyon.
Source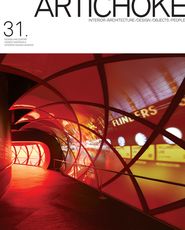 Issue
Artichoke, June 2010
Related topics