A Lyons Architecture-led design team has completed the concept design for the University of Melbourne's $229 million New Student Precinct at its Parkville campus.
The university appointed the design team in March 2018, which comprises University of Melbourne alumni from US-based Koning Eizenberg Architecture (led by Julie Eizenberg and Hank Koning), along with Aspect Studios, Breathe Architecture, NMBW Architecture Studio, Greenaway Architects, Glas Urban and Architects EAT.
The concept design outlines the "form and function" the precinct will take, and has been informed by a "co-creation" process with students.
The New Student Precinct will be located on the corner of Grattan and Swanston Streets and will be bordered by Monash Road to the north and the School of Engineering precinct to the west.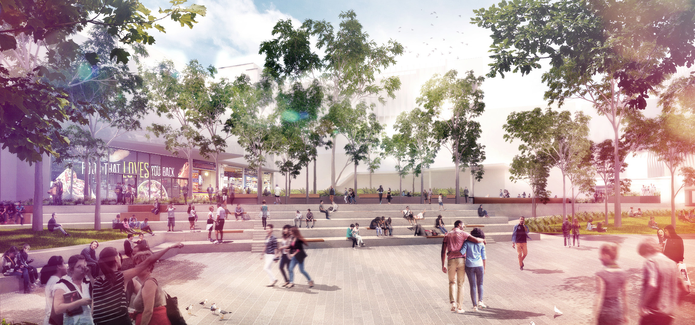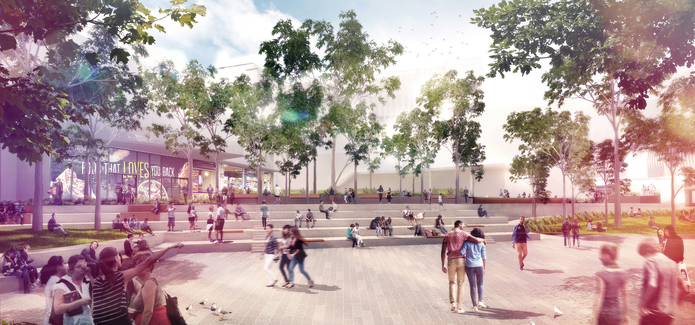 The project scope entails the adaptive reuse of the nine existing buildings on the site, which will recieve extensive refurbishments and facade treatments, as well as the construction of a new arts and cultural building and a new "student pavilion."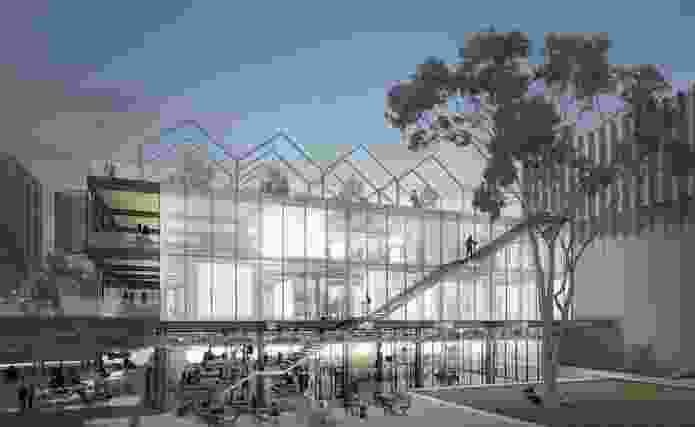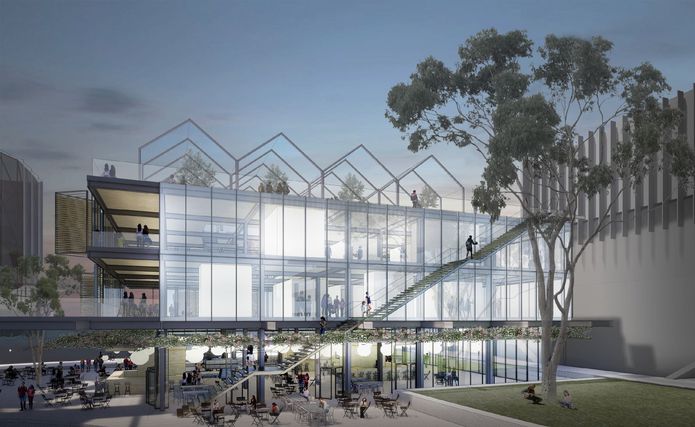 New landscapes, courtyards and laneways will extend through the existing buildings and draw foot traffic into the centre of the precinct, linking it to both the under-construction Parkville underground railway station and the Melbourne Innovation Precinct,on the opposite corner of Grattan and Swanston Streets, to be designed by Woods Bagot, with Hayball designing the student accomodation elements and landscape architecture by Aspect Studios.
The ground plane across the precinct, unevenly built up over decades of development, will be reconciled by lowering it to its natural level, which will also improve accessibility. This will expose the facade of the 1939 Frank Tate Building, a Streamline Moderne brick building designed by Public Works Department architect Percy Everett. The concept design reimagines the building as a "market hall" for use by students, with an outdoor amphitheater in the uncovered space at its base.
The ground level of the Eastern Resource Centre, a Brutalist library block designed by Eggleston Macdonald and Secomb Architects in 1968, will be opened up to create a "series of landscape study terraces."


The project will also involve the rehousing of Murrup Barrak, the Melbourne Institute for Indigenous Development, in a new building facing Grattan Street. The new institute will involve an annex structure aligned with the former water course and eel migration path of the site, and it is hoped that the prominent location of the building will "act as a visible statement on the University's commitment to reconciliation."
The design team will now move on to produce a schematic design, which will be delivered in September.
The project is expected to be completed by 2021–2022.