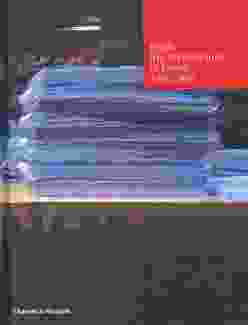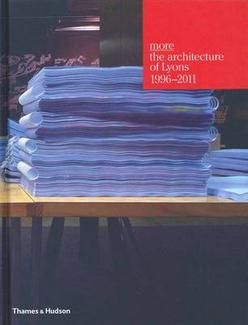 You won't be reading this on the train or tucking it into your backpack while you take a tour of Lyons's buildings on the outskirts of our cities. At a hefty 3.4 kilograms, More: the Architecture of Lyons 1996–2011 is, literally, a weighty tome. No wonder it has been a long time coming.
Could it have been less weighty, less comprehensive, less ambitious? Not likely. Lyons has been prolific and the book attempts to do justice to forty-five past projects, including a few that weren't built, and a further nine that are under construction. While there are other Australian practices dedicated to a rich interrogation and renewal of architectural culture, and several local practices boasting commercial success at this scale, Lyons is unique in doing both together, simultaneously and in every project. Whether it's an aged care facility, a shed for training plumbers or a new city tower for the most critical audience of all, the Australian Institute of Architects, every project is imbued with intellectual gusto, sincerity and optimism.
It is appropriate, then, that each project is given fair consideration in the book. That means generous illustrations in colour by a rollcall of eminent architectural photographers. Material that informed the process and the project is also presented. Given Lyons's eclectic interests, referential material is wide ranging. Works of art that have been generative for the practice, for example, range from Walter Withers's romantic oil painting The Drover (1912) to Callum Morton's satirical digital reconstruction of Mies van der Rohe's Farnsworth pavilion as a 7-Eleven store, Farnshaven, Illinois (2001). There is an ongoing commitment to Australian precedents, high and low, natural and cultural. Banksia pods, cricket, stubby holders — all have been found worthy of mining for ideas, imagery, forms. From architectural history, the Parthenon, Étienne-Louis Boullée's Cenotaph for Newton and William Butterfield's All Saints have been inspirational, along with buildings outside the canon such as portable classrooms, factories and suburban houses.
Lyons has been frequently derided by critics for being overly preoccupied by surfaces, and ugly ones at that. The emphasis on photographs speaks to the ways in which the surface is consistently unfolded and elaborated as a potential for meaning-making and audience engagement. Yet the practice is as innovative and strategic in the organization of spatial volumes and program as it is in semiotics and skins. Plans and sections, unfortunately, are dealt with in the book in inverse proportion to their significance in the practice's oeuvre. Although meticulously redrawn, the reproductions are far too small to be legible, let alone lingered over and understood, and no scale is given. Architectural drawings are notably absent in the discursive "scrapbook" style of monograph pioneered by OMA and MVRDV, but it's a model of disciplinary self-representation that denies the unique operative status of the plan and section and leaves the audience skimming surfaces. It's a pity — the size and production qualities of the book suggest a reference that readers might linger over and return to.
A text by curator Juliana Engberg opens the book with a fictional conversation between two likely lads. The humour is forced and awkward, and seems more so as it is placed alongside six or so more amusing and provocative texts by Lyons itself. Three short essays by respected academics — Paul Carter, John Macarthur and Leon van Schaik — contemplate the major themes evident in the collective work, and are well written, yet they struggle to reveal new insights into the practice or its oeuvre.
Given that Lyons's buildings and exhibitions have been extensively reviewed individually over the years (and excerpts from some of these reviews are included in the book) and the architects themselves are neither shy nor inarticulate, it is perhaps a bit rich to expect fresh observations, but surely the overview afforded by a book should be the occasion for alternative views to emerge? Carter's discussion of the way certain workplace buildings function as organons and industrial prostheses comes closest, yet it needs to be backed up by analytical and architectural drawings that make evident their intensive ordering of space. Interviews with key clients and users, or essays by emerging writers and thinkers outside of the field, may have yielded novel understandings. Given that one already needs a trolley to move it around, an extra hundred pages wouldn't hurt.
From a dossier in the July/August 2012 edition of Architecture Australia, on "Australian Style."
Source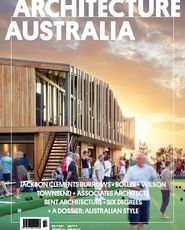 Issue
Architecture Australia, July 2012
Related topics